Twenty five years ago Polish gross domestic product per capita based on purchasing power parity was 11 percent lower than that of Ukraine. In 2014 it exceeded Ukrainian GDP by about three times. Two Polish experts who stood at the origins of the Polish transition believe it would have not been possible without rapid decentralization and active self-governance.
"Poland achieved its level of development by virtue of self-governance. Ukraine can achieve the same," Jerzy Stepien, former chairman of Polish Constitutional Court and head of the supreme election commission in 1990-1993, told the Ukrainian journalists during their study tour to Poland on July 13.
He was sorry Ukraine lost so much time.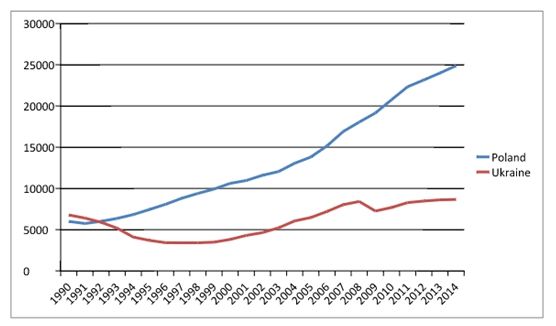 Source: Worldbank * An international dollar has the same purchasing power over GDP as the U.S. dollar has in the United States
In Poland constitutional reform alongside territorial division took place immediately after the fall of the Communist rule in 1989, ensuring that the central government is only able to control legitimacy of the locally taken decisions, not the actions or decisions themselves.
This basic norm first entered Ukrainian legal space in July when Parliament passed a new law draft on decentralization. The bill has now been approved by the Constitutional Court and awaits the final Parliament vote.
The law is perceived as controversial by Ukrainian experts. Wojcieh Misiag, vice-president of the Supreme Audit Office and deputy finance minister in Poland in 1989-1994, also finds gaps in it.
"What I see lacking in Ukrainian self-governance reform is a norm for clear and univocal division of tasks between local and central authorities, like the one adopted in Poland in 1990," he said at a seminar in Kyiv on July 23, naming understandable system, clear and easy subsidy procedures, stable funding and independence as the prerequisites for efficient self-governance.
He also added that for the reform to be successful, self-governance should also execute important tasks. If it's only occupied with bureaucratic issues, community will lose trust.
Russia's war against Ukraine is often used as an excuse for slow and weak reforms, but the experts insist that Ukraine should review its priorities.
"It's not our duty to make a system for the wartime", Misiag told the Kyiv Post, agreeing that Ukraine needs to work on the prosperous peace instead.
"Ukraine is focused on (asking for) arms, but it should be promoting self-governance. An arms race is beneficial for Russia but wouldn't help (Ukraine with) urban planning, getting permits for construction, registering businesses and building schools," Stepien said.
"In fact, real deeds of self-governance are also a good prophylaxis of separatism," he added.
However, decentralization should not be expected to bring more money to local budgets in the situation of budget deficit. Instead, improvement can come from better funds allocation for the local needs.
A change of mentality will have to happen too.
The whole community is a legal entity and the owner of common assets, not the governor or the council," said Stepien. "In Ukraine mayors often believe that they own the city assets and have rights to manage them. This is a pathology.
Another problem for Ukraine is power of oligarchs over local authorities.
Clear tasks and balanced, reasonable, stable budget for them could create strong and independent self-governance that would also help reduce the oligarch problems, present to a very minor extent in neighboring Poland.
Attention
The author doesn`t work for, consult to, own shares in or receive funding from any company or organization that would benefit from this article, and have no relevant affiliations