On 30.07.2015 the USA has imposed new round of sanctions on Russia. It targets two businessmen from Putin's inner circle, former Ukrainian officials, companies in oil and banking sectors, and ports in Crimea. How will new sanction affect each party? Yuriy Gorodnichenko (U Berkeley) and Oleksandr Talavera (U Sheffield) provide their opinion.
 On July 30, 2015, the U.S. government introduced another round of sanctions on Russia. The declared objective is "… to maintain pressure on Russia for violating international law and fueling the conflict in eastern Ukraine." Among affected parties are Russian sanction dodgers, former Ukrainian officials, and Crimean port operators. In this post, we examine each group of the affected parties and discuss the potential effectiveness of the new round.
To set a bar for expectations, we note that previous rounds of sanctions did not have immediate, direct effects but they are likely to work in the long run (VoxUkraine discussed the effects of sanctions on the Russian economy and stock market). Declining oil prices had a much stronger impact on the Russian economy than sanctions but sanctions certainly amplified the damage of the dramatic fall in oil prices. Finally, Russia's large foreign currency reserves could allow the Russian government to minimize the effect of sanctions for some time.
Putin's inner circle and Kalashnikov Concern
BBC included both Gennady Timchenko and Boris Rotenberg into Putin's inner circle when explained reasons why these individuals were included into sanction list in July 2014. This time sanctions are introduced on individuals and companies that assisted both Mr. Timchenko and Mr. Rotenberg to dodge earlier sanctions. The same applies to Kalashnikov Concern which was included into sectoral (firearms production) sanction list.
Apparently, Mr. Timchenko and Mr. Rotenberg did not feel comfortable and started looking for schemes to minimize the adverse effect of previous sanctions. The new round is aimed to close some of the loopholes. This could be a signal for other businessmen linked to Putin that using shenanigans is not going to fool the U.S. government and the cost of being affiliated with Putin will not diminish over time. Given that many transactions are inevitably done in U.S. dollars, the exposure of those who deal with  Mr. Timchenko and Mr. Rotenberg can prove rather costly.
The effects of sanctions on Kalashnikov Concern may be weak in the short run as this company will be financially supported by the Russian government.  In other words, the cost of sanctions will be borne by Russian taxpayers rather than by the management of Kalashnikov.
Ukrainian former officials
The list includes Andriy Klyuyev, Sergey Kurchenko, Eduard Stavytsky, and Oleksandr Yanukovych.  All of them played important roles in Yanukovych's time. Allegedly, they escaped to Russia in 2014 with billions dollars. This odious group of Yanukovich's henchmen had enough time to transfer their wealth and now  have a comfortable life in Russia. Perhaps, these sanctions were imposed too late. The good news, however, is that these individuals had some success in minimizing their legal problems as the new Ukrainian government could not convict them of any wrongdoing and thus other countries felt less compelled to keep their assets frozen. The new round of sanctions will make life for them harder even without a conviction in Ukraine.
Ports in Crimea
The new round of sanctions covers major ports in Crimea, including Kerch, Theodosia, Sevastopol, Yalta and Yevpatoria. Furthermore, Kerch Ferry company is also affected.
There is a view that Russia has managed to arrange sea connection of Crimea with mainland Russia. The top row of Figure 1 shows an upward trend in the traffic of vehicle between Russia and Crimea. Russian media even reported that a Greek-based ferry company started operating on new routes like Sevastopol-Novorossiysk. An improved communication between the peninsula and the mainland is much needed: Kerch ferry links are not stable and weather dependent. The bottom row of Figure 1 shows that wait lines vary wildly depending on weather conditions and peak demand times.
Including transportation hubs into the sanction list is likely to make Crimea-Russia travel and shipments more problematic. The sanction announcement might be considered as a warning to transportation companies operating to and from Crimean ports.
This segment of sanctions is basically increasing the cost of doing business in Crimea. As a result, Russian taxpayers have to foot a larger bill for occupying Crimea. In addition, costly and volatile ferry lines  are likely to reduce popular support for the occupation as the living standards are likely to deteriorate further (e.g., higher transportation cost may result in higher prices in Crimea).
Consistent with the predictions of VoxUkraine, Crimea is gradually turning into backward, economically depressed area similar to Transnistria, Abkhazia and South Ossetia.


Rosneft subsidiaries
As VoxUkraine showed earlier, the fall of oil prices was the most effective "sanction". However, previous sanctions increased the cost of borrowing and production. Similar to the situation with Kalashnikov Concern, Rosneft will likely be supported by the Russian government. Thus, the immediate effect on Rosneft may be small (stock prices of Rosneft did not fall at the time of the announcement; see Figure 2), but it is the persistent nature of the sanctions that will wear down the coffers of the Russian government. With no major oil revenue, the Russian government will have to choose between reducing support to companies like Rosneft and cutting other public spending (e.g., healthcare, education). Either option, however, can prove to be very costly to the political regime in Russia. Thus the calculation of the U.S. government is that, like the Iranian government before, the Russian government will eventually choose to negotiate seriously and abide the international law.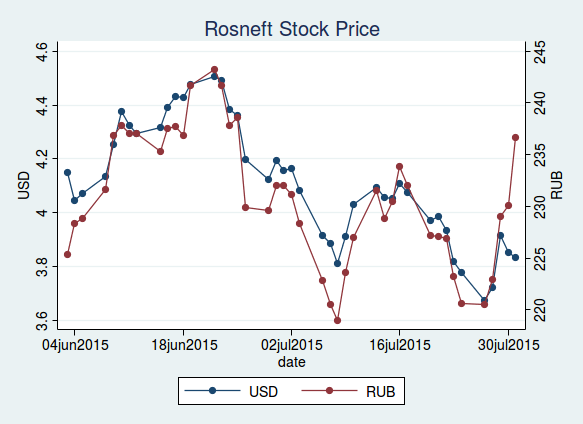 Source: Yahoo.finance.com
Banking subsidiaries 
The new sanctions tighten the screw on Russian banks and its subsidiaries not only in Russia but also in other countries. For example, Prominvestbank, a large subsidiary of Vnesheconombank in Ukraine, is now under sanctions. Banking sector is a vulnerable part of the Russian economy. In addition to the recession, which weakens balance sheets of banks, Russian banks are rather limited in their ability to borrow funds in international capital markets. Their international operations are increasingly limited too. This lack of financing makes credit even tighter in Russia thus contributing to the economic downturn. Despite these hurdles, Vnesheconombank and the like are not going to be bankrupt in the immediate future: they are too big to fail. But again the cost of supporting the banking sector is borne by Russian taxpayers. The cushion of reserves seems large now but sooner or later the bill is likely to become beyond the means of the Russian government and the Russian public may become increasingly displeased with the sacrifices it has to make.
In summary, sanctions on  the Crimean ports and transport companies are likely to have more immediate impact than other parts of the new round of sanctions. But one should not underestimate the effect of other sanctions: they have a strong signalling effect and they wear down the Putin regime.
Attention
The authors do not work for, consult to, own shares in or receive funding from any company or organization that would benefit from this article, and have no relevant affiliations