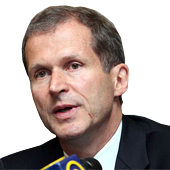 Erik Berglof
economist, director of the LSE Institute of Global Affairs
Director of the Institute of Global Affairs, LSE
Professor Erik Berglof became the inaugural Director of the Institute of Global Affairs (IGA) on 1 February 2015. He joined the School as a Professor in Practice in the Department of Economics.
Previously he was the Chief Economist and Special Adviser to the President of the European Bank for Reconstruction and Development (EBRD)....
Prior to joining the EBRD in 2006, Erik Berglof held the position of Director of the Stockholm Institute of Transition Economics (SITE) and Professor at the Stockholm School of Economics and a Research Fellow at the Brookings Institution in Washington, D.C.
He is a Research Fellow and former Programme Director at the Centre for Economic Policy Research in London. He was the founder and President of the Centre for Economic and Financial Research (CEFIR), now part of the New Economic School in Moscow.