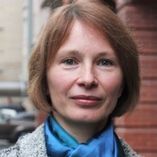 Marta Kuzmyn
Senior economist at the Center for economic strategy
Currently Senior economist at the Center for economic strategy.
Received BA (Specialist degree) at L'viv State University and MA in Economics at EERC/KSE. Also possess 'Candidate of Science" degree in Public Administration from Ukrainian Academy of Public Administration. Worked on policy issues for various think tanks including CASE, HIID, and other USAID, UNDP and DFID funded projects. Current research interests – competition and energy policy reforms in UA.
1. Kuzmyn М. What are the obstacles of healthy markets development in Ukraine?) © delo.ua; 2. Kuzmyn М....
Studies on effectiveness of Housing Subsidies and its impact on Energy Savings: CES policy paper; 3. Kuzmyn М. Credits on Chinese boiler and housing subsidies monetization. Новое Время; 4. Kuzmyn М. The Grand Retail: How to Teach Fair Practices to Ukrainian Retail).  VoxUkraine; 5. Kuzmyn М. Why Medicine In The EU Is Cheaper Than In Ukraine?. European Pravda.