Pro-Russian media continued to claim that the threat of the Russian invasion is a US campaign. The talks between Presidents Biden and Putin were said to show that Ukraine is not independent but depends on other states' relations. And that the warring parties on our territory are the US and the Russian Federation. The media also manipulated the content of the Minsk agreements and blamed the mythical Sorosists for the US sanctions imposed on the "fighter against external rule" Andriy Portnov. 
VoxCheck analyzes how Russian narratives get into Ukraine's information space as part of a joint project with the Center for Strategic Communications. Read the previous publications here. 
Talks between Putin and Biden
Pro-Russian media paid considerable attention to the talks between Presidents Joe Biden and Vladimir Putin. The main message is that Ukraine is losing its subjectivity and influences nothing and that other countries are determining its policy. Pro-Russian politician Yevheniy Murayev doing the lion's share of systemic Russian propaganda on Nash TV, said: "Finally, the two countries have met, fighting with our hands on our territory." 
Speaking on First Independent, pseudo-expert Dmytro Korniychuk argued that even Russian aggression against Ukraine is an agreement between Moscow and Washington. The latter allegedly "commanded" Kyiv to do nothing when Russia occupied Crimea and Donbas. By the way, Korniychuk has been relaying Russian propaganda messages about "agents of Washington sitting in Kyiv," Texty writes. 
Pro-Russian online platforms continued to deny the threat of Russian invasion, claiming it was only an American informational campaign to increase Biden's rating. Last week, Biden himself said he would call Putin to "stop" him. Hence it is already clear that intensive talks about the Russian military threat to Ukraine mainly served to justify the very fact of this meeting. A sort of "we need to save Europe from war," Strana writes.
The websites of Medvedchuk's pool (112, NewsOne, and other outlets, including Telegraf and Mignews) repeated his statement about the "zero probability" of war between Russia and Ukraine. As if there was no occupation of Crimea, or no one ever recorded the presence of Russian citizens and military equipment in Donbas. There has been a war going on since 2014, with shelling taking place daily, although now with fewer victims than a few years ago.
The US will press Ukraine to cede "autonomy" to Donbas
Citing US administration representatives, the Associated Press wrote that the United States would suggest that Ukraine give territories in the east that are currently being controlled by Russian hybrid forces "a measure" of autonomy. The White House called that untrue. However, Russian media made it sound like the United States needed Donbas's autonomy.
This caused considerable excitement among pro-Russian media outlets promoting Russia's position regarding the Minsk agreements. They argue that Ukraine is not implementing them because it refuses to grant Donbas a "special status." 
It is a manipulative statement ignoring the basic fact that the militants never complied with the security provisions of the Minsk agreements. According to the second package of the Minsk agreements of February 2015, Ukraine should change its Constitution considering the "peculiarities" of ORDLO and adopt legislation on their "special status." Russia consistently promotes the narrative that Ukraine is not fulfilling its part in the Minsk agreements. However, despite Ukraine's repeated unilateral ceasefires, Russia even fails to implement the first clause regarding ceasefires. 
Another manipulation is that "radicals" and "nationalists" do not let Donbas have "autonomy." However, the matter is that while the Russian side insists on the "autonomy" of Donbas, the Minsk agreements only mention a "special status." Nonetheless, some media outlets and pseudo-experts in Ukraine are spreading Russian views.
Vesti cites Ruslan Bortnik, a spin doctor close to ex-Regionals: "…the positions of Russia and the USA on Donbas and Ukraine are conceptually coherent. Both sides advocate for returning Donbas to Ukraine as an autonomous entity."


"Lost in Translation." The first screenshot is the original text by AP news mentioning "Russia-backed separatists." The second is a "translation" by Strana where the separatists become pro-Russian (i.e., it is now a matter of political orientation, not Russia supporting the militants). The vague notion of "a measure of autonomy" can also take on different meanings.
"Sorosists" tattletaling on Akhmetov
The Anticorruption Action Center, an NGO, monitored a political talk show on the "Ukraine 24" TV channel and found it disseminated Russian disinformation. The report was published on the Atlantic Council's website. It mentions anti-Western messaging (attacks on anti-corruption institutions, supervisory boards of state-owned enterprises, etc.) and statements about so-called "external governance"). These are some of pro-Russian media outlets' most common messages. Notably, the latter defended the channel and attacked the "Sorosists."
"There's a clear hint that sanctions should be imposed on the TV channel (or even on its owner Rinat Akhmetov). This "analysis" is not just about a TV channel referring to Sorosists as Sorosists, or external governance as external governance," Strana writes. Strana notes in the same article about "external governance" that the United States has not appointed an ambassador to Ukraine for a long time "because, unlike other countries, Kyiv needs not just an ambassador, but a real shadow governor of the state." The last US ambassador to Ukraine, Marie Jovanovich, was dismissed in May 2019. As former US Ambassador to Ukraine John Herbst explained, the appointment of a new ambassador is currently being delayed due to Joe Biden's decision regarding Nord Stream-2. 
The pro-Russian media Vesti also called the report "telling on Ukraine." The pro-Russian channels remembered to attack the so-called "Sorosists," mainly inviting those speakers who spread the same anti-Western narratives. The owner of Nash Yevheniy Murayev said: "They (Americans – ed.) have a whole mechanism of engaging Shabuninas, Yareskos, and everyone else there – an army of "grant-eaters," or as we call them, "Sorosists." Those who use the money of American taxpayers and the Soros Foundation to create an imitation of our country's public. And the wrong one to that, imposing the wrong priorities on us. Stigmatizing all those who disagree with the course, whereby Ukraine is just a minion of the United States."
Similar narratives were aired out again on First Independent, owned by Viktor Medvedchuk's entourage. Anatoliy Burmich, an MP from OPFL, typically spoke about "governance from abroad." "Because, unfortunately, our sovereignty has been lost, and external governance is in full swing, in everything: legislation, even national security issues," he said. He later voiced concerns that the country would be handed over for "full colonization." 
Defending Portnov and former CCU chairman Tupytskyi
The United States imposed sanctions on Andriy Portnov, deputy head of Viktor Yanukovych's presidential administration, and Oleksandr Tupytskyi, former chairman of the Constitutional Court of Ukraine, still litigating for his position. Portnov is accused of buying access and decisions in Ukrainian courts and undermining reforms, and Tupytskyi of "considerable acts of corruption," including bribery. 
Pro-Russian media reacted energetically. They described Portnov as "one of the main critics of the system of external governance currently being built in Ukraine." The sanctions imposed on Tupytskyi were called a "siege of the Constitutional Court" by Zelensky and Americans.
"The President's Office has had a conflict with Tupytskyi for over a year, willing to bring this judicial body under its control. Portnov came under sanctions because of complaints from Ukrainian "Sorosists," i.e. the "activists" receiving grants from the US Embassy and lobbying to put Ukraine's judicial and law enforcement systems under Western control," Strana wrote, trying to find someone to blame.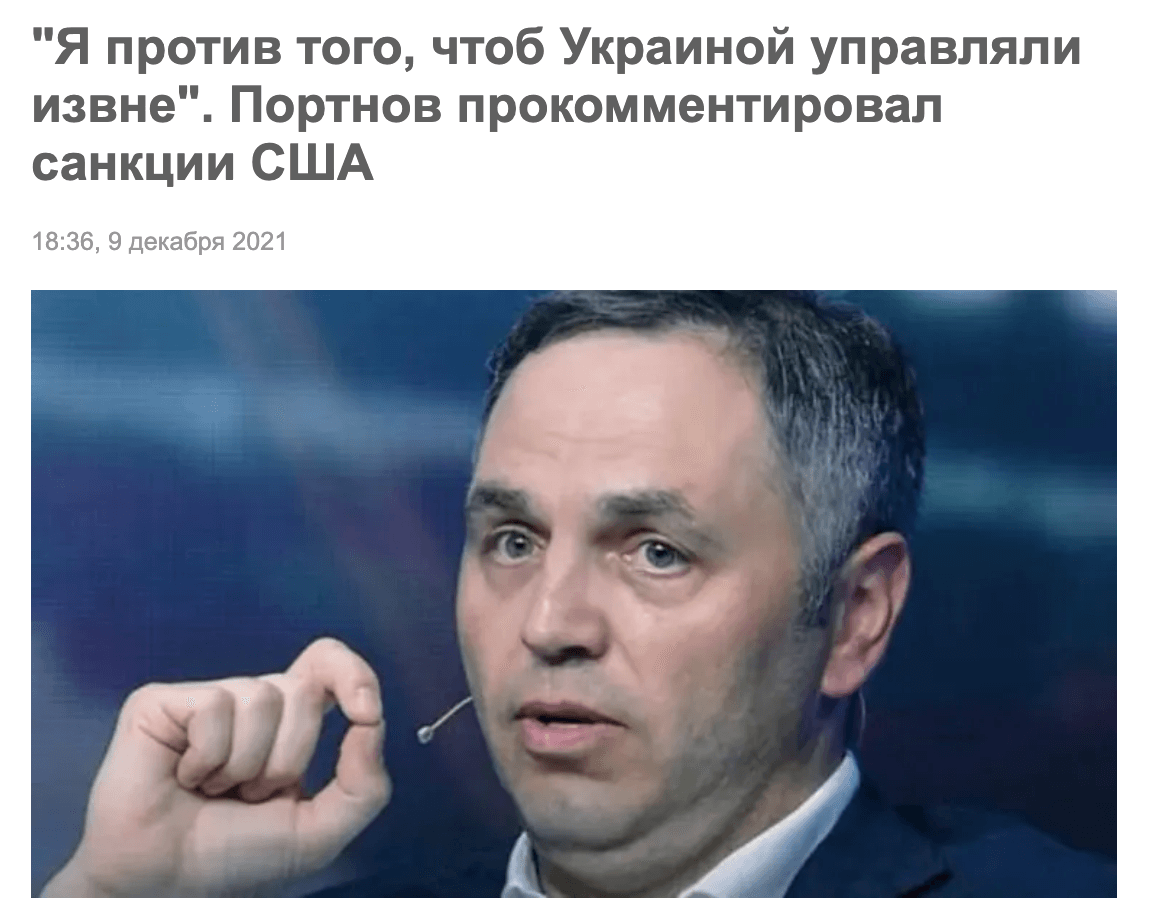 "I'm against Ukraine being governed from abroad," Portnov commented on the US sanctions.
Screenshot: Strana
"Portnov was right to mention external governance. The pressure exerted on the former CCU chairman and the lawyer should be considered in this context. As we know, the United States pushes Ukraine to implement judicial reform to bring the Ukrainian law enforcement system under control," Klymenko Time writes (a media outlet controlled by Oleksandr Klymenko, former Minister of Revenue and Duties of Ukraine from "the Yanukovych family").
The US also imposed sanctions on Andriy Portnov Fund, a charity organization. Pro-Russian media promptly posted material about the philanthropist Portnov resembling paid-for publications. KP in Ukraine, Golos.ua, Telegraf, Ukrainian News, Strana, Fakty, News24ua wrote: "Portnov's charitable fund on which the US imposed sanctions spent 13 million to help hospitals." 
You will be punished for "dissent" in Ukraine
On December 9, the Cabinet of Ministers approved two bills on administrative responsibility for publicly denying Russian aggression and attempts to legitimize the occupation of Ukrainian territories. It concerns the responsibility of politicians: national or foreign public figures, persons authorized to perform state or local government functions, politically significant persons in international armed conflict (if this law were already in force, it would probably apply to the mayor of Poltava who spoke of a war of "brother against brother").
The pro-Russian media used manipulation, writing that Ukrainians would be punished for "thought crimes" and banned from "thinking." And that the MPs do not want "ordinary Ukrainians to think about politics, know their history or try to understand what is going on."  
However, it only applies to public figures in the first place. Second, the initiative has yet to be approved by the Verkhovna Rada to establish responsibility for it (notably, the phrase "will be punished" is used for a greater psychological effect). Third, when politicians deny the presence of Russian troops in the east of the country, which has been repeatedly confirmed by Ukrainian intelligence, international organizations, and foreign investigators, they are not "trying to figure things out" but openly promoting the Kremlin's official positions. Russia itself does not conceal the presence of Russian troops in occupied Crimea.
You deny it, and you pay for it. Those in Ukraine will be punished who do not acknowledge Russia's aggression in Ukraine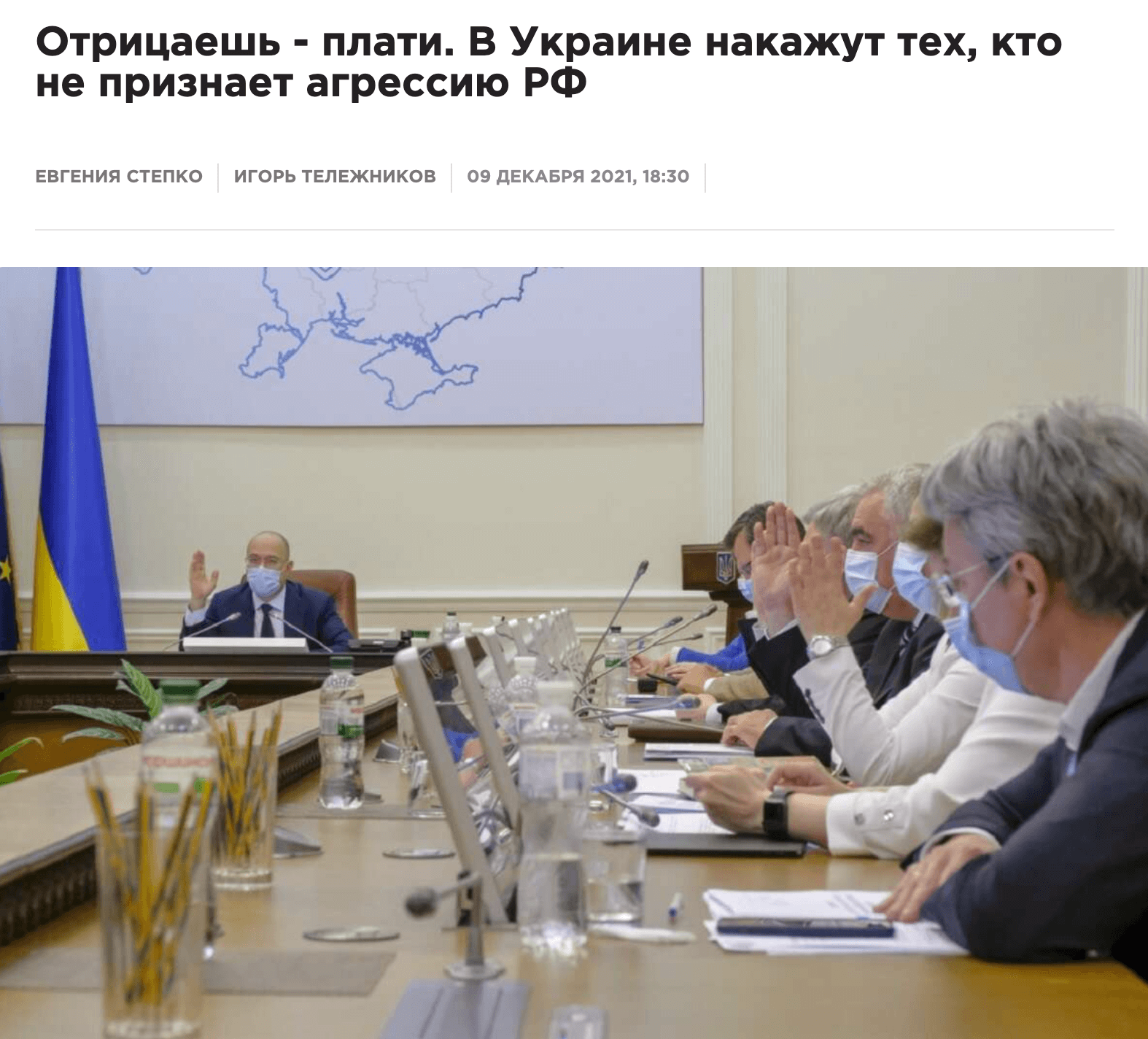 Let us analyze the most common fake news stories by pro-Russian politicians citing Yevheniy Murayev, already mentioned. "The presence of Russia's regular troops in Donbas has not been proven either by the Ukrainian authorities in the first place or by the International Criminal Court, the UN, the PACE, or anyone else," he said on Nash.
For starters, the Council of Europe recognized the presence of Russian troops in Donbas and called on the Kremlin to withdraw them from Ukraine in 2014. 
The United Nations has spoken of the presence of Russian troops since 2014. Furthermore, even Russia's representative to the UN in 2020 acknowledged that the war in Donbas is not an internal conflict but a political conflict between Russia and Ukraine. 
OSCE representatives acknowledged Russia's presence in Donbas. The OSCE mission recorded individuals with rank insignia of the Russian Federation in Donbas. Later, according to the information published on the website of the US Mission to the OSCE in January 2020, the OSCE recorded the transfer of military equipment from Russian territory to Ukraine.
Russia's involvement in Donbas has also been recorded in NATO. In August 2014, the largest invasion of the Russian armed forces took place, with columns of equipment entering the territory of Ukraine. NATO confirmed this. At the time of the invasion, the Russian Armed Forces comprised nine battalion tactical groups numbering up to 3,500 personnel, 60 tanks, 320 BMDs, 60 guns, 45 mortars, and five anti-tank missile systems.
Bellingcat investigators have repeatedly emphasized the presence of Russian troops in eastern Ukraine. For instance, in 2014-2015, thousands of Russian soldiers took part in hostilities in eastern Ukraine and were awarded medals for their actions during these operations. The data show that between 3,000 and 10,000 Russian servicemen took part in the aggression against Ukraine. And on January 24, 2015, nine Russian commanders and officers participated in the artillery fire on Mariupol. The Russian intervention in eastern Ukraine was attested to many times by its participants. Russia's participation in seizing Donbas was reported by former Russian officer Igor Strelkov-Girkin, one of the organizers of the separatist rallies Pavel Gubarev, head of Special Forces of the so-called "DPR" Dmitry Sapozhnikov and others, Donbas.Realii writes.  
"Mentally unprepared for NATO"
The idea that Ukraine will never be in NATO is older than humanity itself. It is either "nobody is waiting for Ukraine there" (Russian propagandists say the same about the EU), or "Ukraine categorically cannot go there," or "we'll become a bridgehead for NATO." And when pro-Russian politicians run out of "arguments," then Nestor Shufrych, an MP from OPFL, comes along saying he is against joining the alliance since "our system is not mentally ready for NATO." And that it is "unnatural for Slavs."
"That's the way things are. That's not about claims that countries that have been at war with various states on the territory of modern Ukraine for a thousand years have joined NATO. Who fought Kyivan Rus? Those countries whose successors joined NATO. Turkey (Ottoman Empire), the Kingdom of Hungary, and the Kingdom of Romania. These are light versions. And we can go on: the Polish-Lithuanian Commonwealth, the Grand Duchy of Lithuania, the Teutonic Order that in effect represented German interests, and many other countries. It's an unnatural process for Slavs," Shufrych said on Nash TV.
Interestingly, there is a contradiction here that the wars fought a century ago prevent Ukraine from joining NATO today. Yet the war Russia is waging against Ukraine right now does not stand in the way of friendship, trade, and alliances with Russia that Shufrych and his party members are calling for. By the way, something is wrong with Shufrych's theory: the Poles are also Slavic people, but "nature" did not prevent them from joining NATO. When he thinks back to who fought with Kyivan Rus, he forgets that its capital was seized and plundered by fundamentally "Slavic" princes. In particular, in 1169, Kyiv was conquered by the prince of Vladimir-Suzdal, Andrei the Pious. The city ceded itself, and its inhabitants got enslaved. 
Our methodology
VoxCheck analysts monitor the websites and social networks of the Ukrainian pro-Russian media every day to identify the main news or topics of the week that get the most airtime and attention in the news feed. We identify the key narratives of the past week and analyze their origins.
We monitor media outlets such as Strana, Klymenko Time, Vesti, Ukrainian News, Podrobnosti, Apostrof, From.ua, Golos.ua, KP in Ukraine, Znaj.ua, Telegraf, 112.ua, Zik, NewsOne, TV channels Nash, First Independent, Inter, etc. We do not claim that these outlets deliberately spread Russian propaganda. Their content, however, contains elements of Russian disinformation. VoxCheck searches for fake news stories and manipulations to debunk them. The "click and check" method lies at the core of our fact-checking. Anyone can check our argumentation and sources. Fact-checking can only be based on open data with relevant links. A fact-checked article can only be published if signed by two editorial board members.
Attention
The authors do not work for, consult to, own shares in or receive funding from any company or organization that would benefit from this article, and have no relevant affiliations