In 2015 the Ukrainian agricultural sector will receive its lowest level of state subsidies over the past 10 years, writes Oleg Nivievskyi from Institute for Economic Research and Policy Consulting in his VoxUkraine op-ed. Overall, however, this will not have an impact on the sector, but it gives an opportunity to reduce corruption, Nivievskyi suggests.
The volume of government support to agricultural producers is quite significant in Ukraine. According to Organisation for Economic Co-operation and Development, over 2010-2012 the government support for agriculture in Ukraine amounted to 1.62% of GDP, while OECD farmers received only 0.34% on average.
Ukrainian budget support through production subsidies (payments per head, per tonne, concessional credits, compensation for agricultural machinery and equipment expenses, etc.) and general services subsidies (infrastructure, education, sanitary and phytosanitary control, etc.) account for an insignificant share of the total state support to the Ukrainian agriculture sector. The largest support  to farmers is received in the form of tax privileges.
Corruption is the main problem in various support programs for agricultural sector and rural areas in Ukraine. The traditional 40-50% "kickbacks" when obtaining government subsidies, the complexity and non-transparent application requirements, questionable activities of the state agencies that are governed by the Ministry of Agrarian Policy and Food (Agrarian Fund, Hlibinvestbud, DPZKU) – all of which made budget subsidies and programs unavailable for the majority of agricultural producers while the activities of state enterprises became extremely loss-making for the country.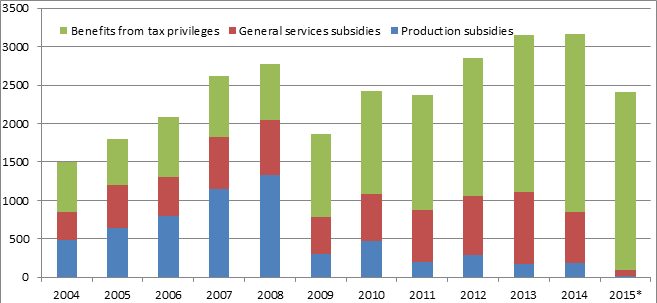 Source: years 2004-12 – OECD PSE charts; 2013-15 – own calculations
Thus, it can be argued that subsidy support does not significantly influenced agricultural development as the lion's share of subsidies simply don't reach the producers. All eligible producers, however, obtain tax priviliges without exception and the interference of government officials in this process is minimal.
The state budget for 2015 virtually does not envisages the financing of production subsidies, except for financing of the Agrarian Fund. However, this will not have a noticeable impact on the Ukrainian agriculture, but it gives an opportunity and time to fight the corruption via fundamental and radical reform of the state support for agriculture. Although, farmers will continue benefiting from tax privileges until January 1, 2018 (according to the text of the Coalition Agreement).
Attention
The author doesn`t work for, consult to, own shares in or receive funding from any company or organization that would benefit from this article, and have no relevant affiliations