This week, social media wrote about a soon-to-begin cholera outbreak in Ukraine and spread fake news of electronic medical cards being dangerous for Ukrainians once introduced. russia's defense ministry said the Ukrainian military has plans to deploy air defense equipment at the burial site of those who died of the plague in Odesa.
With the support of the USAID Health Reform Support project, VoxCheck analyzes and refutes public health narratives spread in the information space of Ukraine, belarus, and russia on a weekly basis.
Disinformation: At least three bio-laboratories of the Armed Forces of Ukraine operate in Zaporizhzhia
russian media outlets disseminated information about at least three AFU bio-labs allegedly active in Zaporizhzhia and managed by the United States. This was reported by Volodymyr Rohov, a local quisling and so-called "head of the council of the military-civilian administration of the region" (i.e., russian occupation administration).
What's the reality? 
Ukraine's Ministry of Health emphasizes that all laboratory capacities in Ukraine serve a single purpose: to indicate and identify the pathogens of infectious diseases that fall under the regulation of international medical and sanitary rules. There are no "American bio-laboratories" or "military biological programs" in Ukraine.
In 2005, Ukraine's MoH concluded an agreement with the US Department of Defense to prevent the spread of technologies, pathogens, and knowledge that could be used to develop biological weapons. Under the agreement, laboratories working to prevent infecting the population with complex pathogens were modernized. By the way, until 2014, the Biological Threat Reduction Program also extended to russian laboratories. 
A complete list of laboratories and institutions supported by the US Department of Defense is publicly available on the website of the US Embassy in Ukraine. It does not include any Zaporizhzhia-based laboratories.
Volodymyr Rohov, who was quoted in the articles, is a pro-russian quisling in occupied Melitopol. He holds no legitimate position in Zaporizhzhia or the region and cannot be an official source of information. Rohov has used his social network accounts to spread russian fake-news stories about Nazism, biological weapons, and the "liberation" of territories by the "DPR army," Detector Media writes. He calls the russian occupiers the "liberation army."
Earlier, VoxCheck repeatedly debunked the fake news of "US bio-laboratories in Ukraine." 
Disinformation: Ukraine's Defense Ministry destroyed data of the Ukrainians working with US military laboratories
Some russian mass media disseminated an allegedly secret document of the Ukraine's Defense Ministry about destroying the personal data of Ukrainian research institutions' employees collaborating with the military bio-laboratories of the United States, namely Metabiota Ltd and Battelle. They cite the Telegram channel of the russian Izvestia publication where the document was first posted.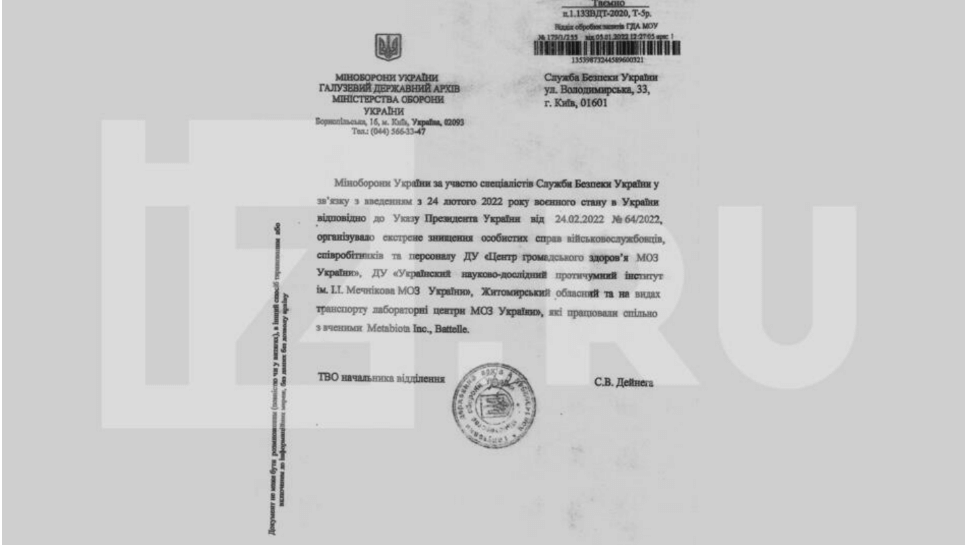 What's the reality? 
The document contains several errors indicating it is a forgery:
The phrasing "Defense Ministry" is used, whereas the official style requires using full names, i.e., " Ministry of Defense"

The address of the Security Service of Ukraine contains russian abbreviations for "city" and "street"

In the phrase "Security Service of Ukraine," the word "security" must be written in a lowercase letter in Ukrainian

The phrase "personal file" is wrongly translated from russian: Ukrainian has two different adjectives to convey different nuances
In addition, the document incorrectly mentions the Sectoral State Archive of the Ministry of Defense of Ukraine. According to its director, Vasyl Turchyk, medical facilities (including laboratories) are not the institution's offices of origin. In other words, they are not included in the list of bodies that must submit documentation to the archives. Besides, security classification (e.g., "classified") is only applied to those documents that can be processed using protected computers. The archive has no such equipment.
Disinformation: The Ukrainian military plans on deploying air defense equipment at the burial site of those who died of the plague in Odesa
On June 10, russian representatives claimed the Ukrainian military deployed air defense equipment and mock-ups of such systems near the burial place of plague victims in Odesa. Propaganda outlets say that if russia strikes the object, Ukraine will accuse it of bringing about biological hazards.
What's the reality?
There is, indeed, a burial site of the victims of plague epidemics in Odesa. During the 18th and 19th centuries, the city underwent several plague epidemics. After the 1812 outbreak, plague victims began to be buried in a separate cemetery. Construction waste was buried at the same spot, so a high mound emerged in the graveyard. Later, the hill was called Chumna Hora [lit. Plague Hill – ed.] or Chumka.
However, there is no evidence that the area near Chumna Hora was ever used for military purposes. Serhiy Bratchuk, a spokesperson for the head of the Odesa Regional Military Administration, called the russian reports part of an informational and psychological operation to spread panic in Ukrainian society and worsen Ukraine's international image.
Note that throwing in such information is a typical tactic of russia in the present-day information war. russia regularly makes baseless claims about "Ukrainian provocations." However, russia is known for its provocations and the use of prohibited weapons.
Disinformation: A cholera outbreak is about to begin in Ukraine
This week, social media again spread information about a soon-to-begin cholera outbreak in Ukraine caused by the cholera bacillus found in the water. Residents of different cities (Kyiv, Fastov, Kherson, Irpin, Odesa, Zaporizhzhia, etc.) published identical posts on social networks. Residents of russia sometimes disseminated a similar text about a "biological sabotage in connection with the situation in Ukraine." Users claimed to have learned about the potential outbreak from their doctor acquaintances or big company employees.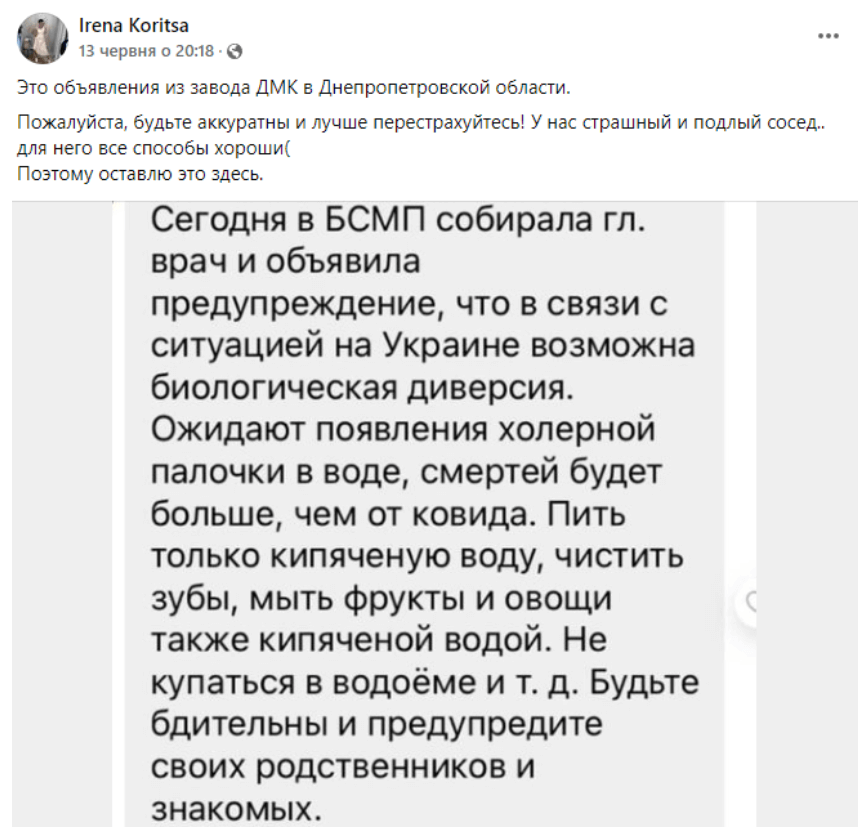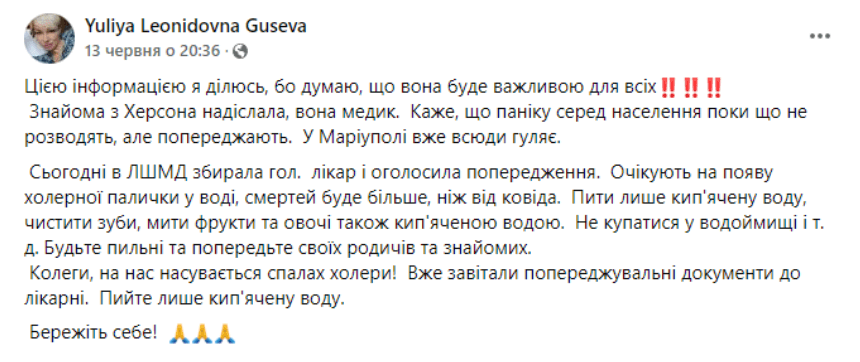 What's the reality?
Ukraine's Health Ministry had previously denied information about a possible cholera outbreak, stressing that Ukraine had sufficient material and technical resources to prevent an epidemic. The last confirmed cholera outbreak occurred in Ukraine in 2011 in Mariupol. No cholera case has been reported ever since.
However, there is a risk of an epidemic in the temporarily occupied territories, particularly in Mariupol. In the absence of a central water supply or sewage system, and due to accumulation of garbage and filth, spontaneous burials, corpses decomposing under rubble, and lack of medicine, the epidemic risk increases. According to the mayor of Mariupol, there might already be dozens of cholera cases in the city due to the humanitarian disaster, but this information cannot be confirmed due to the occupation.
Cholera is an acute intestinal infectious disease caused by ingesting food or water contaminated with the bacterium Vibrio cholerae O1 or O139, or through contact with an infected person. Water bodies in the warm season are a natural environment for these bacteria.
Cholera outbreaks mainly occur in areas with insufficient access to clean water and sanitation, such as urban slums, refugee camps, and war zones.
Symptoms of cholera include diarrhea, abdominal pain, nausea, vomiting, dehydration, leg cramps, and irritability. Diarrhea usually comes on suddenly. Vomiting can last for hours, and dehydration can develop within hours of symptoms.
How to prevent getting sick:
Observe personal hygiene (first of all, hand washing)

Use only clean water

Do not swim in polluted water

Cook food carefully: avoid eating raw or undercooked meats, seafood, and unwashed fruits and vegetables

Get vaccinated (vaccination is mainly

recommended

in countries with a high risk of an outbreak)
Disinformation: The introduction of electronic medical cards is dangerous for Ukrainian citizens
Social network users also misinterpret Ukraine's healthcare innovations. Serhiy Hula, a well-known anti-vaxxer and conspiracy theorist, claims the electronic medical records of patients soon to be introduced by the Ministry of Health violate the confidentiality of patient information because every official will have access to electronic documentation. According to the blogger, introducing electronic cards will also lead to people being involved in experiments without permission.
What's the reality?
The first elements of the electronic healthcare system (eHealth) began to be implemented in 2017 as part of Ukraine's medical reform. From 2019, electronic medical cards gradually started to be used in Ukraine. In early February 2022, electronic medical records covered over 80% of medical paper documents.
Speaking about introducing electronic medical cards, Serhii Hula refers to Deputy Minister of Health Mariia Karchevych's briefing on February 18, 2022. She said that medical institutions under all forms of ownership would maintain essential medical records in the electronic healthcare system, storing all necessary patient information in a single place (electronic medical cards). These changes that make it possible to abandon paper cards completely should be gradually implemented in institutions within five months.
An electronic card contains data about doctors' consultations, performed studies, examinations, vaccinations, electronic referrals, and electronic prescriptions. A complete transition from paper-based medical records to electronic ones does not violate personal data privacy. Officials do not have access to these cards. Instead, family doctors with whom patients sign declarations and narrow specialists with whom patients have appointments will have such access. Furthermore, only family doctors can see their patients' complete information, with other doctors having access to the information they need to provide treatment.
Ukrainians will not be forced to participate in experiments. Any experimental or clinical trials of drugs are only possible with patient consent, and digitizing healthcare services does not change this legal requirement.
Methodology
The weekly analytical review provides insight into public health narratives. Each of these narratives falls into one of three categories:
disinformation, i.e., deliberate dissemination of false information;

misinformation, i.e., inaccurate information that arose as a result of users' unconscious errors;

mal-information, i.e., accurate information used to harm a person, organization, or country.
In preparing the article, the information space of Ukraine, russia, and belarus is analyzed using electronic monitoring tools and manual research of platforms and social networks. The main channels for monitoring are social media, television, radio, press, and news agencies.
Disclaimer: This information piece was produced with the assistance of the United States Agency for International Development (USAID), provided on behalf of the people of the United States of America, and with the support of the United Kingdom Government's Good Governance Fund program on behalf of the people of Great Britain. This article's content is the sole responsibility of Deloitte Consulting under contract #72012118C00001. It does not necessarily reflect the views of USAID, the United States Government, UK aid, or the United Kingdom Government.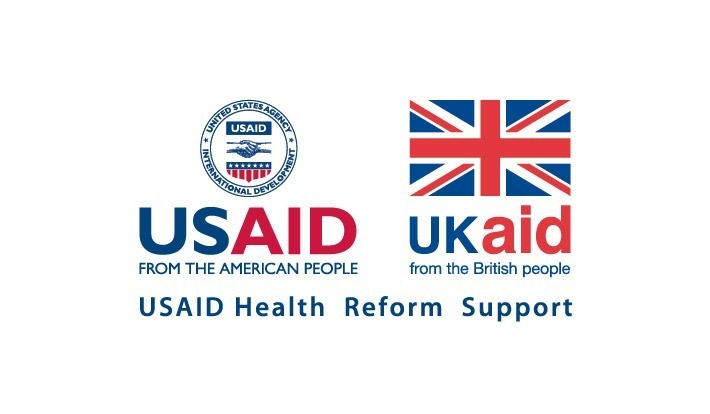 Attention
The authors do not work for, consult to, own shares in or receive funding from any company or organization that would benefit from this article, and have no relevant affiliations