According to the information spread on the Internet, the Armed Forces of Ukraine allegedly blew up a "double" of the world's largest An-225 "Mriia" aircraft, which was allegedly not ready to fly, to block the runway at the Gostomel airport near Kyiv. However, a real "Mriia" aircraft is allegedly all right.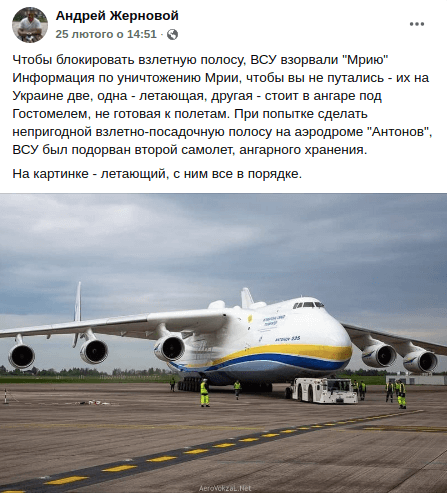 However, the An-225 "Mriia" plane was blown up by the russian occupiers, and the published photo was taken at least four years earlier.
According to the state concern Ukroboronprom, the russian occupiers destroyed the An-225 "Mriia", which was located at the Antonov airfield in Gostomel near Kyiv. It is noted that at the time of the attempt to capture the airfield, "Mriia" aircraft was under repair at the airport, so did not manage to leave Ukraine.
The fact that the plane was working is confirmed by the data of the aircraft monitoring site Flight Radar. According to it, the An-225 "Mriia" aircraft with flight number UR-82060 arrived on Feb. 5 from Billund Airport (Denmark) to the airport of the state enterprise "Antonov" in Gostomel.
Indeed "Mriia" has an unfinished "double", which began to be built together with the first aircraft in Soviet times. It currently exists as an unfinished fuselage. According to various estimates, the readiness of the aircraft is 60-70%. Opinions about its completion have been expressed, but since 1980 the existence of the fuselage is simply supported and it hasn't been dismantled. 
As for the published photo, it does not illustrate that "Mriia" survived. We found the oldest publication of this photo from 2018. Then the photos were used for the story of the ILA Berlin Air Show 2018 in Germany, where "Mriia" was presented.
Attention
The authors do not work for, consult to, own shares in or receive funding from any company or organization that would benefit from this article, and have no relevant affiliations