According to the information, spread on the Internet, the Armed Forces of Ukraine allegedly have abducted a United Nations representative in Kharkiv. In addition, it is reported that the Ukraine's Armed Forces allegedly arrived at the UN base in Kramatorsk and confiscated vehicles from employees.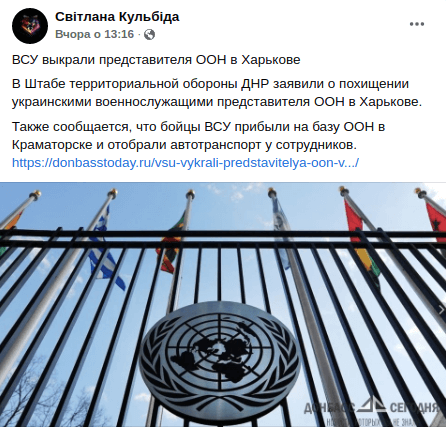 However, the servicemen of the Armed Forces of Ukraine did not kidnap the UN representative in Kharkiv.
According to the Center for Combating Disinformation, UN representatives denied this information.
The information that the Armed Forces servicemen allegedly took away the vehicles of the UN staff in Kramatorsk has so far been spread only by russian propaganda sites.
Attention
The authors do not work for, consult to, own shares in or receive funding from any company or organization that would benefit from this article, and have no relevant affiliations