Verification within Meta's Third-Party Fact-Checking Program
Social networks spread a photo which allegedly illustrates large-scale fights near Kharkiv, Mykolaiv and in Donbass on April 18, 2022. It is claimed that serious shelling took place there.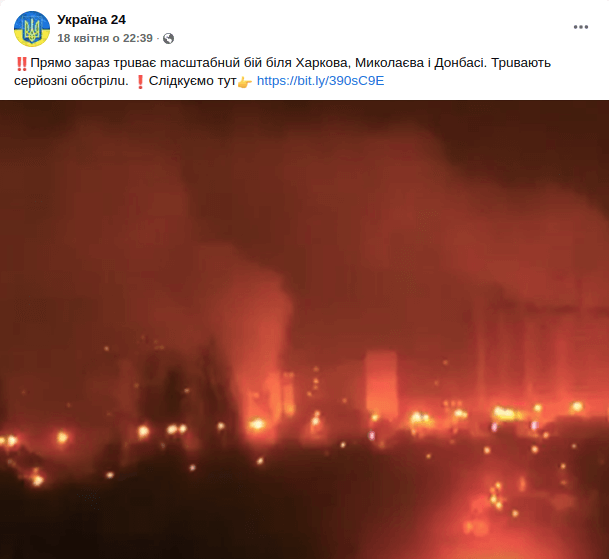 However, the photo from the post is a screenshot from the video, which appeared in February 2017.
Pay attention! The news is written with a combination of Cyrillic and Latin. Compare: in the text instead of the Cyrillic letter "i" Latin "u" is used, in the word " mасштабнuй " – instead of Cyrillic "m" Latin "m", and in the word «серйозnі» – instead of Cyrillic "n" Latin "n". It is also tried to add additional emotionality to the text with the help of red exclamation marks. Such signs indicate that you are facing either a fake or a clickbait.
In addition, the posts provide a link to the telegram channel, where allegedly published details should be. However, the link does not lead to a specific post, but to a telegram channel with news. Such news with impressive photos or headlines is spread in a deceptive way to increase the number of subscribers.
In fact, the photo from this post is a screenshot of a video recorded on February 2, 2017 in Donetsk near the Motel. According to Denis Kazansky, a member of the Tripartite Contact Group for the Peaceful Settlement of the Situation in Eastern Ukraine, the video shows the consequences of a powerful explosion, probably caused by the detonation of ammunition carried by a so-called DPR truck.
Attention
The authors do not work for, consult to, own shares in or receive funding from any company or organization that would benefit from this article, and have no relevant affiliations