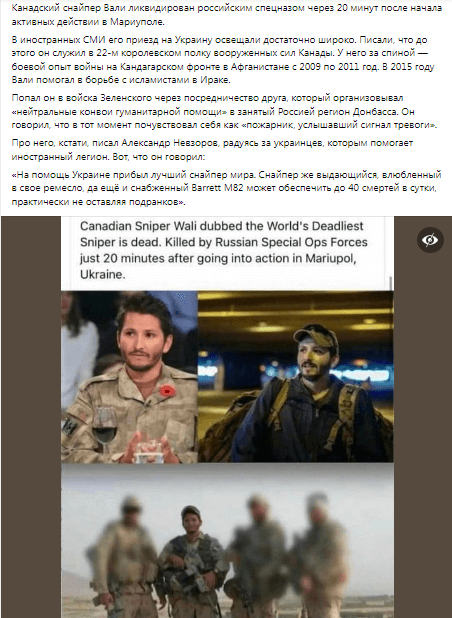 A Canadian sniper nicknamed Wali is a former member of the Canadian Armed Forces, who is currently fighting on the side of Ukraine. In early March 2022, he joined the International Legion of Territorial Defenсe of Ukraine.
On March 14, 2022, a sniper denied information about his death in his Facebook community. He said that he spent some time in the Kyiv region, and later moved to a safer place due to illness.
On March 22, 2022, Wali also shared information about the war in Ukraine and published a photo of himself, under which he claimed to be alive. Also in the conversation with France 24 – Les Observateurs, Wali said that he started to fight in the Dnipro region and never got to Mariupol: due to a dispute with the brigade commander, he returned to Kyiv.
In addition, after statements about the alleged death of the sniper, Wali gave an interview to Global News and CBC. The sniper said he left his phone at the guarded base before departing to the Kyiv front. He explained that he did not want to take risks by telling Russian intelligence about his location.
Marcus Kolga, the head of the Macdonald-Laurier Institute's foreign misinformation monitoring and detection platform, reported the news of Wali's death was misinformation by Russian authorities. Its purpose is to discredit and scare away foreign volunteers.
Attention
The authors do not work for, consult to, own shares in or receive funding from any company or organization that would benefit from this article, and have no relevant affiliations