Verification within Meta's Third-Party Fact-Checking Program
The network spreads information that in Ukraine not only humanitarian aid is being stolen, but also weapons provided to Ukraine by Western countries are allegedly being resold. As evidence social media users provide two facts. First, Hamas (a Palestinian organization that controls power in the Gaza, which the US, EU and Israel have recognized as a terrorist organization) and Hezbollah (a Lebanese organization recognized by the US, EU, Israel as a terrorist organization) allegedly threaten Israel with attacks using the Javelin they have thanks to Ukraine. Secondly, the so-called «Nazi battalions» in Ukraine allegedly use Israeli Matador rocket launchers without Israeli permission.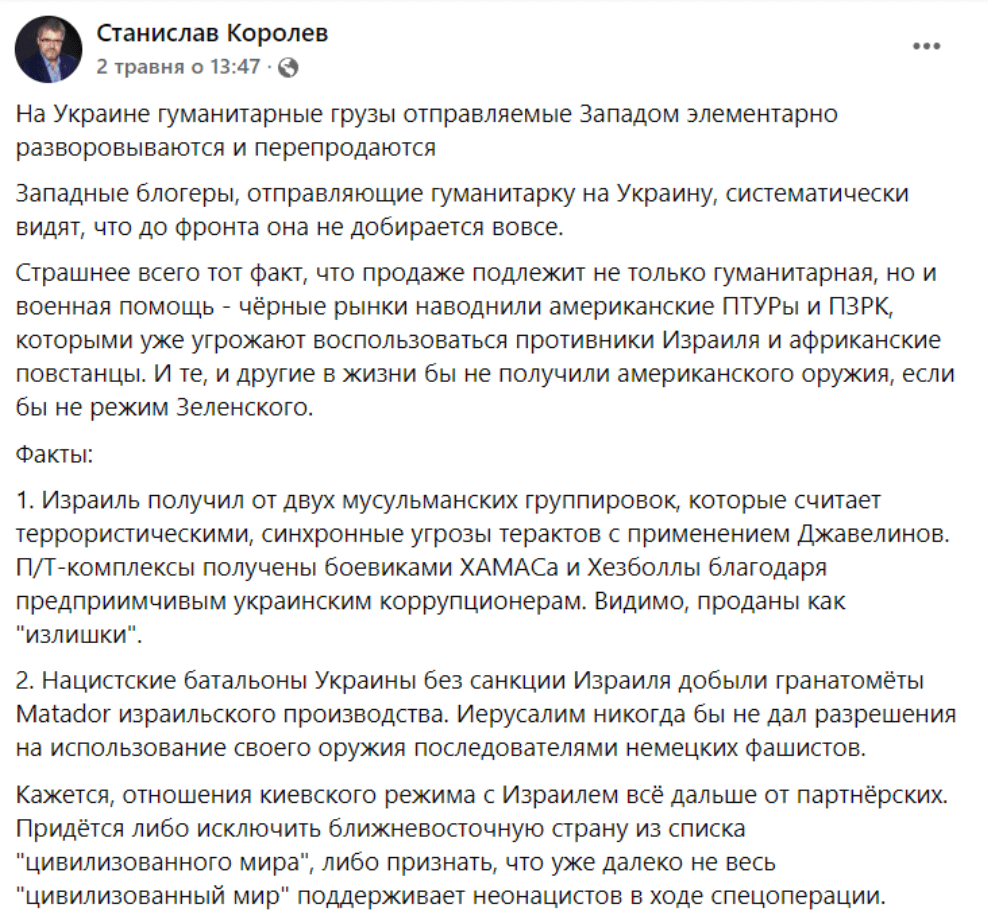 Screenshot of the post has been spreading on Facebook 
This is fake. There is no evidence Ukraine sold «Javelin» to militants from Hezbollah or Hamas.  As for «Matador», Ukraine received them from Germany and their transfer did not require a separate permit from Israel.
«Javelin» for sale
There is no information in open data sources that Ukraine sold «Javelin» to Hezbollah or Hamas for threatening Israel. There is also no evidence that these weapons have ever been used by these groups.
If we assume that Hezbollah or Hamas have «Javelin», they could get these weapons from other countries. According to The Military Balance 2022, in addition to Ukraine, this ATGM is officially in service in 21 countries. Previously, «Javelin» was found in countries that have not publicly announced the purchasing of such ATGM. For example, in 2019, the ATGM was found in the Libyan National Army, one of the factions fighting for power in Libya.
At the same time, both Hamas and Hezbollah have the technical capacity to carry out terrorist attacks against Israel without the use of Javelin. In particular, both organizations have already used third-party ATGMs in the fight against Israel. 
Matador rocket launchers for sale
In fact, the Matador rocket launcher is a co-production weapon from companies in Germany, Singapore and Israel.
Ukraine received the first batch of these rocket launchers from Germany in late March 2022. There is no information that the transfer of such weapons requires the separate consent of «Rafael Advanced Defense Systems» — an Israeli company involved in the production of Matador.
There are no "Nazi battalions" in the Armed Forces of Ukraine or in volunteer military formations. Nazi ideology is prohibited by Ukrainian law and is not promoted at the political or military levels.
Embezzlement of military and humanitarian aid
The narrative that humanitarian and military aid to Ukraine is being stolen — is an element of the information war aimed at making Ukraine lose the trust of its partners and receive less support in the fight against russian agression.
This narrative has been circulating since at least April 2022. For example, Yuriy Shvets, a KGB ex-intelligence officer and blogger, claimed that a CNN article allegedly reported on the embezzlement of aid in Ukraine. In fact, the CNN article did not blame Ukraine, but only mentioned a few possible problems: 
poorly organized logistics, which is why not all servicemen receive humanitarian aid in time;
the US lacks the ability to fully monitor the aid use they send to Ukraine;
if the war drags on, weapons could end up on the black market, as was the case with American weapons in Afghanistan after the Taliban seized power (ie, weapons fell into enemy hands).
Cases of selling the humanitarian aid have indeed been recorded. For example, the SSU has already blocked several illegal aid schemes in Lviv and Volyn oblasts. However, there is no evidence that such embezzlement schemes are widespread.
On the contrary, there is evidence that aid is coming to the Ukrainian military. Taras Chmut (head of the Back Alive Foundation) and Serhiy Prytula (founder of the Serhiy Prytula Charitable Foundation) are constantly involved in purchasing and delivering military aid, but have not encountered the corruption mentioned by Yuriy Shvets.
There is also more evidence on the Internet that weapons from Western partners are already being used extensively at the front. This applies in particular to M777 howitzers, «Switchblade» drones, «Matador» rocket launchers, etc.
Attention
The authors do not work for, consult to, own shares in or receive funding from any company or organization that would benefit from this article, and have no relevant affiliations