Verification within Meta's Third-Party Fact-Checking Program
Social media spread a video allegedly showing the consequences of shelling the Odesa Thermal Power Plant (TPP) on April 26, 2022.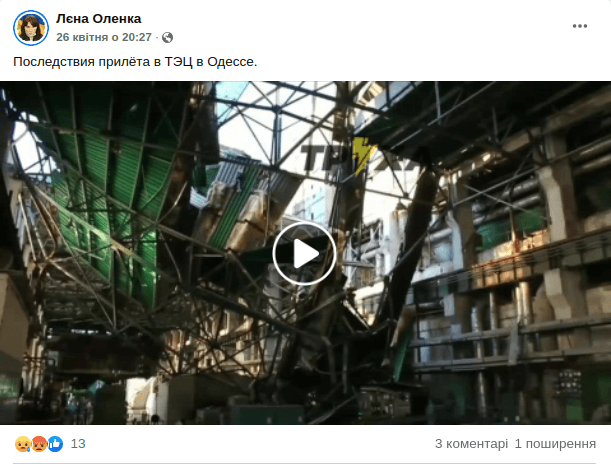 However, this video was actually posted on January 26, 2017, showing the consequences of an accident at one of the thermal power plants in the russian city of Penza.
The video shows the result of the accident that occurred on January 26, 2017, in Penza at the local TPP-1 due to the collapse of the plant's metal structures and roof on an area of about 500 square meters.
According to the head of the Odesa Regional Military Administration, Maxym Marchenko, the russian occupiers launched three missile strikes on the region on April 26. One of them damaged the bridge across the Dniester estuary, the second missile fell on the ground nearby, and the third fell into the water. There is no official information about the occupiers shelling the Odesa TPP on that day.
Attention
The authors do not work for, consult to, own shares in or receive funding from any company or organization that would benefit from this article, and have no relevant affiliations