Verification within Meta's Third-Party Fact-Checking Program
Social media spread information that CNN filmed fire footage in Edmonton, Canada, saying the video showed the result of the russian airstrike on Lviv. As proof of the fabricated news report, the video showed a man wearing a jacket bearing the word "Edmonton."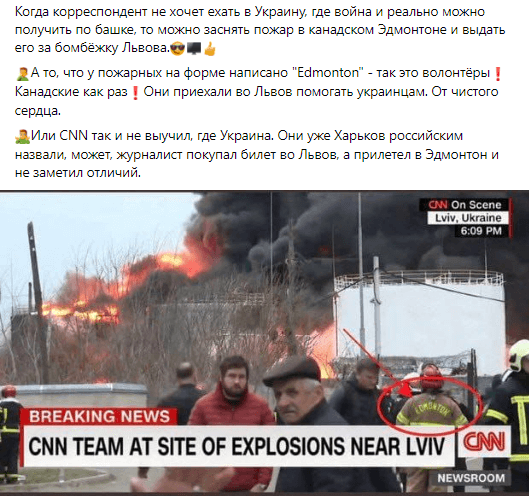 However, the video shows a fire at an oil depot and a defense plant in Lviv and a protective suit with "Edmonton" written on its back, a donated firefighter gear from a Canadian charity. This was also noted previously by independent fact-checkers from PolitiFact, Reuters, Snopes.com, FactCheck.org, and AFP fact-checking.
On March 26, 2022, the Lviv oil depot and plant were hit by an enemy missile. The fire was extinguished only at 7 a.m. on March 27. The shared image is a screenshot from a CNN report. CNN correspondent Don Lemon worked near the fire scene. 
The Firefighter Aid for Ukraine, a non-profit collecting unneeded/unwanted firefighter bunker/turnout gear, personal protective equipment, life rescue equipment, and medical supplies from fire departments and vendors in Canada, confirmed that a CNN report showed their gear.
The organization's CEO, Kevin Royle, told FactCheck.org that the footage showed gear donated as part of an aid program. According to him, in March 2022, the organization sent more than 14 tons of equipment to Ukraine, and Lviv received some of this equipment.
Edmonton Fire Chief Joe Zatylny also confirmed that CNN showed their donations. Brittany Eveneshen, a spokeswoman for Edmonton Fire Rescue Services, said Edmonton Fire Rescue Services donated the equipment shown in the CNN report. She also said the video was not shot in her city "because there were no fires at fuel storage facilities in Edmonton."
Attention
The authors do not work for, consult to, own shares in or receive funding from any company or organization that would benefit from this article, and have no relevant affiliations