Verification within Meta's Third-Party Fact-Checking Program
On June 4, blogger Ostap Stakhiv published a video in which he claimed that:
World hunger is a conspiracy of international organizations. Ukraine exported the same amount of grain from July 2021 to June 2022 as in the previous trading year (from July 2020 to June 2021, 44.9 million tons ). Therefore, the famine announced by the UN to occur in some countries due to the war in Ukraine is in no way related to exports of Ukrainian grains.

A concentration camp was created for Ukrainian refugees in Bulgaria.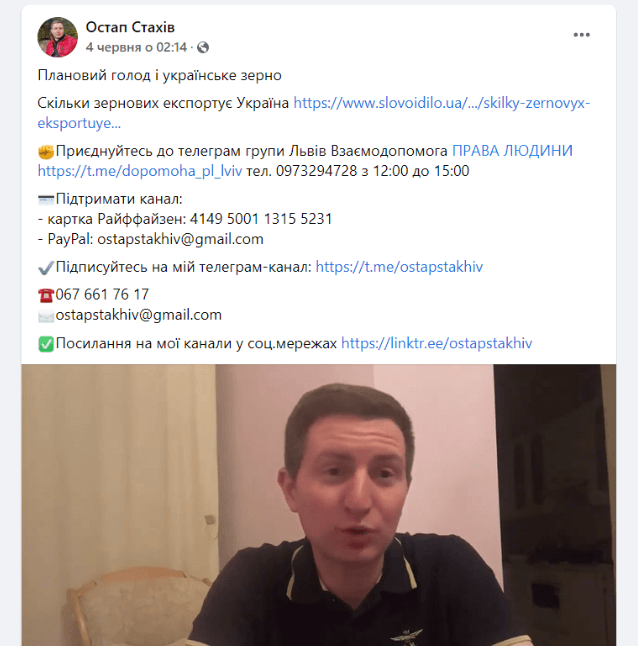 Screenshot post
However, this is not true. There is no evidence that the global structures are arranging a famine. However, because of the war in Ukraine, millions of people will be at risk of starvation.
We have repeatedly debunked Ostap Stakhiv's false allegations. We mentioned him and other covid-dissidents in an article dedicated to the first anniversary of the infodemic. In addition, Stakhiv is suspected of committing actions aimed at overthrowing the constitutional order or seizing state power. The SBU reported that it has evidence indicating possible financing of his activities by representatives of russia. His allegations contain traces of russian narratives. Regarding fuel shortages, high prices, and the threat of famine, Stakhiv does not mention the root cause, i.e., russia's war in Ukraine.
Due to the war in Ukraine, the number of people who will suffer from hunger will increase in the world
According to the Ukrainian Grain Association, 48.8 million tons of grain and oil crops were exported to foreign markets last trading year (from July 2020 to June 2021). According to the Ministry of Agrarian Policy estimates, 43.4 million tons of grain and legumes were exported. The main buyers of Ukrainian grain are the countries of Africa, Asia, and Europe.
This year, on May 14, the president of the Ukrainian Grain Association, Mykola Horbachov, said they exported 43 million tons before the war, which is nearly equivalent to last year's export. However, according to him, this trading year (July 1, 2021, to June 30, 2022), Ukraine planned to export 70 million tons of grain. According to Ministry of Agriculture data, more than 47.8 million tons had been shipped by June 17, with only 13 days remaining until the end of the trading period. 
According to the World Food Program, a food-assistance branch of the United Nations, 41 million people were on the verge of starvation even before the full-scale war in Ukraine. The war started by russia against Ukraine only worsened the hunger situation in the world. According to UN estimates, the number of those suffering from hunger may go up by another 8-13 million people. The forecasts referred not to the current but the next (2022-2023) trading year, which would start on July 1, 2022.
Ukrainians are not resettled to concentration camps in Bulgaria
At the end of the video, Ostap Stakhiv claims: "Remember I warned Ukrainians not to register as refugees abroad? In Bulgaria, everyone was taken behind barbed wire. Imagine the children there. Children grow up behind barbed wire on the asphalt having the psychology of prisoners. A refugee concentration camp behind barbed wire in Bulgaria is a real prison."
Modular houses mentioned by Stakhiv are not permanent residences for Ukrainians but buffer zones where refugees are allowed to stay for no more than 72 hours. One of these centers was already closed at the time of the video's release (June 4, 2022).
The conflict arose against the backdrop of resettling Ukrainian refugees from hotels on the first line of the Black Sea inland. Formerly Kalina Konstantinova clarified that the humanitarian program from the beginning was planned until May 31. She pointed out that neither the hoteliers nor the local authorities predicted and never said that Ukrainian refugees would be able to live in hotels for free after May 31 under the humanitarian program.
From June, Ukrainians began to be relocated from hotels to buffer zones. According to Kalina Konstantinova, Ukrainian refugees can live in buffer zones until the Bulgarian authorities receive information about how many people indeed need help and shelter.
Resettlement to buffer centers is not forced on Ukrainians: they can continue to live in hotels at their own expense or rent housing elsewhere. Temporary protection gives Ukrainians the right to live and work freely in Bulgaria. Only refugees from Ukraine are accommodated in buffer centers.
After resettlement to buffer centers, people are transferred to state recreation centers. The availability of places in recreation centers is explained by the fact that this year the vacation for employees of various departments was canceled.
Attention
The authors do not work for, consult to, own shares in or receive funding from any company or organization that would benefit from this article, and have no relevant affiliations