Verification within Meta's Third-Party Fact-Checking Program
russian mass media spread information about Verkhovna Rada's ex-commissioner on human rights, Liudmila Denisova, allegedly admitting to lying about the russian military in an interview with Ukrainian mass media. The publications refer to Denisova's interview with LB.ua.
However, this is fake. Liudmila Denisova did not say she lied about the russian army's crimes against Ukrainians.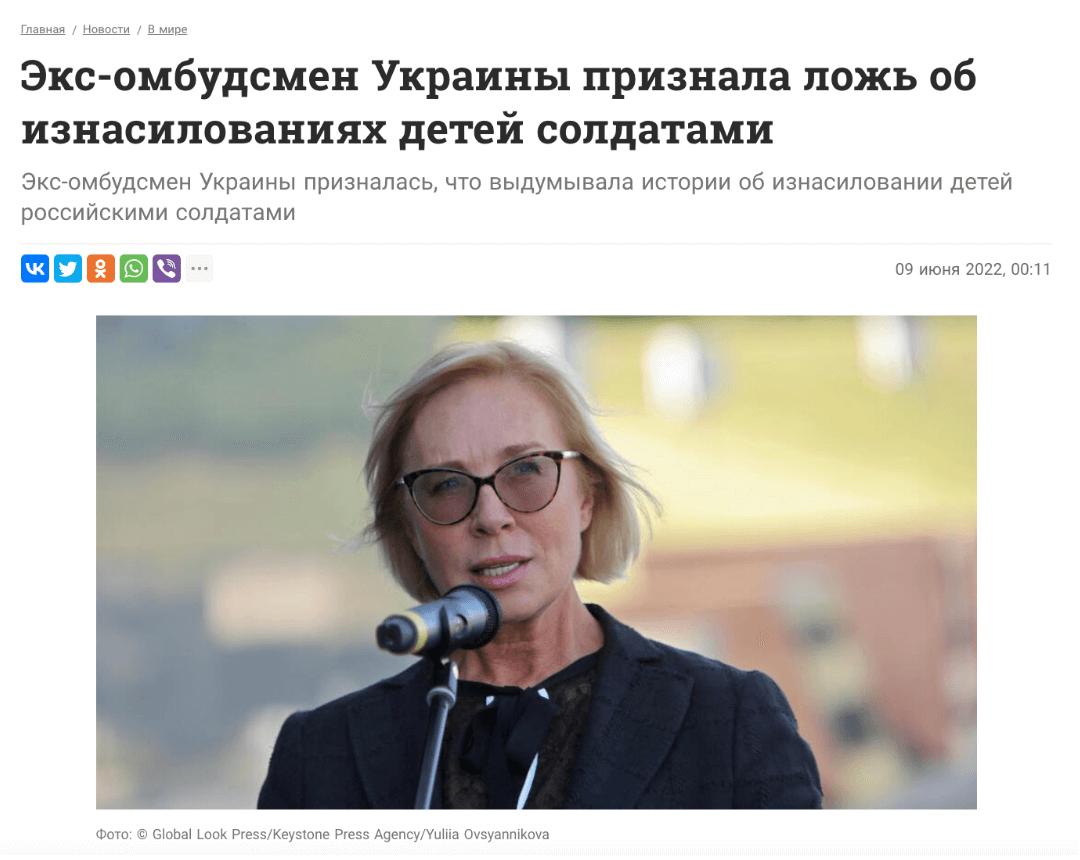 Ukrainian media community accused Denisova of speaking in excessive detail about sexual violence. In an interview with lb.ua journalists, Denisova said: "I told the media what the psychologists had said verbatim when working for a UNICEF psychological support line. The program's already over. May 15 was their last day. I said everything the callers wanted to say to society and the world so that the enemies, the russian federation, would be punished. Right, the language used was very cruel at the time. We discussed it (with the media – ed.), and I said that I may indeed have overstated things. But by doing so, I tried to achieve the goal of convincing the world to provide weapons and exert pressure (on russia — ed.)." That is, Denisova admitted to going into unnecessary detail but did not say she'd invented crimes.
Regarding her speech before the Italian parliament, Denisova said she chose the words to show the world that the occupiers carried out sexual violence systematically, constantly, and with particular cruelty. Commenting on the incident, Denisova said: "I was trying to prove (and the media agreed with me) why it was necessary to talk about war crimes. Because, for example, when I spoke at the Italian parliament's international affairs committee meeting, I could hear and see this fatigue from Ukraine, you know? I spoke about terrible things to push them somehow to make decisions that Ukraine and the Ukrainian people needed."
The human rights community critically treated some human rights violation cases brought up by Liudmila Denisova, recommending that she be more cautious when speaking about sexual violence. However, this does not mean that the numerous rapes committed by the russian military in Ukraine are fake. Ukraine has confirmed instances of rape committed by the occupiers. Some of them are difficult to verify because the victims are not always ready to openly talk about violence.
We previously debunked the fake news of Liudmila Denisova's being added to the Myrotvorets database.
Attention
The authors do not work for, consult to, own shares in or receive funding from any company or organization that would benefit from this article, and have no relevant affiliations