Verification within Meta's Third-Party Fact-Checking Program
russian media outlets disseminated information about the russian military allegedly seizing two French CAESAR howitzers during hostilities in Ukraine. The media cited a tweet by the French lawyer and politician Régis de Castelnau and reports from the russian Uralvagonzavod plant.
However, that is not true. Official sources denied any information about losing two French CAESAR howitzers, with de Castelnau's statement being unfounded.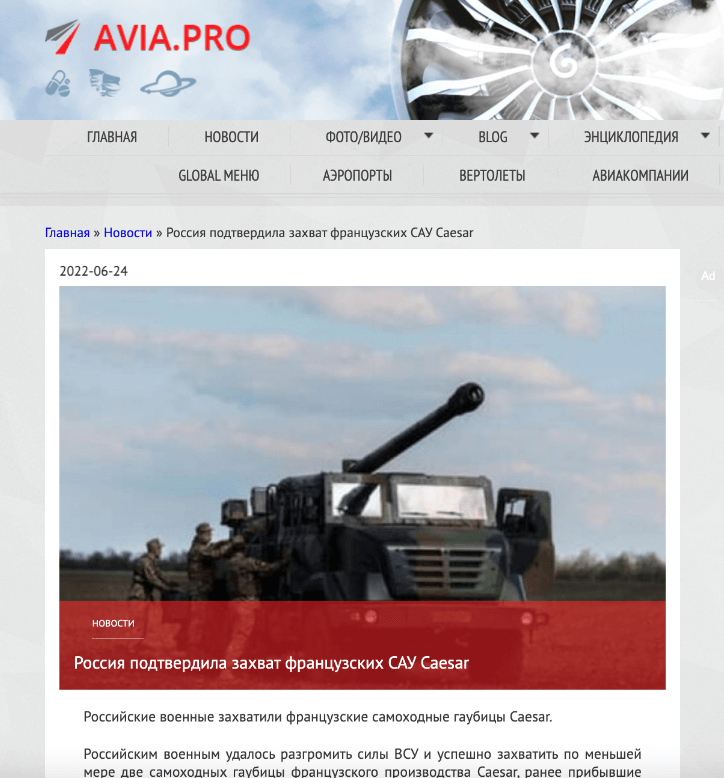 The Strategic Communications Department of the Armed Forces of Ukraine (AFU StratCom) denied the information. As the primary source, Régis de Castelnau provided no evidence of the self-propelled howitzers being captured. The russian Uralvagonzavod, which allegedly received the seized howitzers, provided no confirmation either.
Régis de Castelnau has been relaying the russian narratives of neo-Nazis at the helm of Ukraine, calling the war russia's special operation. Castelnau says he is not pro-russian but pro-Soviet. He has also made statements in support of Marie le Pen, a pro-russian candidate in the last presidential elections. 
In a comment to TF1info, the French Ministry of Defense denied the information of russia seizing two French self-propelled howitzers. The French General Staff also responded to the statement by saying in its comment to L'Independant that there was no evidence to confirm the information. 
Attention
The authors do not work for, consult to, own shares in or receive funding from any company or organization that would benefit from this article, and have no relevant affiliations