Verification within Meta`s Third-Party Fact-Checking Program
Joe Baiden`s statement that the US is going to export 20 million tons of grain from Ukraine : «Ukraine has 20 mln tonnes of grain in storage. The USA is trying to find a way to ship it out of the country» has been spreading on the internet. Social media users claim that such US actions will lead to the famine in Ukraine.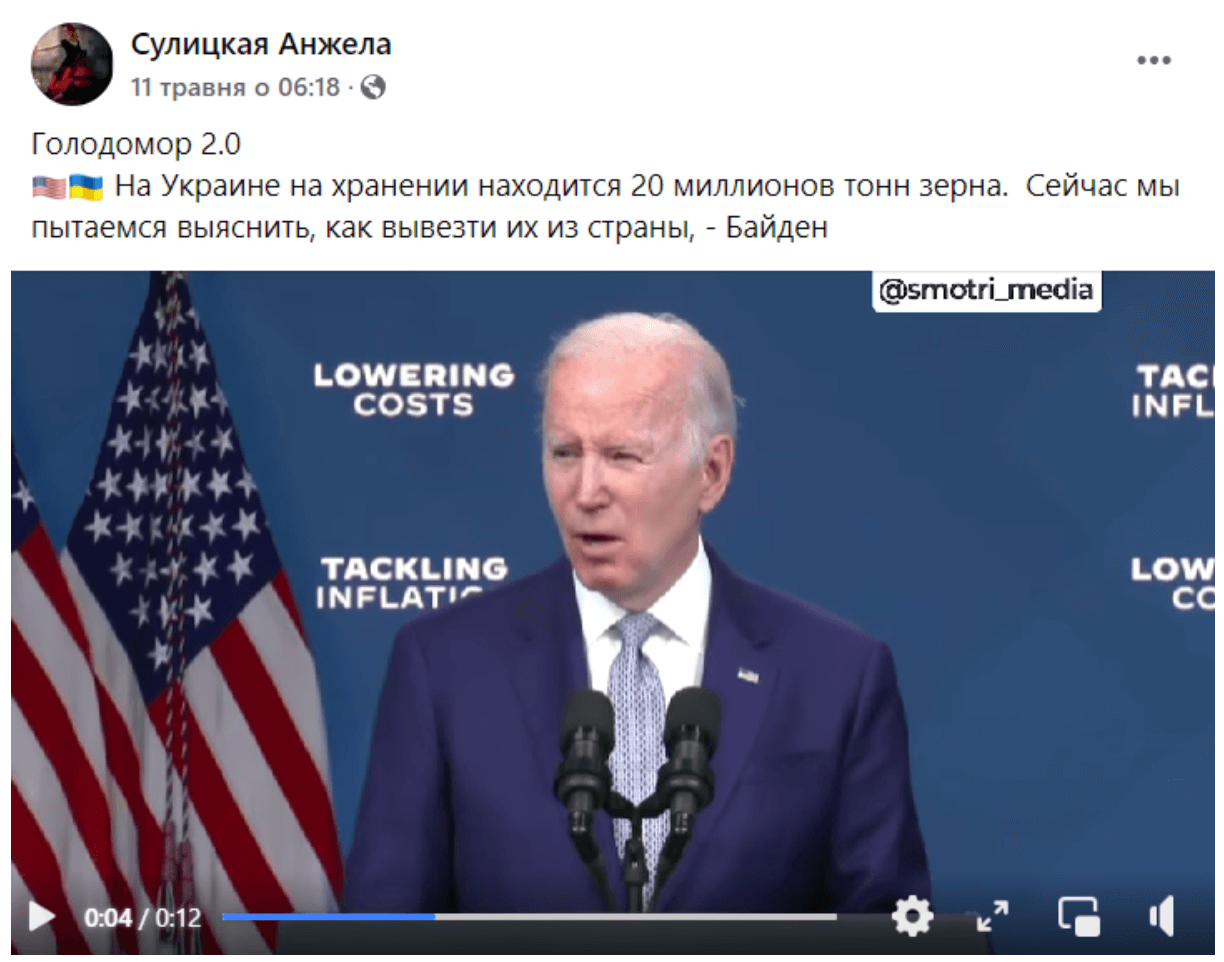 Screenshot of the post has been spreading on Facebook
However, users misinterpret the statement of the President of the United States. Western partners are going to help Ukraine to export around 20 million tons of grain but this export will in no way affect the food security of Ukrainians themselves: Ukraine produces much more grain than it needs for domestic consumption.
Joe Biden did make that statement on May 10, 2022. However, the second part of the quote was partially changed on the Internet. In his original speech, Biden said that Ukraine, not the United States, was trying to figure out how to export 20 million tons of grain: «Ukraine has 20 million tons of grain in storage in silos right now. They're trying to figure out how to get it out of the country to market, which would reduce prices around the world». The United States cannot influence the export of grain from Ukraine, as Ukraine and the United States do not have a land corridor, and the rapid lifting of the naval blockade in the Black Sea today seems unlikely. EU countries help Ukraine to export grain by land. 
Mykola Solsky, Minister of Agrarian Policy and Food, has repeatedly spoken about these 20 million tons of grain. In April and May 2022, he stated that Ukraine had 20 million tons of grain left from the last year which is not needed for domestic consumption and is intended for export.
Both the Minister of Agrarian Policy and the President's Adviser on Economic Affairs assure that this year Ukraine will have enough reserves for both exports and domestic consumption.
Most likely, such calculations are true. In 2021, Ukraine harvested 86 million tons of cereals and legumes crops. After the Russian invasion in 2022, about 1.3 million tons of reserves remained in the temporarily occupied territories.
Earlier, in February 2022, the Ministry of Agrarian Policy planned that in the 2021/2022 marketing year (July 2021 to June 2022) Ukraine should export 65 million tons, while domestic consumption will not exceed 20 million tons. As of May 30, Ukraine has managed to export 46.9 million tons since the beginning of the marketing year. It turns out that Ukraine still has opportunities to export without harming domestic demand.
Ukraine can also count on the reserves of this year's harvest. According to the Minister of Agrarian Policy, due to the war the sown area may be reduced by 20-30% compared to the previous year. At the end of May, the government announced that the sowing of spring cereals and legumes crops was completed by 78% of last year's figures, and the area under winter crops is 96% of last year's level. However, even with a significant drop in the harvest, Ukraine will still have sufficient reserves for domestic consumption and will be able to reduce exports if necessary in the 2022/2023 marketing year.
Attention
The authors do not work for, consult to, own shares in or receive funding from any company or organization that would benefit from this article, and have no relevant affiliations