Verification within Meta's Third-Party Fact-Checking Program
The network is spreading a video that allegedly shows how the Armed Forces ambushed the Russian occupiers in Mariupol.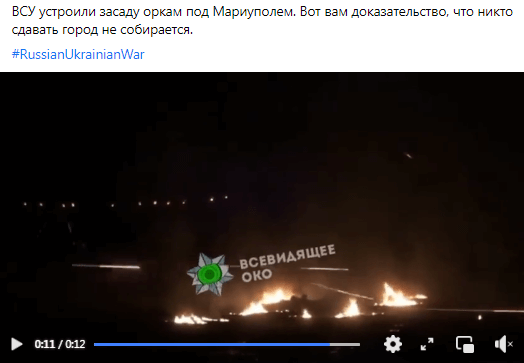 However, the video shows a shooting at a shooting range in Kentucky. 
An identical video with the caption "2015 Knob Creek Machine Gun Shoot" Night Shoot Highlights "has been published on YouTube. Knob Creek Gun Range & Gun Store is an open-air shooting range in West Point, Kentucky, with a gun shop on site. The video dated April 14, 2015 shows a night shooting in a shooting range.
Earlier, we denied that the Azov Regiment disrupted the evacuation in Mariupol.
Attention
The authors do not work for, consult to, own shares in or receive funding from any company or organization that would benefit from this article, and have no relevant affiliations