Verification within Meta's Third-Party Fact-Checking Program
A video report of a Western mass media is circulating online, in which children are allegedly called to be chipped under the "GA CHIP" program in order to protect them from possible abduction and trafficking.
The GACHIP program presented in the report has nothing to do with chipping children. It was created to collect data about the child on one medium. After that, it is handed over to her parents or guardians. This is done so that in the event of a child's disappearance, its representatives have a ready set of data that will allow them to quickly and efficiently start searching for them.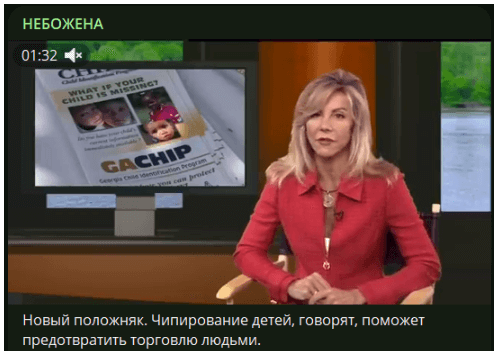 After a reverse search on the screenshot from the video, we found out that the report about the alleged chipping of children was published on July 11, 2010, on the YouTube channel "NewsdayNorthFulton". It was a local TV station in Fulton, Georgia. Now their site is down, and new reports haven't been published for a long time, so we can assume that the channel is no longer functioning.
If you carefully watch this video report, you will see that it does not talk about chipping at all. The GACHIP program discussed in the video is part of the National Child Identification Program. "GA" stands for the state of Georgia, and "CHIP" is not chipping, but an abbreviation for "Child Identification Program."
This program works as follows — the organization helps parents or guardians get a device (in the video it was a disk) with recorded data about their children. This information includes: full-color digital photos, digital fingerprints, DNA analysis, special features of the child (eye color, hair, scars, etc.). All identifying information about the child is shared with the child's family. The GACHIP program retains only the consent form that must be signed prior to participation. All other data is permanently deleted after all information has been prepared and provided to the child's parents or guardians.
The program is still active and is voluntary. Now you can get a special kit with which parents can take fingerprints and a DNA test from their child. No chips are used. The program exists so that in the event of a child's disappearance, the parents have a ready set of data about the child, can transfer it to the relevant authorities and immediately start a search.
There are also initiatives in other states, such as "MOCHIP" in Missouri or "TNCHIP" in Tennessee. By the way, the latter even posted information on their website that "CHIP" is an abbreviation and they do not chip children.
Attention
The authors do not work for, consult to, own shares in or receive funding from any company or organization that would benefit from this article, and have no relevant affiliations