Verification within Meta's Third-Party Fact-Checking Program
The network is spreading information that President Volodymyr Zelenskyi stated that Ukraine was planning a war with russia, so Kyiv needed to prepare for it in advance. He allegedly said this in an interview with the BBC, which was published on April 15.
Zelensky's words were taken out of context: he did not say that Ukraine had started a conflict with russia. The interview said that Ukraine was preparing for a russian invasion.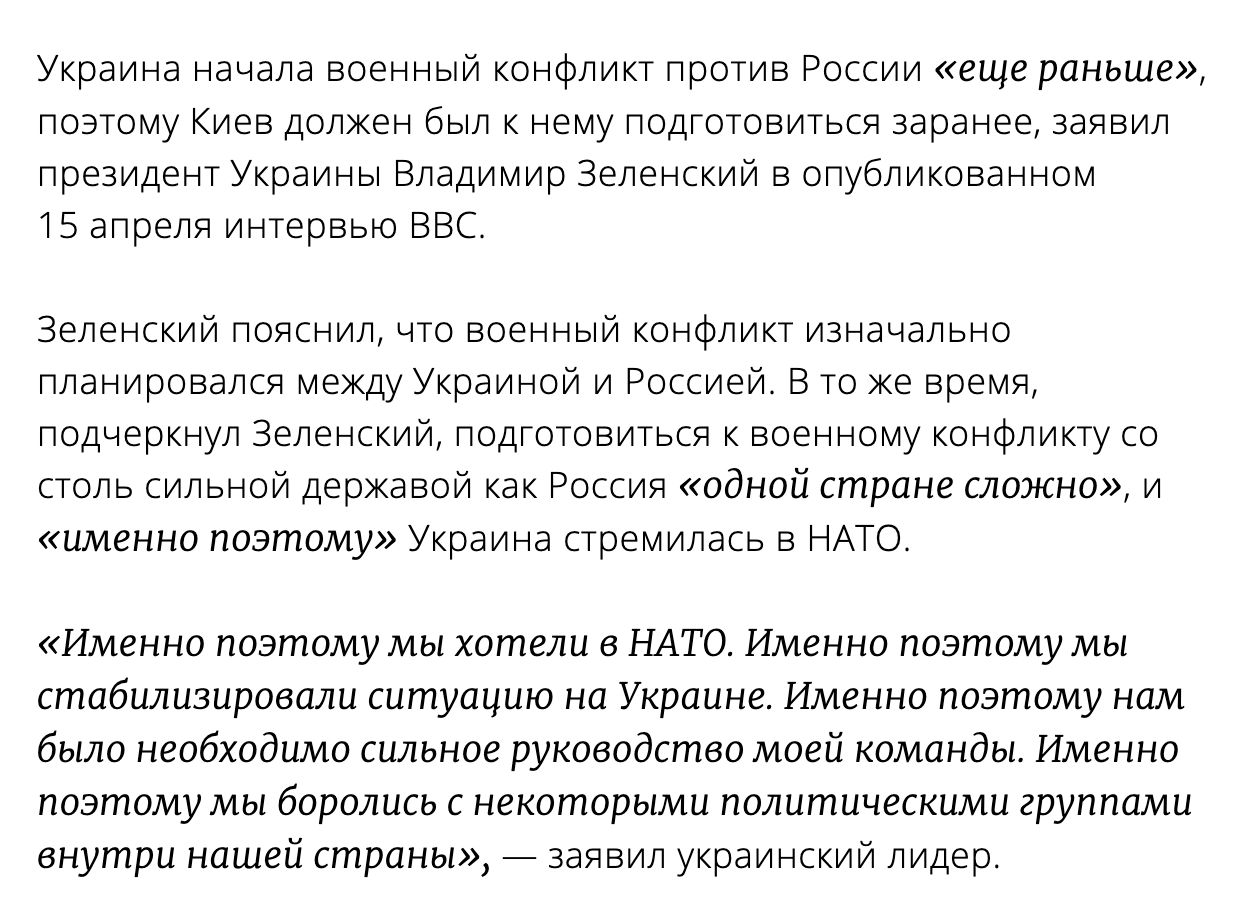 In fact, Volodymyr Zelensky said in an interview that russia could attack Ukraine at any time – and therefore Ukraine was forced to prepare.
"But we did not expect a full-scale invasion at the time it happened. We understood that there was such a risk. And to be honest, some things we agreed with some countries back in December, some we agreed on in January. And we wanted to get it all earlier, to be calm if there is an invasion," – Zelensky said.
Zelensky did not say that Ukraine had started a conflict with russia or was preparing to start one.
Russia started the war against Ukraine in 2014, with annexing the Crimean peninsula and occupying Donbass. On the morning of February 24, 2022, a new stage of the war began: a large-scale invasion of the Russian armed forces took place in order to fully occupy the entire territory of Ukraine. Cities in different parts of Ukraine were under fire by enemy vehicles.
The thesis that Ukraine wanted to start a war with russia and used international support for this is not true. Russia began pulling troops to the border with Ukraine first in April and then again in October 2021. Western media reported that the conflict in Donbass had entered a new stage, and the Kremlin had taken a tougher stance on Ukraine.
In December 2021, russia concentrated more than 10,000 units of its military equipment on the border with Ukraine. British and American intelligence warned of a possible attempt by russia to seize Kyiv.
As a result, Ukraine struggled to get the international military assistance to protect itself from a possible russian invasion. For example, against the background of the threat of russian invasion of Ukraine in January, Britain began to supply Ukraine with light anti-tank weapons. The Baltic states also expressed their readiness to hand over weapons to Ukraine. Subsequently, the US State Department allowed Lithuania, Estonia and Latvia to send Javelin missile systems and Stinger anti-aircraft missile systems to Ukraine.
"No matter how many weapons we have, we are talking about one of the largest armies in the world. So it is difficult for one country to prepare for such an invasion, so we need help. That is why we tried to join NATO, we tried to stabilize the situation in Ukraine, that is why we needed a strong leadership team and fought against political groups in which russia has invested, "Zelensky said in an interview with the BBC.
Attention
The authors do not work for, consult to, own shares in or receive funding from any company or organization that would benefit from this article, and have no relevant affiliations