Index for Monitoring Reforms (iMoRe) was +0,04 points for the period from 9th to 22th of March, 2020 on a scale of -5,0 to +5,0. The index for the previous round was +0,4 points. It's the fifth time for the whole history of iMoRe since 2015, the index hits zero.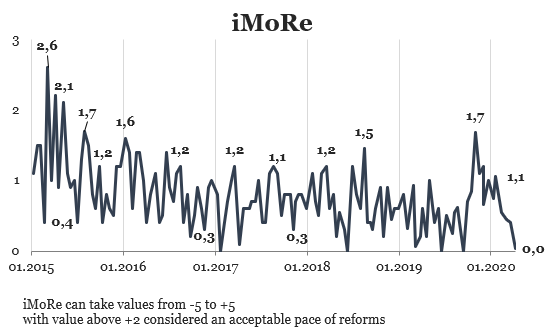 The coronavirus crisis was the main agenda of the government. The Parliament and the Cabinet of Ministers adopted a package of temporary laws and orders aimed to establish quarantine and protect the economy. Reforms in the main fields of economy almost stopped to a halt.
Insignificant changes were made concerning simplification of the procedures for filing property and income tax declarations by public servants, registration of animal feeds, and obtaining building permits.
Note: Index for Monitoring Reforms (iMoRe) from VoxUkraine aims to provide a comprehensive assessment of reform efforts by Ukraine's authorities. The Index is based on expert assessments of changes in the regulatory environment in five areas:
Governance
Public Finance
Monetary system
Business Environment
Energy
For details please visit imorevox.org.
Attention
The author doesn`t work for, consult to, own shares in or receive funding from any company or organization that would benefit from this article, and have no relevant affiliations