The Reforms Index (iMoRe) is +0.8 points for the period from June 7 to June 20, 2021, with possible values ranging from -5.0 to +5.0. In the previous round, the index was +1.1 points.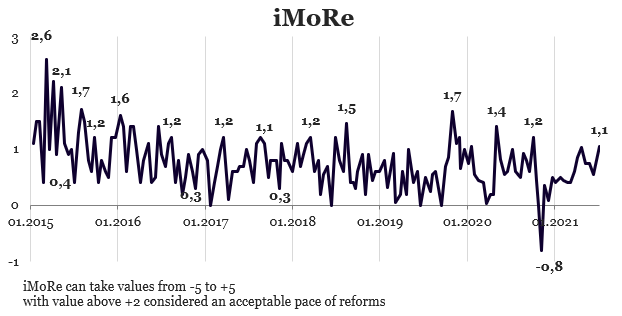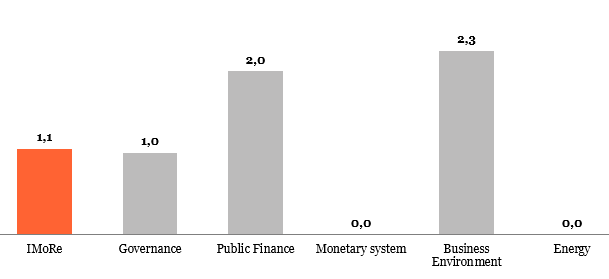 Law on restricting the circulation of plastic bags in Ukraine, +1.5 points
Every Ukrainian throws away an average of 500 polyethylene bags, of which only 6% goes for recycling. These bags do not decompose, they are just crumbling down into small pieces (microplastics) over time and entering the water and soil to remain there for centuries.
Laws restricting the production or use of plastic bags, plates, cups, straws, packages, etc. have already been introduced in more than 127 countries. Countries also impose restrictions on the use of certain materials, e.g. polystyrene. They impose bans on producing such goods, apply taxes or higher tax rates on manufacturers or consumers, and restrict imports. States also regulate the disposal and recycling of plastic goods, introduce disposal fees and penalties for improper waste disposal.  
Law 1489-IX of June 1, 2021, addresses problem with plastic things.
The first restrictions are due to take effect on December 1, 2021, prohibiting the use of plastic bags thicker than 50 microns in stores, markets, cafes and restaurants. These bags are usually used to store goods purchased in supermarkets. Starting from January 1, 2023, all thin, ultra-thin and oxo-biodegradable plastic bags will not be distributed in shops, markets, cafes, restaurants and other establishments providing services to the public. Instead, biodegradables can be used.
It will be possible to buy plastic bags for personal use, but the minimum prices will be regulated by the Government. To discourage people from using such bags, the prices have to be high.
The State Service on Food Safety and Consumer Protection will check stores, cafes, restaurants and markets for compliance with these restrictions, imposing fines in cases of violations. The size of fines will be gradually increased. Initially (starting from December 1, 2021) it will be UAH 1.7-8.5 thousand, rising to UAH 8.5-34 thousand after March 10, 2022.
Upon completion of the transition period, all bags under the ban will be confiscated by the State Service on Food Safety and Consumer Protection.
The Qualifications Register has been created, +1.5 points
More and more people in Ukraine are building their own educational trajectory. They take online courses, attend masterclasses, do internships, study abroad and more. To formally enter into an employment contract with them, employers often need an official confirmation of such professionals' qualifications. To address this problem, the Government has set up a network of qualifications centers that will be able to check and issue qualifications for all applicants.
By Decree No.620 of June 16, 2021, the Government created the electronic Qualifications Register, i.e. a platform  containing the available information about:
accredited qualifications centers

assessing the results of non-formal education and issuing professional qualifications for applicants

;

lists of accreditation experts at the qualifications centers

;

list of professional standards;

qualifications; 

documents confirming qualifications of a specific person

.
Once such a register is in place, those who already have the necessary knowledge and skills in a particular profession will be able to apply to an accredited qualifications center and obtain a document proving that they have the necessary qualifications. So people will not have to be formally trained "for the sake of a diploma" if their qualification level is already sufficient to perform the tasks required by a particular job.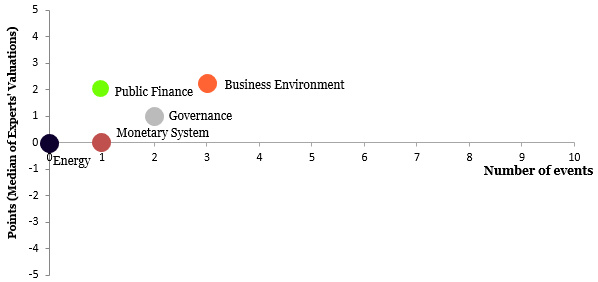 Index for Monitoring Reforms (iMoRe) from VoxUkraine aims to provide a comprehensive assessment of reform efforts by Ukraine's authorities. The Index is based on expert assessments of changes in the regulatory environment in five areas:
Governance
Public Finance
Monetary system
Business Environment
Energy
For details please visit imorevox.org.
Attention
The author doesn`t work for, consult to, own shares in or receive funding from any company or organization that would benefit from this article, and have no relevant affiliations