Index for Monitoring Reforms (iMoRe) from VoxUkraine aims to provide a comprehensive assessment of reform efforts by Ukraine's authorities. The Index is based on expert assessments of changes in the regulatory environment in five areas. The iMoRe value for the 23rd monitoring period (November 9 – 22, 2015) was +0.6 point out of the possible range from -5.0 to +5.0 points. The pace of reforms remains sluggish.
Issue 23: Period of sluggish reforms still lingers
Progress in "Monetary Policy and Financial Markets" and "Industrial Organization and Trade Policy" was rated the highest in this period: + 1.0 point each. In the monetary sector, +2.0 points were given to the decision to include the National Bank of Ukraine (NBU) as a third party (along with a broker and a bank) in contracts for independent evaluation of collateral provided to the NBU for stabilization loans (NBU decree 794 from 18.11.2015). Olena Bilan from Investment Company Dragon Capital thinks that the decision 
can make the assessment more adequate and avoid overvaluation to obtain a larger volume of refinancing. It will promote more effective monetary policy implementation.
We expect reforms to accelerate next round because a series of anti-corruption developments have been already signed by the President. On the other hand, these changes are driven by external demand and are closely monitored by partners and donors. The internal motivation for reforms remains low.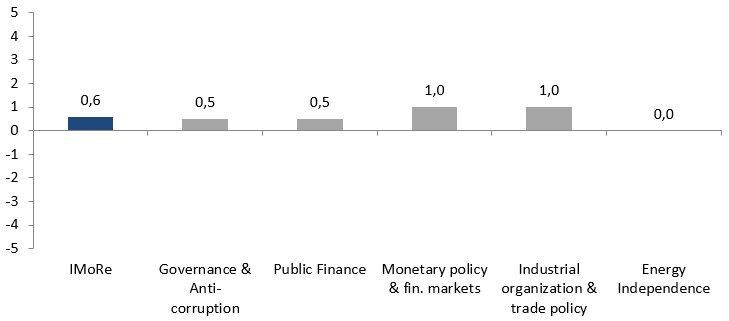 Setting the rules for trade of government bonds on stock exchanges (NBU decree 762 of 03.11.2015) received +2.0 points as a sum of grades in Public Finance and Monetary Policy sub-indices. At the same time, experts gave only +1.0 point to the list of features of a bank's risky activities (NBU decree 778 of 10.11.2015). The decree aims at combating fraud and capital flight. However, experts noted that the description of features of risky activities is quite vague, can be used for corrupt practices, while control mechanisms are not clear, which altogether caused the low general grade of the event.
Within the Industrial Organization and Trade Policy sub-index, the highest rating, +1.5 points, was given to introduction of electronic register of apostilles (CMU decree 890 of 04.11.2015). Register will contain information on signatures, stamps of Ministry of Justice officials authorized to issue apostilles, officials of Civil Status Registration Departments and state registrars, notaries, and judges.
Ministry of Economic Development and Trade will coordinate inspections of enterprises (CMU decree 902 from 04.11.2015). Due to coordination, the number of inspections should decrease since several government agencies will audit a company simultaneously (within the framework of a single inspection). Total grade of the event was +1.0 point, though experts' opinions ranged from -2.0 to +2.0.
Experts assigned +1.0 point to cancelling of compulsory registration of veterinary certificate for forage grain at sea ports (CMU decree 916 of 13.10.2015), noting that this is an important but highly specialized step in deregulation. Government transferred coordination of State Service for Food Safety and Consumer Protection to the Minister of Agrarian Policy and Food (CMU decree 942 of 18.11.2015) – overall event score totaled +0.5 point, though experts gave controversial comments. In particular, according to Pavlo Kukhta from Reanimation Package of Reforms Initiative, the event actually cancels reform effort to create an independent regulator and returns the status quo, which has been characterized by high levels of inefficiency and corruption.
A cumulative grade for "Public finance" sector was just +0.5 point. Although two events in the sector received high individual grades, experts considered their impact on the sector reforms insignificant. Apart from the NBU decree on the rules of stock exchange trade in government bonds, experts gave +2.0 points to the decrease in the number of State Fiscal Service inspections (CMU decree 892 from 04.11.2015) (this event received +1.0 point in each Governance and Public Finance sub-index).
In Governance and Anti-Corruption sector, which also scored +0.5 points, apart from the reduction in the number of State Fiscal Service inspections, other events received controversial assessment. For example, the news that the government ordered all government agencies to coordinate themes and objectives of their negotiations abroad, and subsequently report to the Ministry of Foreign Affairs (CMU decree 903 from 04.11.2015) received an overall grade of 0.0 points, though individual grades ranged from -2.0 to +2.0.
Finally, Energy Independence sector scored 0.0 since no significant events were recorded there during the monitoring period.
---
(Please see charts on the next pages and on the website http://imorevox.in.ua/?page_id=577, http://imorevox.in.ua/list_rounds.php)
Note: Index for Monitoring Reforms (iMoRe) from VoxUkraine aims to provide a comprehensive assessment of reform efforts by Ukraine's authorities. The Index is based on expert assessments of changes in the regulatory environment in five areas:
Governance and Anti-Corruption
Public Finance and Labor Market
Monetary Policy and Financial Markets
Industrial Organization and Foreign Trade 
Energy Independence
For details please visit imorevox.in.ua.
VoxUkraine is a group of global economists and members of the Ukrainian policy community who are working on reforms in Ukraine. The goals of VoxUkraine are to promote research-based policy analysis and commentary on economic developments in Ukraine, to formulate a systemic approach to reforms, to provide high-quality discussion platforms, and to integrate Ukraine into the global network of economists and public policy leaders.
---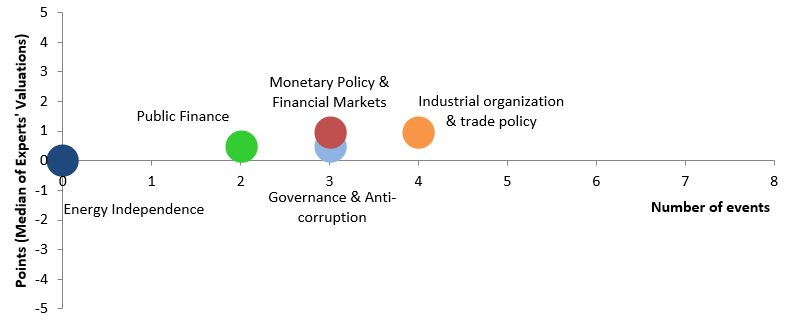 Main media partner                                                                                                 Project partners

Index of Reform Monitoring
VoxUkraine is a unique content worth reading. Subscribe to our e-mail newsletter, read us on Facebook and Twitter, see the latest video on YouTube.
We believe in the power of words and that ideas have the main impact. VoxUkraine gatherers the best economists and help them to deliver their ideas to tens thousands of Ukrainians. Content VoxUkraine is free (and always will be free), we don't sell ads and we don't make lobbyism. For do more research, create new influenced projects and publish more quality articles we need clever people and money. We have people! Support VoxUkraine. Together we will do more!
---
Disclaimer
The authors do not work for, consult to, own shares in or receive funding from any company or organization that would benefit from this article, and have no relevant affiliations