Debunking fakes in partnership with Facebook
According to the information, spread on the Internet on March 8, 2022, the evacuation of civilians from Mariupol was allegedly disrupted by the "Azov" Regiment.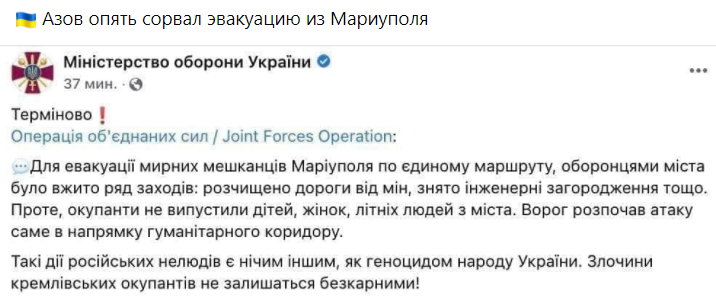 Screenshot of the post, shared on Facebook
However, this is not true. The humanitarian corridor could not be organized due to shelling by the russian occupiers.
The Ukrainian authorities planned to create a humanitarian corridor on the Mariupol-Zaporizhia route. The route was agreed with the occupiers on March 5, but due to constant shelling it was not possible to begin the evacuation.
For example, on March 8, the russian army began attacking Mariupol in the exact direction where the evacuation had to take place. On the same day, a humanitarian convoy from Zaporizhia to Mariupol came under russian fire. On March 9, the evacuation plan failed again due to the aggressor's actions.
Attention
The authors do not work for, consult to, own shares in or receive funding from any company or organization that would benefit from this article, and have no relevant affiliations