Verification within Meta`s Third-Party Fact-Checking Program
The information that Ukraine allegedly blocked Turkish ships in Odesa port to use them as a «shield» has been spreading on the internet. Ukraine does not allow Turkish sailors to leave the port under the excuse of mine protection in the Black Sea, but in fact it plans to disrupt the landing of the russian fleet in Odessa, which will not strike at Turkish ships. This information was published by Turkish newspaper Aydınlık.
Aydınlık — is a partisan newspaper of the Turkish pro-russian Vatan party. Vatan stands against Turkey's military operations in northern Syria and calls on Ankara to seek an association with the russian-backed regime of Bashar al-Assad. The party also calls on Turkey to recognize Crimea as russian and approves russian invasion to Ukraine.
However, in reality the ships remain in Ukrainian ports due to the blocking of navigation by russia.
The International Chamber of Shipping reported that as of May 3, 2022, at least 109 foreign vessels and 500 seafarers remained in Ukrainian ports. 
Earlier, the monitoring group of the «Institute of Black Sea Strategic Studies» and the editorial board of the BlackSeaNews reported that russia had mined sea routes from the Bosphorus to Odesa. Russia is covering up the land-mining of sea routes with lies about "Ukrainian mines torn down by a storm».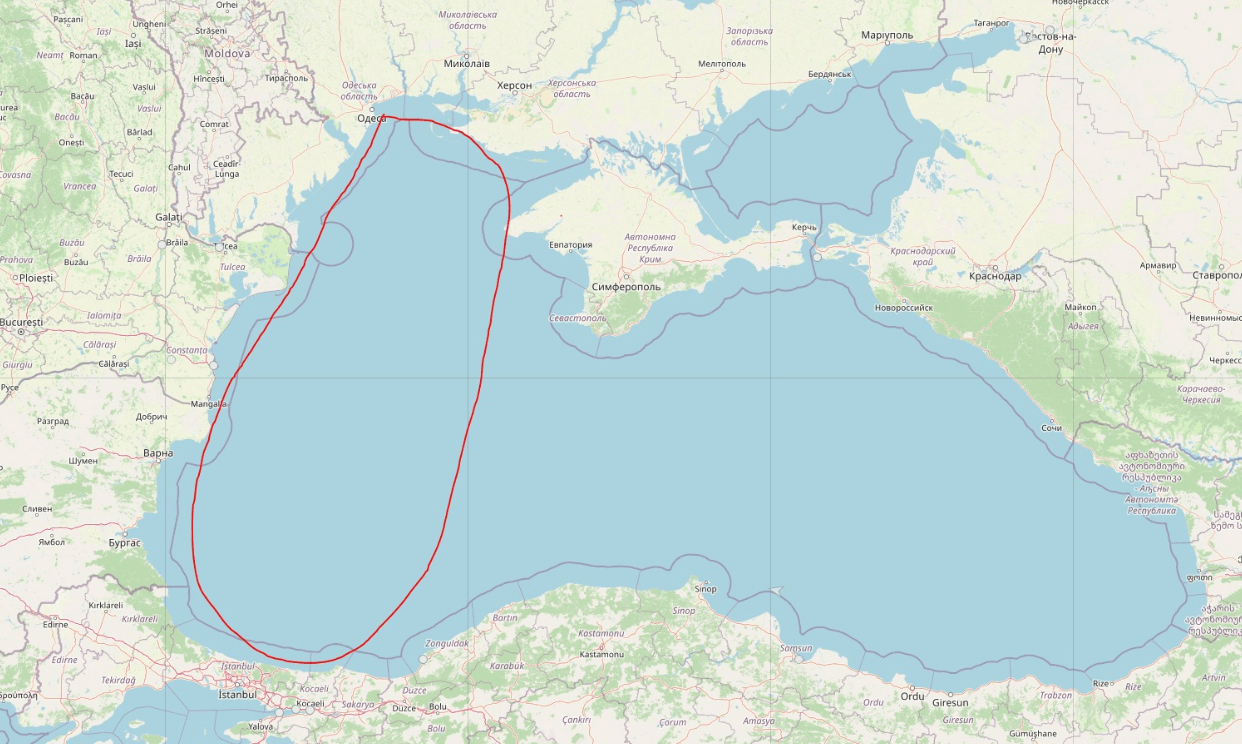 Sea routes area from Odesa to Bosphorus landmined by russia
In addition, British intelligence said that russia was promoting alternative false narratives about the alleged blockade of Black Sea by Ukraine. However, in reality, Ukraine has planted naval mines only to protect itself from the russian threat in the Black Sea. With the beginning of the war, the seaports of Ukraine were closed due to the danger of mines, as well as due to the threat of piracy by russian Black Sea Fleet.
On March 26, Turkish authorities stopped ships crossing the Bosphorus because they found naval mines in its waters. The press service of the Naval Forces of the Armed Forces of Ukraine noted that russian aggression against Ukraine hinders the free navigation of all Black Sea countries.
Later emerged that drift mines found near the coasts of Turkey and Romania on March 26-28 were seized by the russian armed forces in 2014 during the temporary occupation of Sevastopol.
Ukraine is encouraging foreign sailors to return home. Since March 2022, 1500 sailors have been able to evacuate through humanitarian corridors. The Government of Ukraine together with international partners is negotiating on Ukrainian Black Sea ports blockade lifting. Turkey is also facilitating the dialogue with russia on the opening of a maritime corridor across the Bosphorus.
Attention
The authors do not work for, consult to, own shares in or receive funding from any company or organization that would benefit from this article, and have no relevant affiliations