Verification within Meta's Third-Party Fact-Checking Program
In April 2022, videos of allegedly captured servicemen of the Armed Forces of Ukraine are  spread on social networks. One of the men is talking on the phone with his commander in this video. He is represented by Leonid Ryshchikovets and says he is in captivity in Donetsk. They were allegedly sent to Petrovske to pick up the wounded. No protection, bulletproof vests, or any explanations were provided; the military was simply taken prisoner.
But in fact, this video was recorded in 2014, when russian military and local militants occupied Donetsk and Luhansk regions.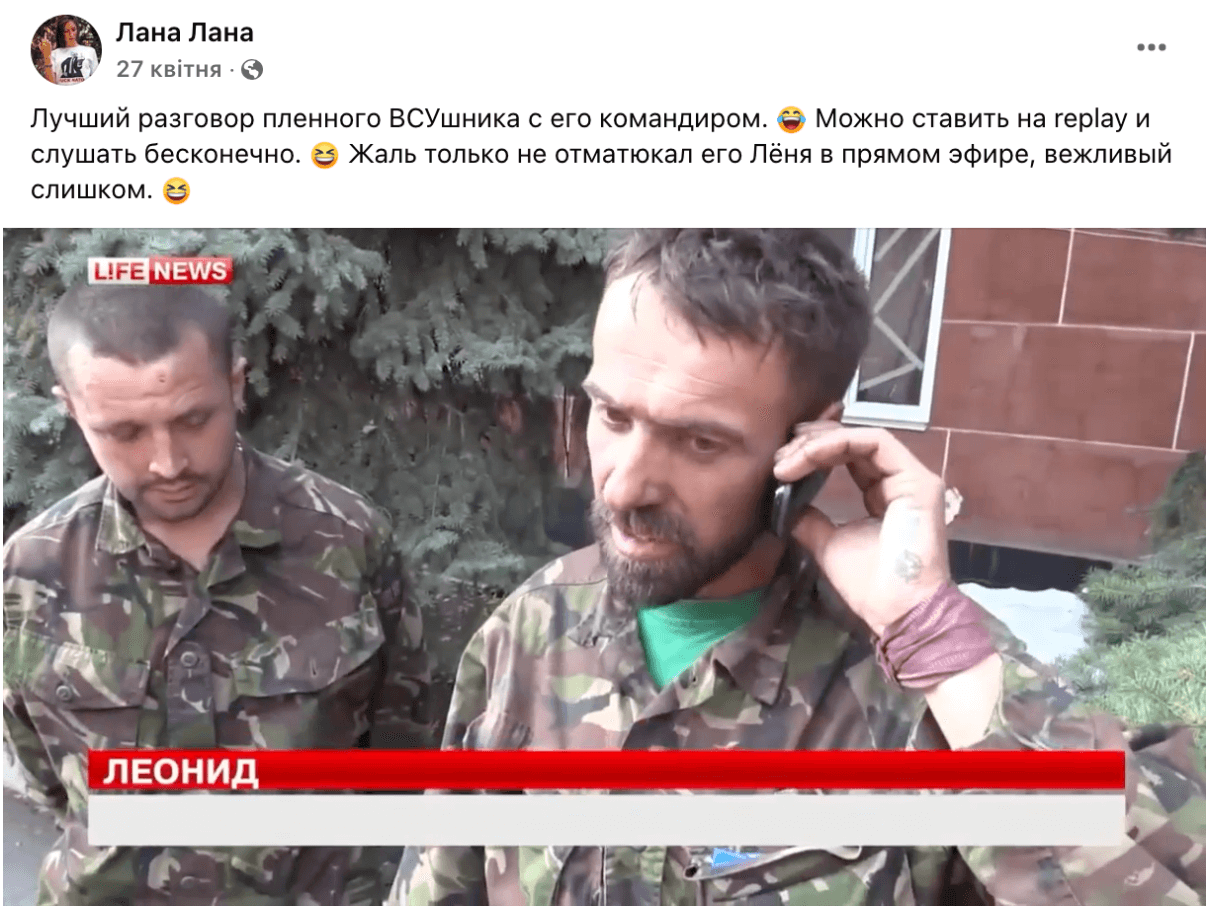 Screenshot of one of the posts with this video on Facebook
A reverse search of the stills from this video in Google Images shows that several YouTube channels spread this video back in August 2014. The signature of one video states that "prisoner Lenya" is talking to his commander. The signature of another states that  they point out that the man in the video is Leonid Serhiiovych Reshtykovets , and add a link to a publication on the list of captured Ukrainian servicemen published by the Officer Corps NGO Prisoner Release Center.
On August 23, 2014, the Officer Corps did publish a list of more than 500 people captured in the Donbas. Among them is soldier Ryschykovets Leonid Serhiyovych (number 373).
On August 24, 2014, militants marched captive Ukrainians through a "corridor of shame" instead of a parade dedicated to Ukraine's Independence Day in Donetsk. Among them, journalists recognized Leonid Ryshchikovets. Ryshchykovets was released from captivity during an exchange in September 2014.
According to media reports, Leonid Ryshchykovets comes from the village Luka in Rivne region. Before taking part in the anti-terrorist operation, he lived in Kuznetsovsk in Rivne region (now renamed as Varash). In 2014 he was a serviceman in the 2nd Battalion of the Territorial Defense of Rivne region. In an interview with local media, he noted that he spent a year in the anti-terrorist operation, took part in the battles for Savur-Mohyla and suffered a concussion.
Attention
The authors do not work for, consult to, own shares in or receive funding from any company or organization that would benefit from this article, and have no relevant affiliations