The first petition to the President was published on the website on August 29, 2015. Since that day, Ukrainians have submitted nearly 30,000 petitions. Ukrainian Presidential Administration head Dmytro Shymkiv said, "E-petitions bring to the surface an important range of issues of concern to society." We have analyzed all the petitions received during the year-and-a-half period and found what citizens ask or demand of Petro Poroshenko. The data can be downloaded from data.voxukraine.org.
E-petition effectiveness
Before proceeding to the analysis of the petitions, one may wonder whether the petitions are effective at all. Dmytro Shymkiv said that at present the e-petition tool is used in more than 70 countries and e-petitions are "a form of dialogue between the state and the citizens." During the 1.5-year period, only 40 petitions to the President of Ukraine collected more than 25,000 signatures and were responded to. The President instructed the Cabinet of Ministers and the Verkhovna Rada to assess the feasibility of most of the petitions and to take measures to implement them. It is hard to estimate the number of petitions that have been implemented, since no information is available on consideration of these petitions by the President's authorized bodies: unlike in many European countries, in particular in Germany, there is no system for reporting on the state and progress of petition implementation. The citizen's proposal to abolish import duties on cars was partially implemented. The Verkhovna Rada adopted bill 3251, which significantly reduced the excise duty on imported cars from July 1, 2016. Interestingly, Poroshenko is in no hurry to implement proposals falling directly within his competence Quite revealing in this respect is the citizen's request to hold a referendum on joining NATO, which the President failed to initiate.
Critics of e-petitions insist that this is just a manifestation of "slacktivism" and that it is impossible to provoke social change while sitting at a computer at home. These critics refer to the example of petitions to the British Parliament. A petition receiving more than 100,000 votes must be debated upon in Parliament. Based on the results of the debates, no parliamentary petition that might lead to real changes has been implemented so far. The most popular petitions include the holding of a second referendum on exit from the EU (4.15 million signatures), cancellation of Donald Trump's visit to the UK (1.8 million), and vaccination of all children, not just newborn babies, against meningococcal disease (0.8 million). However, one cannot deny that petitions collecting millions of signatures are a powerful signal about citizens' will and the government cannot merely ignore it.
I ask. I propose. I demand!
E-petitions are a source of data that can be used to study the political views of Ukrainians – at least of those among them who are active enough to write petitions. It is impossible to identify the user's ideology on the basis of a single petition, but an analysis of word usage in the 30,000 petitions will be conducive to shaping a general understanding and will serve as a starting point for further research.
A petition is an individual or collective demand, appeal, proposal, complaint, request, or solicitation which is submitted in written form to government agencies. Words, or rather verbs (to prohibit, to permit, to imprison, I propose, I demand, etc.), are indicators that can be used for dividing the petitions into groups: requests, proposals, or demands. Clusters can overlap, and so one petition can belong to several clusters at once.
The largest group consists of requesting petitions (4,135). Ukrainians ask the President to cancel or increase something or even to ponder. On the other hand, Ukrainians ask fellow citizens to support their petition. The second group of petitions is proposals (2,990). Citizens propose amending the anthem of Ukraine, adopting a new Tax Code, or introducing a new bill in Parliament. The number of must-do petitions is much lower (1,109). The spectrum of demands is also broad, ranging from amendments to the Criminal Code to increased pensions for Chornobyl accident liquidators.
The presence of certain verbs in the text is an important indicator; yet it is not enough for classifying the petitions. It is important to understand what a petition has inside it. Looking through the texts of the 30,000 petitions is a time-consuming process; therefore we reduced the sample to the 500 most-supported petitions (collecting more than 1,000 signatures) and focused on analyzing the subjects and character of the petitions.
The most popular subjects
In one third of the petitions – 36% of the Top-500 – citizens demand supervision of the government. The main demands include dismissal or prosecution of officials, cancellation of MPs' and judges' immunity and benefits, and appointment of new nominees. Of the 40 successful petitions that collected more than 25,000 signatures, fifteen are related to supervision of government. The President was required to consider and respond to five successful petitions for lifting the MPs' immunity and recalling of MPs, a number of petitions concerning lustration of officials and cleansing of the judiciary, demands for the dismissal of Prosecutor General Viktor Shokin and for the appointment of Mikheil Saakashvili as Prime Minister.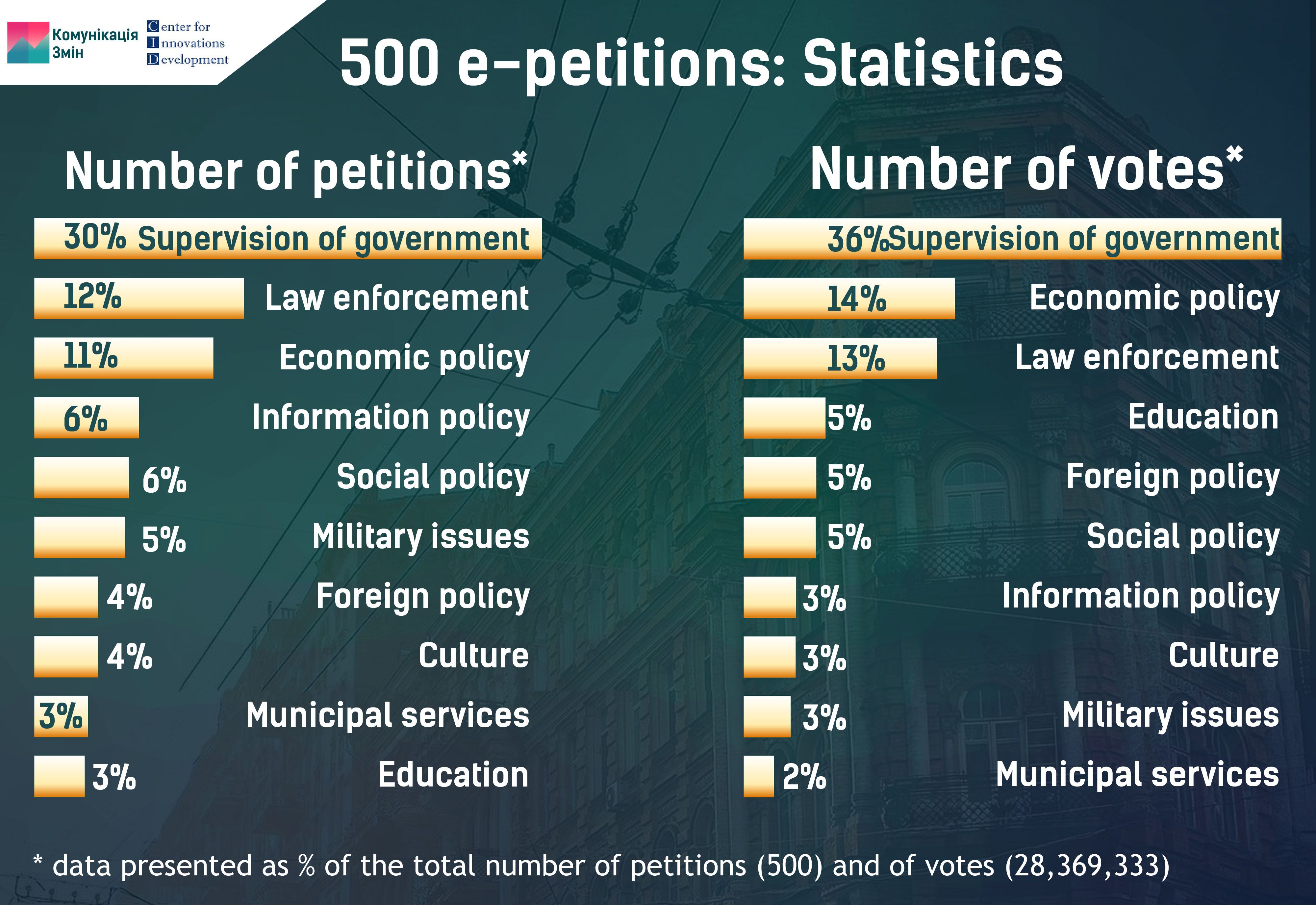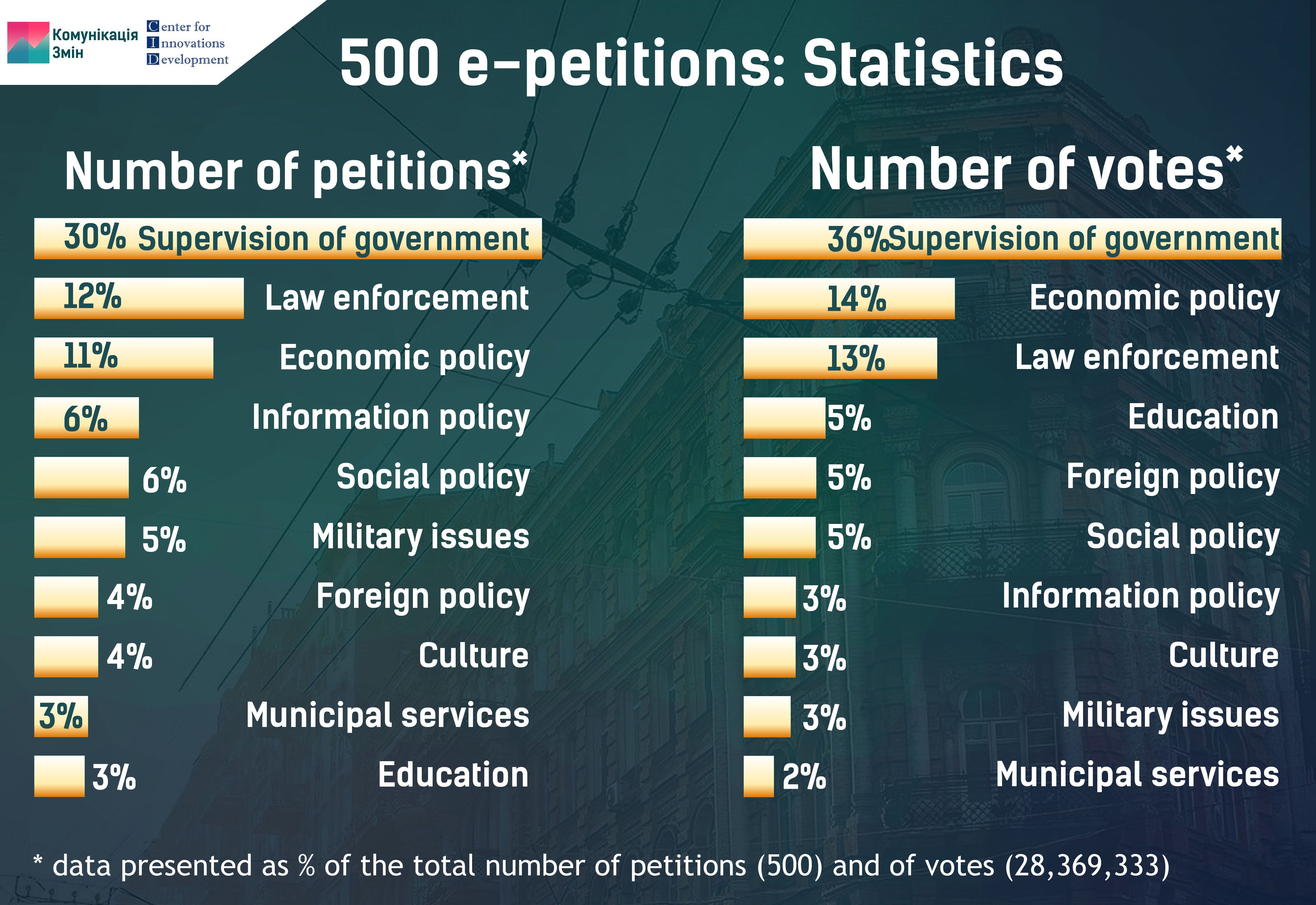 The next subject is law enforcement. It accounts for 12% of the petitions and for 13% of all the votes. Ukrainians demand broader rights and freedoms for themselves, ensurance of law and order, and severe punishment for offenses. The successful demands include allowing citizens to possess firearms, introduction of fines for littering in the street, and also punishment for separatism.
Citizens are concerned about economic policy issues: these account for 11% of all the petitions and for 14% of the votes. In particular Ukrainians are most concerned about high taxes and the functioning of the banking system. Two petitions for reducing the excise duty on imported cars were successful.
Public attention is focused on information policy (6%), social policy (6%) and the military sector (5%). Citizens demand that a policy of support for the Ukrainian language be pursued (4% of the votes): television must be Ukrainian-speaking, civil servants must speak Ukrainian, Pro-Russian channels must be prohibited. In view of the Ukrainians' economic hardships, many petitions demand an increase in salaries and pensions, granting of benefits, or reduction of taxes.
As the country is faced with Russian aggression, citizens are permanently focused on military issues and external relations with Russia. Petitioners demand a blockade of the occupied territories: 1% of all the subjects and votes; moreover, they actively propose that a visa regime with Russia be established and that Russian banks be closed down in Ukraine: 1% of all the proposals and public support.
The least popular subjects are related to science, sports, public health and local self-governance: less than 1%.
Popular politicians
Petitions mention personalities such as M. Saakashvili, A. Yatsenyuk, N. Savchenko, R. Nasirov, D. Sakvarelidze, V. Medvedchuk, V. Hontareva, V. Shokin, and S. Kivalov. The most popular figure is Mikheil Saakashvili – citizens actively demand that he be appointed as Prime Minister. One of six such petitions became successful, garnering more than 30,000 votes. Citizens often mention Nadiya Savchenko and Roman Nasirov. In view of the odious events related to them, petitioners demand an investigation into their activities. The proposal to dismiss the former Prosecutor General Viktor Shokin was successful, but the President refused to consider it; nevertheless, Shokin was eventually dismissed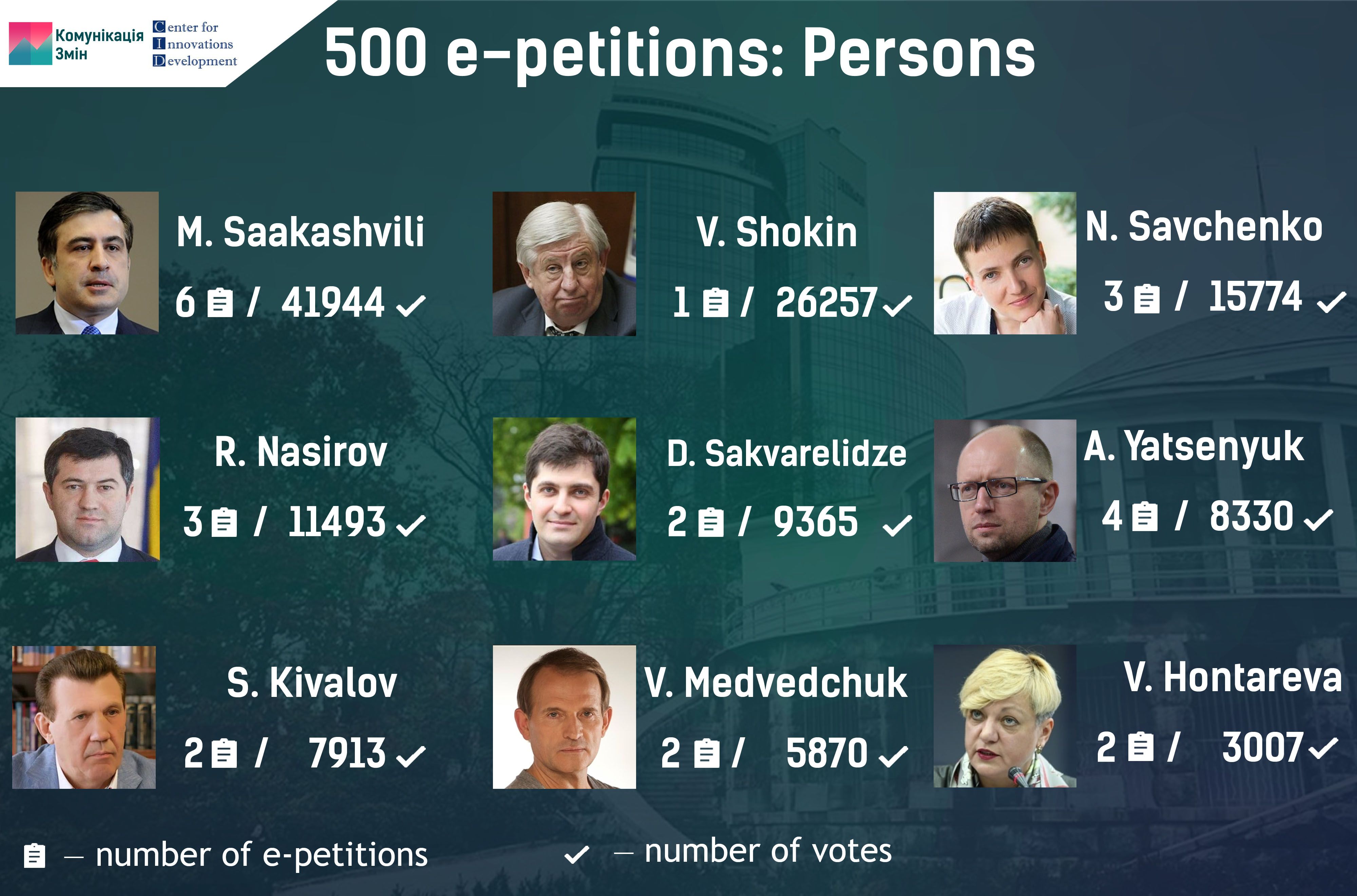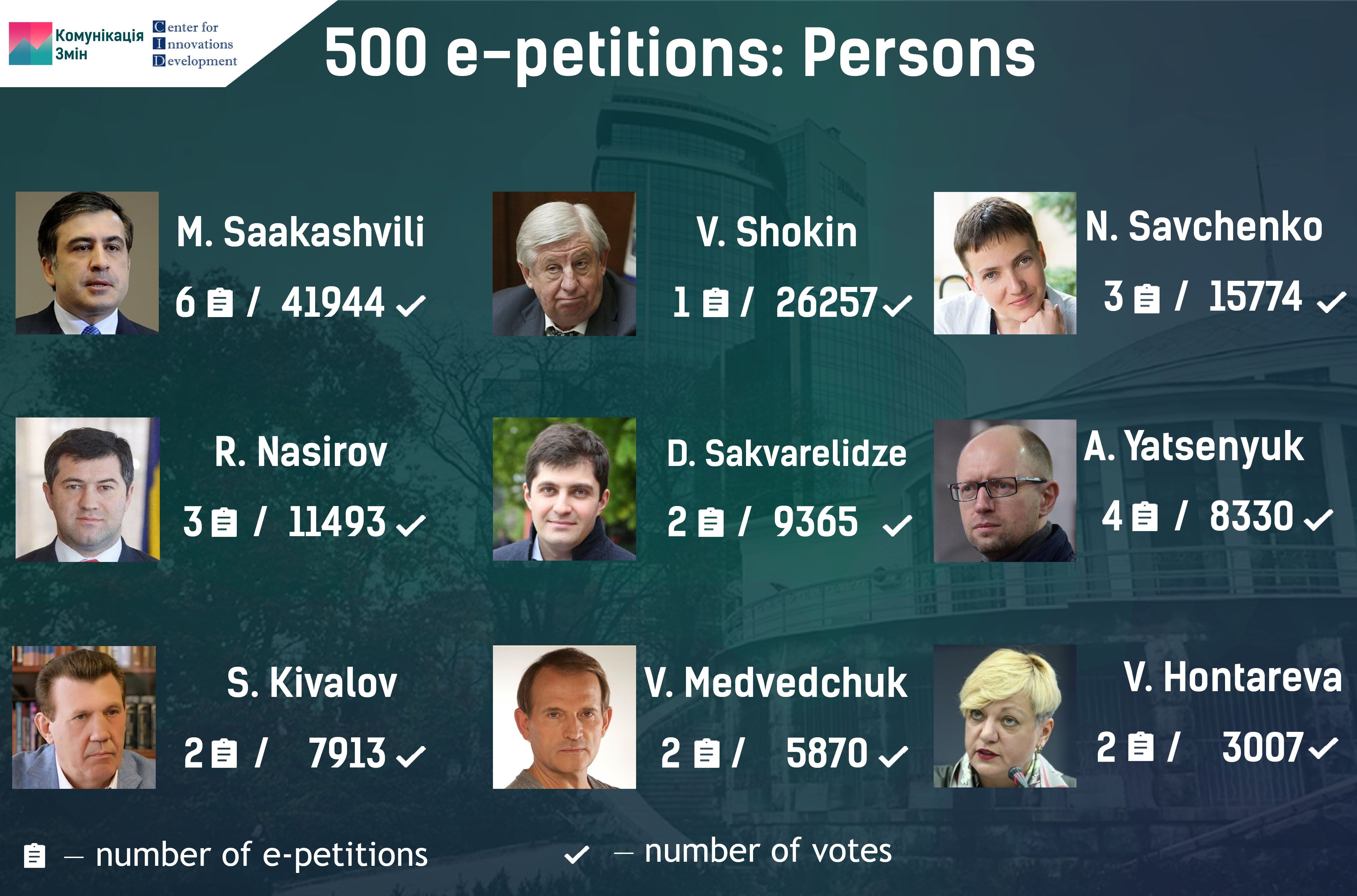 Allow [not] prohibit
In terms of character, citizens ' petitions can be divided into permissions (extension of freedoms) and prohibitions (restriction of freedoms). Citizens petition for permissions approximately as often as they do for prohibitions; moreover, their support for both types is practically equally high. However, there are areas in which demands for permission prevail and there are other areas where prohibitions are predominantly sought.
Prohibitions are predominant in the category "supervision of government": 78% of all the petitions. Citizens demand the lifting of MPs' and judges' immunity, prosecution and dismissal of high officials, cancellation of their benefits.
Prohibitions prevail in matters of foreign policy (69%), culture (68%), information policy (67%), and law enforcement (64%). In foreign policy, citizens seek a ban on the visa-free regime with Russia; in culture, they demand that Russia's supporters be stripped of titles of honored artists and of decorations. Prohibitions in the realm of information policy relate to the use of the Russian language, to promotion of prohibited products; and in the domain of law enforcement, increased penalties are sought for offences such as drunken driving, corruption, or separatism.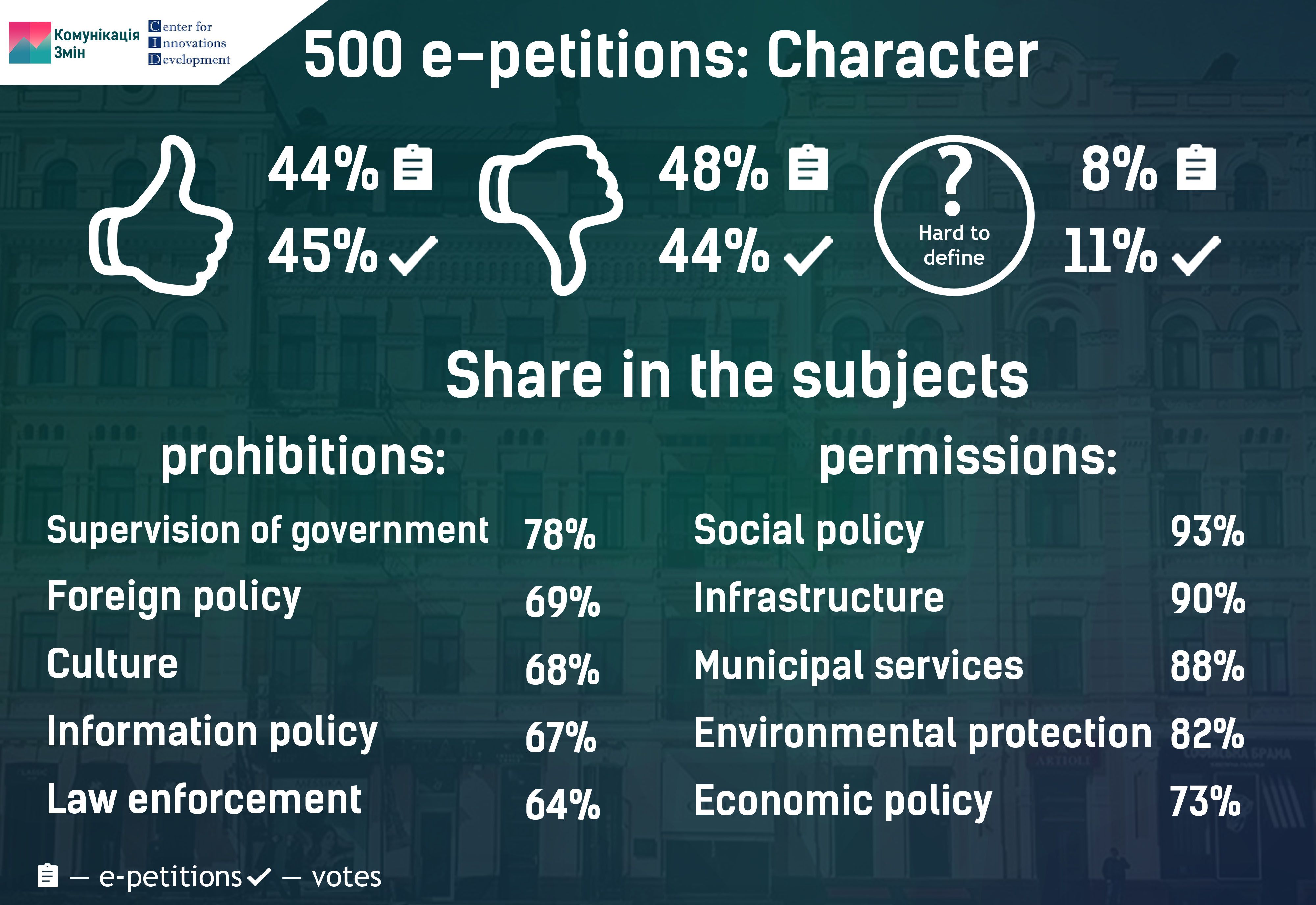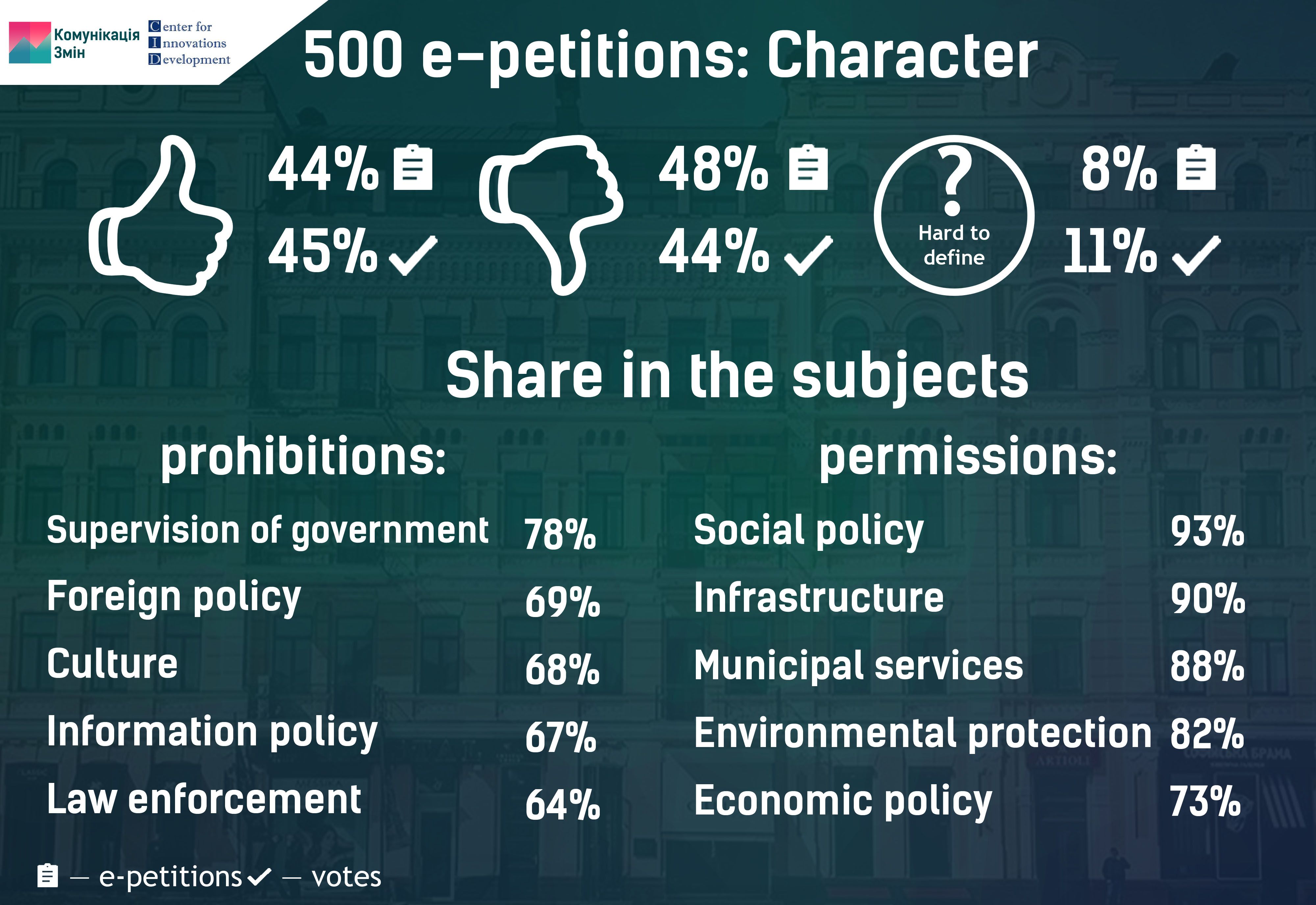 Permission-seeking proposals are clearly predominant when it comes to issues of social policy (93%), infrastructure (90%), municipal services (88%), environmental protection (82%), and economic policy (73%). In the social policy sphere, citizens demand higher salaries, pensions, social benefits. In the infrastructure sector, petitioners propose that roads be repaired and that new routes and traffic connections be established. As to municipal services the issues of concern include reduction of tariffs; as to environmental issues the proposals address protection of rivers, forests, construction of waste deposits; and as to economic policy citizens actively demand a reduction of taxes.
Why it is important to analyze petitions
A study of the petitions reveals citizens' interest in political issues and everyday problems. As regards writing of petitions and voting for them, citizens' activity is highest in relation to supervision of government, where the share of prohibitions is highest. As to permissions their share is highest in petitions pertaining to economic and social policy and municipal services. This is related to citizens' economic hardships, which make them wish to have decent salaries and pensions, along with low tariffs and taxes.
The monthly People's Agenda study is conducted by the Communication of Change NGO on the basis of analysis of citizens' proposals expressed in their petitions to the central authorities: the President, the Cabinet of Ministers of Ukraine, and the Verkhovna Rada of Ukraine. The reports on the studies are available here .
Attention
The author doesn`t work for, consult to, own shares in or receive funding from any company or organization that would benefit from this article, and have no relevant affiliations