The Index for Monitoring Reforms (іМоRе) equals zero for the second time since it was introduced. Over the period from May 27 to June 9, 2019 not a single document that would be assessed by us as a reform has been adopted. 

The reforms were most active in 2015-2016. After that the pace of the reform was gradually going down, and before the pending parliamentary election it has almost reached zero. The average annual reform pace in 2015 was +1.18 points, in 2016 – +0.85, in 2017 – +0.70, in 2018 – +0.65 points. The average value of іМоRе in the first quarter of 2019 was +0.46 points.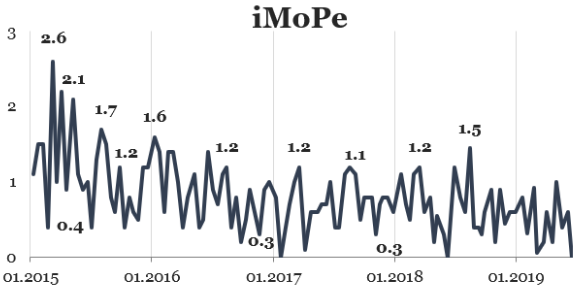 VoxUkraine is a unique content worth reading. Subscribe to our e-mail newsletter, read us on Facebook and Twitter, see the latest video on YouTube.
We believe in the power of words and that ideas have the main impact. VoxUkraine gatherers the best economists and help them to deliver their ideas to tens thousands of Ukrainians. Content VoxUkraine is free (and always will be free), we don't sell ads and we don't make lobbyism. For do more research, create new influenced projects and publish more quality articles we need clever people and money. We have people! Support VoxUkraine. Together we will do more!
---
Disclaimer
The author doesn`t work for, consult to, own shares in or receive funding from any company or organization that would benefit from this article, and have no relevant affiliations