Extra-ordinary conditions caused by the corona crisis and quarantine have redirected government efforts from longer-term issues (reforms) to urgent problems.
Reforms considerably slowed down at the end of February, and only a few incremental changes were noted in March. Procurement, licensing, and education moved forward the most. 
During the 1st quarter, our bi-weekly index for monitoring of reforms fluctuated between +0.04 and +1.1 points, with an average grade of +0.45. Among numerous legislative acts adopted over the period, VoxUkraine selected 32 that had reform components – twice less than in the previous quarter. Experts evaluated them with an average score of +1.0 point. These legislative acts mostly affected Public Finance and Business Environment. No anti-reforms were observed during the first quarter 2020. 
The majority of reforms were adopted by the Cabinet of Ministers of Ukraine – 18 regulations. The Verkhovna Rada initiated ten reforms; three reforms were initiated by the National Bank of Ukraine, 1 – by Ukrainian President Volodymyr Zelenskyy. This breakdown is tentative, as President Zelensky has an outright majority in the Parliament and majority government.
The main events of the 1st quarter of 2020 are:
government decree on

launching the public procurement of medicines via the newly created state-owned enterprise "Medical Procurements of Ukraine"

(

iMoRe 127

). Since 2015, centralized procurement of medicines was performed by international organizations (UN agencies, the International Dispensary Association, Crown Agents, the Global Drug Facility, and Partnership for Supply Chain Management). Now, the procurement function will gradually be passed from international organizations to the SOE "Medical Procurements of Ukraine" as the capacity of this enterprise grows. The regulation received

+4.0 points

from iMoRe experts.

The law on higher education

which, among other things, introduced a system of key performance indicators (KPIs) for rectors and toughened sanctions for student plagiarism. Also, this law allows online licensing of universities (

iMoRe 126

). The law received

+2.5 points

.

The Cabinet of Ministers

lifted the ban on the use of 4G in the 800-900 MHz bands

(

iMoRe 128

). Building networks in these frequency bands makes it possible to install fewer base stations to cover the same territory. It allows mobile operators to build 4G networks offering high-speed mobile Internet services almost everywhere in Ukraine, including small villages and highways. The regulation got

+1.5 points

.
Other notable reforms:
The most significant progress was observed in Public Finance&Social Security. For the first three months of 2020, there were ten reformist changes in this sphere. They mostly affect public procurement, education, and labour legislation.
Apart from introducing public procurement of medicines via SOE "Medical Procurements of Ukraine" discussed above, the government centralized procurement of homogeneous goods (e.g. meals for public schools, stationery, electricity, etc.). They were transferred from a

specific list

of government bodies to a

centralized procurement organization

. This decision should increase the effectiveness of procurement by utilizing economies of scale (

iMoRe 127

). 
This year the government made a new attempt to

reform the educational system

and strengthen its autonomy.

Resolution № 191

introduced the indicative price of higher education (

iMoRe 129

). Starting in autumn 2020, for 38 most popular specialties the tuition fee should be no lower than the cost of training of one student for a university (however, if annual tuition fee currently is higher than three average official wages in the region, universities are not allowed to raise it). The Ministry of Education and Science of Ukraine

explains

that today average cost of teaching a student for public money is UAH 43,000 while average tuition fee is UAH 16,500. Thus, the government effectively subsidizes fee-paying students. Also, the

Law 392-IX

(

iMoRe 126

) allows combining studying at a university with practicing at an enterprise (dual education) and online licensing for universities. The 'normative' numbers of students per professor were cancelled. Universities are allowed to require motivation letters from students (however, the 'weight' of such a letter cannot exceed 1% of total grade). Also, tougher sanctions for student plagiarism have been introduced (a student may not get a degree for this). Some disciplines can officially be taught in English. There was also some deregulation of preschool education (

iMoRe 129

) – it will be possible to work in kindergartens without a degree in teaching.
The

Labor Code

has been

amended

with definitions of remote work and a flexible workday (

iMoRe 131

). Previously, the legislation did not have such definitions; it only allowed for "work from home", a regulation inherited from the USSR. From now on, employees can work from anywhere: home, cafes, coworkings etc. if they have an official contract for remote work. Flexible working time allows employees to work on a different schedule than an internal working schedule of the enterprise, provided that a person works the required number of hours (per day, week, or month). Remote work with flexible working time is paid in full and should not exceed the standard 40 hours per week. The Verkhovna Rada established punishments for violations of labour laws: the labour inspectors will first suggest to eliminate violations, and if violations are not fixed, they will impose fines (

iMoRe 127

).
The following ten measures introduced in 1Q20 will improve the Business Environment. They concern such sectors as telecom and internet communications, customs clearance, and land ownership.
Ukraine got a chance for

high-quality mobile communications

in villages and on highways (

iMoRe 128

).

Resolution No. 41

lifted the ban on the use of 4G in the 800-900 MHz bands. Building networks in these frequency bands makes it possible to install fewer base stations to cover the same territory. At last, an Internet connection

is allowed

on planes during flights (

iMoRe 128

). 
Law 440-IX

introduces

electronic document workflow at customs

(

iMoRe 128

). Businesses will be able to fill in documents related to import and export of goods electronically as well as send claims to a customs office. Additional convenience for business is implementation of customs formalities by one customs office while the goods physically stay at another customs office. A similar technology of "centralized customs clearance" is used in the European Union.
The Ukrainian parliament has adopted

a law

enhancing the

protection of land property rights

(

iMoRe 126

), eliminating the possibility for several registrations of lease agreements due to poor exchange of information between the Real Estate Rights Register and the State Land Cadastre. The new law introduces electronic workflow between them and should solve the problem.
In the Monetary System, the National bank of Ukraine initiated two reforms aimed at improving the experience of users of banking services.
Since January, banks should disclose the full cost of consumer loans (including cost of insurance and tax payments, fees for mandatory state pension insurance, the cost of notary services, payments for the services of state appraisers, etc.) so that financial services consumers understand all their costs of obtaining and maintaining such loans (

iMoRe 126

). It helps to protect consumers of financial services against fraud.

After the quarantine, the Electronic Payment System (ESP) will work 23/7 (

iMoRe 129

). Now it works only on working days and only during working hours. ESP provides payments to banks and their clients in UAH within Ukraine. It serves 96% of all interbank payments. The

decision

by the NBU Board will significantly accelerate money transfers within Ukraine. At the same time, for now, the 23/7 mode of money transfers is a voluntary option for banks.
To sum up, a few important reforms were introduced in the first quarter of 2020. With the replacement of the government on March 4th and then with the introduction of the quarantine, the pace of reforms considerably slowed down. Still, it would be important for the government to reinforce reform efforts, in particular, in business deregulation, as this will help to partially offset the negative impact of corona crisis cost on companies.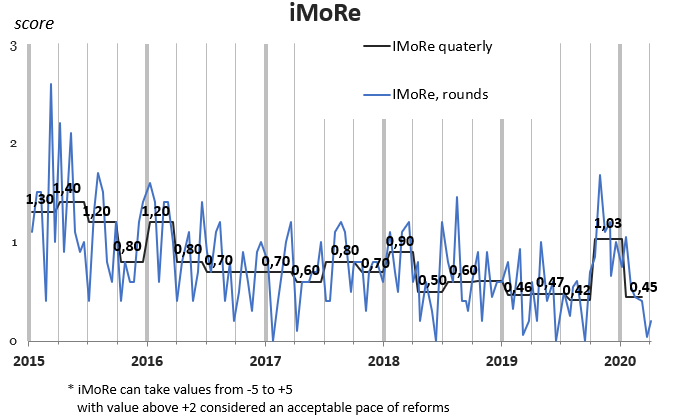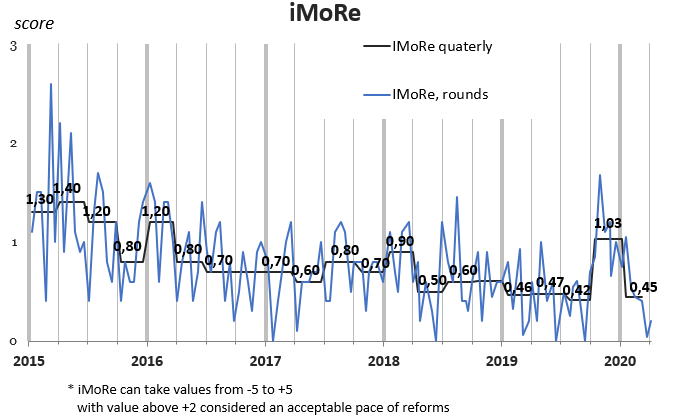 Attention
The author doesn`t work for, consult to, own shares in or receive funding from any company or organization that would benefit from this article, and have no relevant affiliations