Verification within Meta's Third-Party Fact-Checking Program
There is a map being spread on social networks , which allegedly shows Poland's agreement with russia on the division of Ukraine. The map seems to illustrate Poland's intentions to seize the western regions of Ukraine.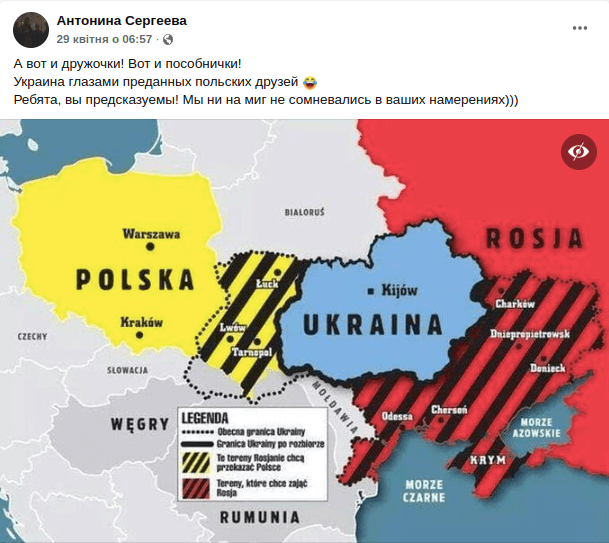 However, this is a fake. The card has been spread online since at least 2014. It was created to illustrate the proposal of russian MP Volodymyr Zhirinovsky to the governments of Poland, Hungary and Romania to hold "referendums" for the accession of seven western regions of Ukraine.
The map was created and published by the Polish edition of Super Express on March 25, 2014. She illustrated Zhirinovsky's letter inviting Poland to take part in the partition of Ukraine. The russian deputy suggested that the Polish government hold so-called "referendums" on the accession of five Ukrainian regions: Volyn, Lviv, Ivano-Frankivsk, Ternopil and Rivne. The same proposals were received by Hungary and Romania – to join the Transcarpathian and Chernivtsi regions, respectively.
The fact that the map illustrates the intentions of russia, not Poland, proves its legend. It states in Polish that the yellow-black dashes indicate the territory that russia proposes to appropriate to Poland («Tereny, ktore chce zajać Rosja») («Te treny Rosjanie chcą przekazać Polsce»).
In the previous version of the article, the meaning of the colors on the map was incorrectly indicated, as our readers pointed out. Therefore, we have updated it and made changes to this article in accordance with the error recognition policy.
The Polish government reacted negatively to this idea and expressed its disagreement. In particular, Polish Foreign Minister Martin Wojciechowski called Zhirinovsky's letter a "complete oddity" and expressed regret that some russians "still think in terms of the Molotov-Ribbentrop Pact."
Another version of the map is also known online, which illustrates Zhirinovsky's intentions to divide Ukraine. It was created by the Polish TV channel TVP Info and published in the story on March 23, 2014.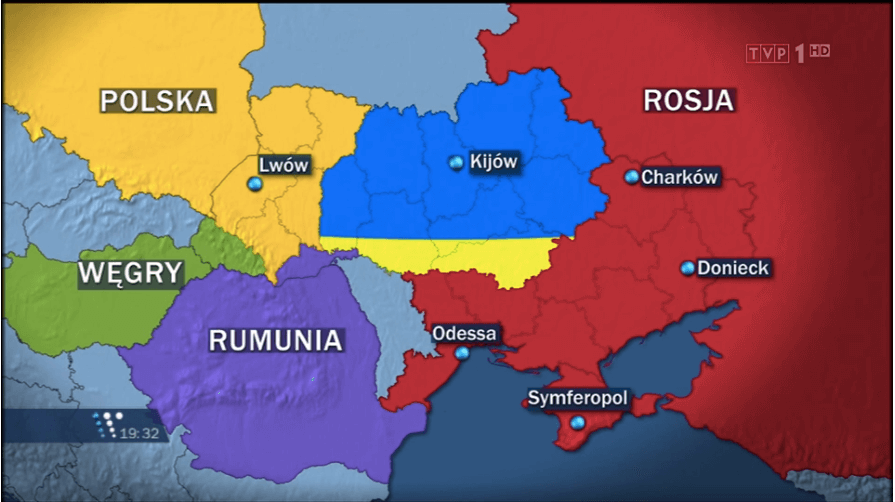 Screenshot from the story of the Polish TV channel TVP Info about Zhirinovsky's letter to the Polish government with the intention to divide Ukraine
This version of the map was used in 2015 by russian propagandists. On one of the russian TV channels, Zhirinovsky said that the Poles allegedly created it to illustrate their official intentions to capture the western regions of Ukraine.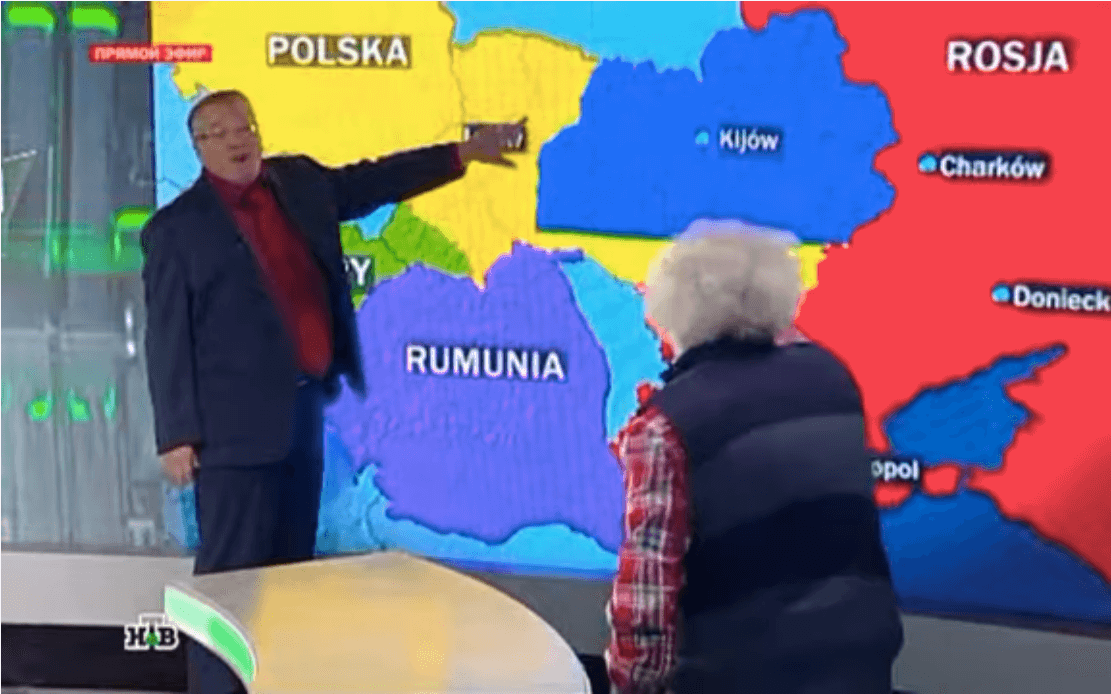 Screenshot of the recording of the talk show "Norkin's List" on the russian TV channel "NTV"
It should be noted that on March 17, 2022, the Polish government officially stated that the narratives about Poland's hostile intentions towards Ukraine and its alleged desire to occupy the western regions of Ukraine are part of russia's aggressive propaganda and disinformation.
Attention
The authors do not work for, consult to, own shares in or receive funding from any company or organization that would benefit from this article, and have no relevant affiliations