We have volunteered to conduct an informal audit of the balance sheets of VoxUkraine and the related statements of income, earnings, and cash flows for the year of 2015. We are not qualified to conduct a financial audit and only express our informal opinion based on the review of the submitted financial statements.
Due to the lack of resources and qualifications, we did not examine the evidence supporting the amounts and disclosures in the financial statements.
We have reviewed the following financial statements:
Financial Report FY 2015:
-Statement of Activities
-Statement of Expenses
-List of Donations.
Course in Microeconomics
-Costs
-Revnues
Pre-Election Crowdfunding
-Report on Expenses
-Reports from banks and donors
Most of VoxUkraine revenues come from National Endowment for Democracy grant. Most of functional expenses go to salaries/compensations and outsourced services, as shown on the charts below: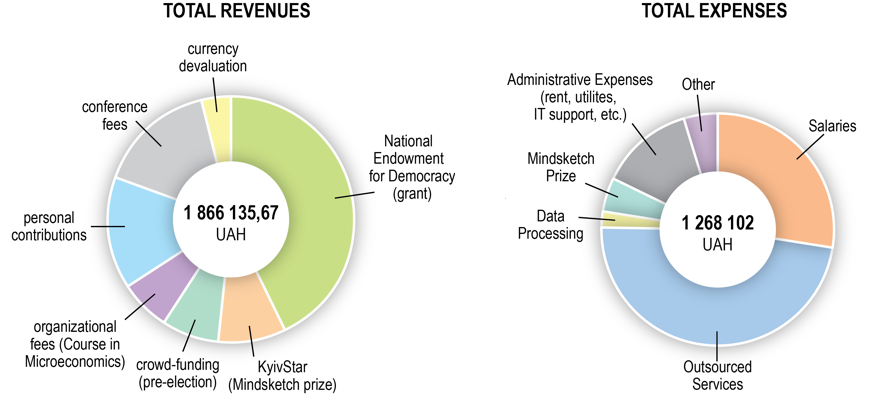 After reviewing the available documentation, we came to the following conclusions:
Financial statements are presented fairly and appear to give a true and fair view
Revenues are well-documented and categorized.
Expenses are detailed and itemized.
Recommendations and Suggestions
Disclose the procedure of picking a contractor for the events
Disclose special terms and conditions for using grants, if applicable
Please see Financial Report of VoxUkraine for the Year 2015 here.
Attention
The authors do not work for, consult to, own shares in or receive funding from any company or organization that would benefit from this article, and have no relevant affiliations