On March 31, Elon Musk tweeted that his company had  FDA-approved ventilators that were critically needed for the COVID-19 patients, and that he was ready to give them away and ship for free to those countries that needed them most.
We have extra FDA-approved ventilators. Will ship to hospitals worldwide within Tesla delivery regions. Device & shipping cost are free. Only requirement is that the vents are needed immediately for patients, not stored in a warehouse. Please me or @Tesla know.

— Elon Musk (@elonmusk) March 31, 2020

Ukraine's former health minister Ulana Suprun responded to the tweet, requesting help for Ukraine. Because we have only about 4,000 ventilators and a population of over 40 million.
We have extra FDA-approved ventilators. Will ship to hospitals worldwide within Tesla delivery regions. Device & shipping cost are free. Only requirement is that the vents are needed immediately for patients, not stored in a warehouse. Please me or @Tesla know.

— Elon Musk (@elonmusk) March 31, 2020
Unfortunately, before we and the world knew whether Musk was ready to help Ukraine, another party chimed in.
Vadym Aristov, director of the Revival Institute for Future, wrote a tweet to Elon Musk, blaming Ulana Suprun for the catastrophic shortage of ventilators in Ukraine and asking him to discuss the matter with Volodymyr Zelenskyi.
The tweet sparked a flurry of criticism accusing him of presenting the country in an unfavorable light, so he added another tweet saying that we really needed the ventilators.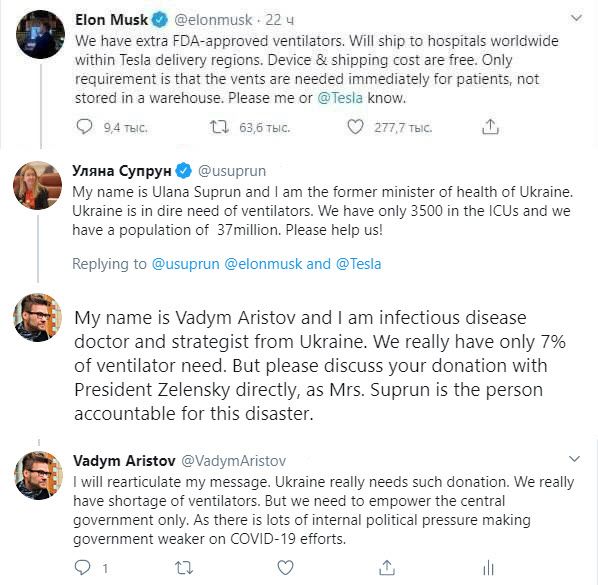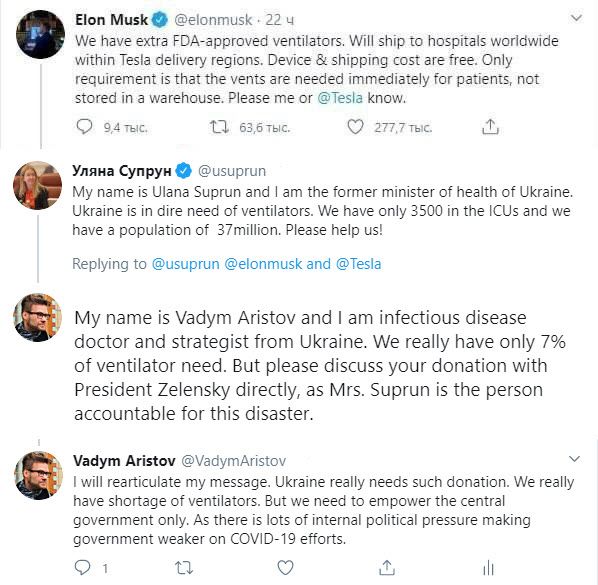 But the story did not end there. Vadym Aristov published a post on Facebook with 10 allegations against Ulana Suprun.
This text was analyzed by our team. As always, we only checked the facts or what was completely illogical. And we cannot help but give away a spoiler: none of the allegations was true.
False
In 2017, she abolished the state Sanitary and Epidemiological Service – the only anti-epidemic institute in the country. Moving toward the new, an analogue of the American CDC (Center for Disease Control and Prevention) should have been created, but the Public Health Center had a markedly limited functionality (monitoring and communications). Because of this, we do not have quick diagnostics now, there is simply no network of PCR laboratories to test for infection (previously, each region had such laboratories). No disinfection units network. Everything was scattered across many agencies or disappeared from the radar.
In reality, in 2014, before the arrival of Suprun, a decision was made to establish the State Service of Ukraine on Food Safety and Consumer Protection. The functions of the Sanitary and Epidemiological Service were to be handed over to this service.
As a result of a court decision in 2017, the Government reversed the decision regarding reorganization and decided to abolish the Sanitary and Epidemiological Service since its functions were performed by the Ministry of Health, the State Labor Service and the State Service of Ukraine on Food Safety and Consumer Protection
Besides, the Public Health Center is now responsible for combating epidemics.
False
She stopped training epidemiologists. There are about 500 of them for the entire country now. We do not have enough of them to monitor infection cases and isolation of exposed persons. Therefore, the scenario of South Korea, where the epidemic is contained without hard quarantine, is physically impossible for us to implement.
Firstly, epidemiology education continues. For instance, such programs are available with respective departments at Kharkiv National Medical University, Lviv National Medical University or Bohomolets National Medical University. In addition, the Public Health Center also provides training and retraining workshops.
Secondly, no official number of "500" epidemiologists exists. This number was only given by Olha Holubovska.
But there are statistics for earlier years  ("doctors of the sanitary and epidemic group"):
2011 –  8,356

2012 – 1,766

2013 – 1,880 

2014 – 1,638

2015 – 1,605

2016 – 1,588

2017 – 1,506
In other words, the major "downfall" with regard to the number of epidemiologists occurred in 2011-2012, not under Suprun.
Manipulation
Instead of using the World Bank loan ($ 215 million) to purchase the most critical equipment, according to some researchers, she spent $ 6 million on her own PR and "training workshops". Just think of it, instead of ventilators, gas analyzers and oxygen generators in intensive care units we paid for salmon and 4-5 star hotels for Minister Suprun's entourage. And even if we forget the training workshops and PR, if only at least the rest of the money had been spent on enhancing our hospitals' facilities. But  the hospitals remain neglected and the money unused. We, Ukrainians, pay annual interest on it.
All of Aristov's conclusions in this paragraph are based on some "research". But firstly, it was not a research by reputable organizations like Bihus.info, Skhemy (Schemes) or VoxCheck :), but by Ukrainian reporter. In lieu of facts and evidence, we only saw slander and emotions in this "research". Secondly, there were no criminal proceedings or court decisions on these charges. Which is another proof that the assertions were baseless.   
Without a verdict
She pushed out many "workhorses" from the central health authorities – medical professionals who knew what to do to modernize the system, not in theory, but in practice, under a new strong leader.
This is a value judgment to which no factual example was added that we could fact-check.
False
She paid her large entourage team the salaries of over UAH 100,000 while ordinary doctors keep quitting due to the meager salary of UAH 3-6,000, insufficient to cover basic needs.
Neither Suprun nor her deputies earned over UAH 100,000 in salary, nor did the doctors "keep quitting" – the staffing shortage remained basically the same during all those years. After the primary health care level reform, the salaries of a number of family doctors increased several times, to boot.
Manipulation
She caused a significant outflow of young and and middle-aged medical specialists. Due to the asymmetric conditions at Ukrainian hospitals ("hopelessness") and the mobility programs of foreign clinics ("bright picture") we have lost young medical staff and many middle-aged professionals. Over 10,000 doctors have left (no one knows the exact number because no statistics are maintained. Just a coincidence?). As a result, we now have 4 doctors coming out per one doctor coming into the medical profession. 25% of doctors are now well into retirement age, that is, they themselves are at risk for coronavirus. Who will provide medical assistance when they get sick?
The number of doctors in all specialties in recent years has remained nearly the same in Ukraine amounting to about 186 thousand (statistics for 2017). In 2018-2019, the Ministry of Health confirmed the same number.
There is no confirmed information about the number of doctors migrating abroad, but we would like to note that even if we assume that 10 thousand of them have actually left, then it is only 5% of the total number of doctors (186 thousand).
Manipulation
She did not create a strategic reserve of PPE and disinfectants. Furthermore, according to research, much of the reserve was disposed of because of being beyond the expiration date. Consequently, presently at least one doctor gets infected in Ukraine every day. And one has already died. Mrs. Ulana was the longest serving minister. The arguments that no one knew about the pandemic are not accepted. The SARS epidemic occurred in 2002. Those countries that wanted to get prepared (South Korea, Singapore, and other Asian countries) did so. What is more, Bill Gates continued to complain for a long time of a lack of readiness of the CDC system and inevitable consequences. Why build systems of the past in Ukraine? Why block the search for new systems that could handle the challenges of the future?
No one in the world was ready for the pandemic. The developed countries such as Italy, Spain, the United States or France are also suffering from the rapid spread of disease, a scarcity of supplies, tests and ventilators. This is not the fault of a particular individual. 
Manipulation
She abolished statistics form No.12. Because of this, currently there is no appropriate mechanism to evaluate the incidence of SARS or pneumonia, and there are not enough laboratories and tests to assess the situation indirectly.
Firstly, Form No.12, or "report on diseases found in patients residing in the medical service area" was annual. That is, it would not be possible to use it get operational information.
Secondly, the form was cumbersome and outdated, so it was abolished to reduce the burden on medical staff and give the doctors more time to do their work, i.e. cure people.
Manipulation
Mrs. Suprun's team representative – an MP from the Holos faction – launched a media harassment campaign against the first Ukrainian PCR test system developers. We had our own tests ready at the end of January. In mid-February, they even made it through bureaucratic hurdles and got officially registered. However, instead of protecting such innovations, we destroyed this initiative. And now we buy them abroad. For a much higher price. And we do it much slower because the foreign manufacturers have export restrictions. Thousands of people contracted disease because of this, we will see them in hospitals over the next 2 weeks.
This is about the coronavirus test developer scandal. Oleksandra Ustinova, deputy head of the Holos party, found out that the test systems were supposed to be purchased from a Russian company under the guise of manufacturing them in Ukraine. Later, a representative of the company she blamed it on admitted that the reagents they used were indeed Russian and suggested that they be abandoned. We cannot judge who was right before the court's decision, so we leave that statement without a verdict. 
It should be mentioned that Ustinova was not a "Suprun's team representative". Starting in 2014, long before Mrs. Suprun's appointment, she worked at the Anti-Corruption Action Center, NGO, where she was mainly involved with investigations in the medical sphere. 
The cost of foreign test systems is UAH 400-600, and some importers indicated the price of about UAH 300 per test when placing a wholesale order. With regard to the tests manufactured in Ukraine, it was written that they "should be cheaper" but no specific price was indicated. The site of the company that got into the scandal contains no price for the test either. 
Besides, the availability or absence of tests does not affect the number of those infected. 
False
She violated all approaches to change management when launching the medical reform. The doctors and hospital executives did not receive enough support and tools to survive the changes. The change in the principles of funding and accountability for results should have been made differently, not through violence.
This is not true. The medical reform provided for transition periods for the hospitals which resulted in an increase in readiness from 30% to 90% before the start of the secondary health care level reform. In addition, there have been considerable outreach efforts on the part of both the MoH and NGOs. Another confirmation of this is that the subsequent heads of the Ministry of Health publicly spoke in favor of the medical reform and, as a consequence, it did start on April 1. 
At the end of his post, Aristov also emphasizes that he very much wants Ukraine to find 60,000 ventilators. However, the author fails to substantiate this figure.
However, it should be noted that ventilators are not common medical devices and they require doctors with specialized skills and properly equipped wards. Therefore, 60,000 ventilators may mean nothing to Ukraine in the face of the hospitals' insufficient readiness for the pandemic.
Attention
The authors do not work for, consult to, own shares in or receive funding from any company or organization that would benefit from this article, and have no relevant affiliations