Verification within Meta's Third-Party Fact-Checking Program
Information was spread online about higher crime levels due to the partial and long-term blackout in nearly all regions of Ukraine. Ukrainians reportedly discussed what needed to be stolen from supermarkets in Kyiv and Lviv. According to propaganda outlets, marauders broke into abandoned apartments, robbed and killed passers-by in dark streets, and were even accused of kidnapping foreigners for ransom.
However, the lack of electricity did not significantly affect the country's crime levels.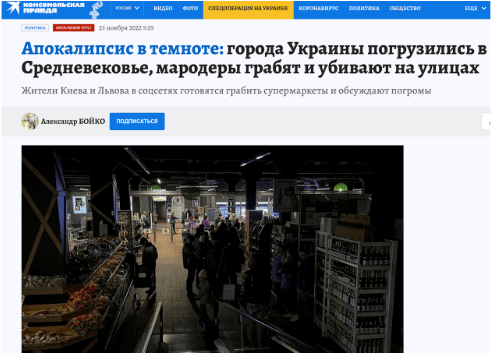 Translation: Apocalypse in the dark: Ukraine's cities have submerged into Middle Ages, and the marauders rob and kill people in the streets.
Screenshot from the post
Kyiv and Lviv residents are getting ready to rob supermarkets and discuss pogroms.  
According to Ministry of Internal Affairs data from November 25, 2022, the lack of electricity in most regions of Ukraine did not affect the level of crime. The Ministry tripled the presence of the National Police (car and foot patrols). In addition, state formations used the support of voluntary groups from territorial communities, with National Guard service members currently not at the front lines also joining the patrols.
According to the Minister of Internal Affairs, Denys Monastyrskyi, more police officers on the streets did not lead to a worse criminal situation in Ukraine. However, he stressed that the number of domestic violence hotline reports had recently increased.
Before the blackouts, on July 4, 2022, the adviser to the Minister of Internal Affairs of Ukraine and executive director Vadym Denysenko said: "There were times when crime numbers were 50% less compared to the pre-war period. Now it's about 25% less than before the war. Overall, according to my estimates, we've managed to keep the criminal situation and organized crime at bay. Cities not under occupation or front-line are all safe from the point of view of the crime situation. Here, the police have done a good job doing what they should be doing."
Attention
The authors do not work for, consult to, own shares in or receive funding from any company or organization that would benefit from this article, and have no relevant affiliations