Verification within Meta's Third-Party Fact-Checking Program
Russian media and Telegram channels are distributing a video in which Ukrainian soldiers allegedly stopped a woman with a child because she did not give way to them. As evidence, they provide a segment from the video recorder in the woman's car. The soldiers then allegedly started yelling at the woman, cursing her, threatening her with guns and shooting in the air because she was speaking to them in Russian.
In fact, this video is staged, it was filmed in the occupied territory of the Donetsk region, where there are no Ukrainian troops.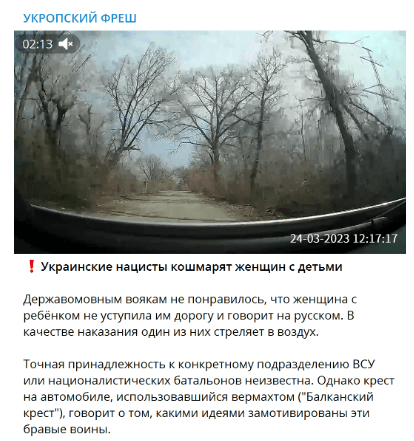 OSINT investigators from GeoConfirmed, using the location of trees and high-voltage towers, determined that the video was shot in occupied Makiivka, Donetsk region.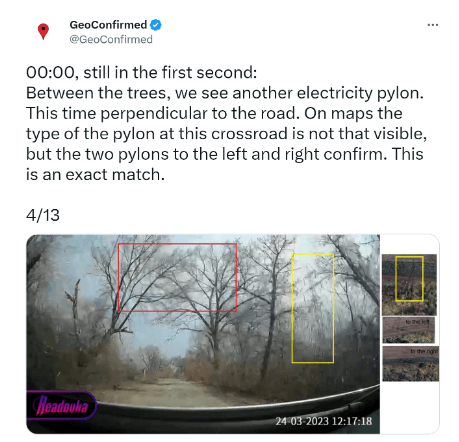 The investigators are also paying attention to the military man standing next to the car. The man holds the weapon as if he knows he is safe. While the second man moves away from the car in which a woman and a child are sitting, and shoots into the bushes. The Russian Ministry of Foreign Affairs also published a video of the woman's arrest on its page, but the post was later deleted.
It is worth noting that from March 20, 2022, in Ukraine, drivers were prohibited from using video recorders in order to avoid disclosing information about the location and movement of Ukrainian military personnel. So, most likely, the military would pay attention to the video recorder.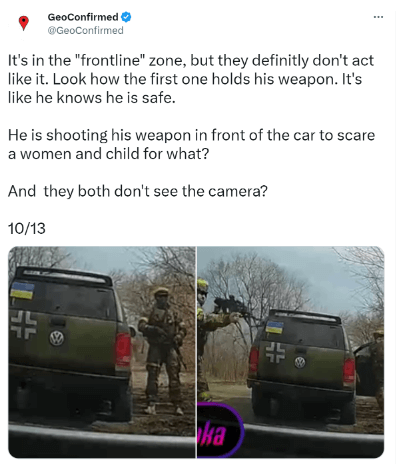 The Main Directorate of Intelligence of the Ministry of Defense also denied this video. The department notes that the body of the car on which the soldiers are riding was manufactured in Russia and was never used in Ukraine.
Attention
The authors do not work for, consult to, own shares in or receive funding from any company or organization that would benefit from this article, and have no relevant affiliations