According to the information, spread on Internet, the citizens of Mariupol allegedly tried to disarm the Ukrainian soldiers and take control of the checkpoints on Feb. 24, 2022.  The published video that shows flashes was recorded allegedly in Mariupol.  Four injured civilians are also mentioned.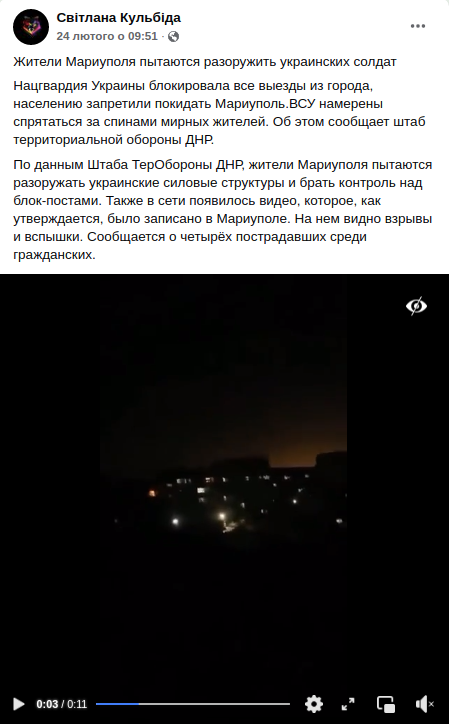 However, this information is not true, and the video was shot in late January 2022.
First, the video does not show the events of Feb. 24, 2022. This video was published first on Jan. 29, 2022 in TikTok with the caption "lightning strike in the power plant." By the way, this fake about Ukraine has spread in Great Britain and Poland.
More and more materials are appearing on social media that allegedly show the current events in Ukraine. It is possible that these photos or videos have appeared on the Internet before or do not relate to the current situation in the country.
Reliable sources do not contain any information about the attempts of civilians in Mariupol to disarm the Ukrainian servicemen. However, such fakes are spread by Russian propagandist sources.
On Feb. 24, 2022, Russian armed forces shelled residential areas in Mariupol and the airport with the Smerch multiple rocket launch system. As a result of strikes, there were killed three civilians and injured seven.
During a briefing on Feb. 24, Mariupol Mayor Vadym Boychenko said that difficult battles were taking place in Mariupol, but the Armed Forces of Ukraine were fighting back Russian forces in all directions, and the army was ready to defend and protect the city. According to information of the Mariupol City Council, as of 10 p.m. of the same day, 25 injured servicemen were delivered to hospital of the Mykolaiv region.
Reliable information about the course of the war can be found on these sources:
Attention
The authors do not work for, consult to, own shares in or receive funding from any company or organization that would benefit from this article, and have no relevant affiliations