Verification within Meta's Third-Party Fact-Checking Program
Social networks are spreading information that the city of Rubizhne in the Luhansk region has come under the full control of russian troops. Some posts add a video published by chechen leader Ramzan Kadyrov. On it, the chechen military hangs flags of russia and the chechen republic with a portrait of Akhmat Kadyrov over the entrance sign to the city of Rubizhne.
The russian military has not established full control over Rubizhne, it is a fake.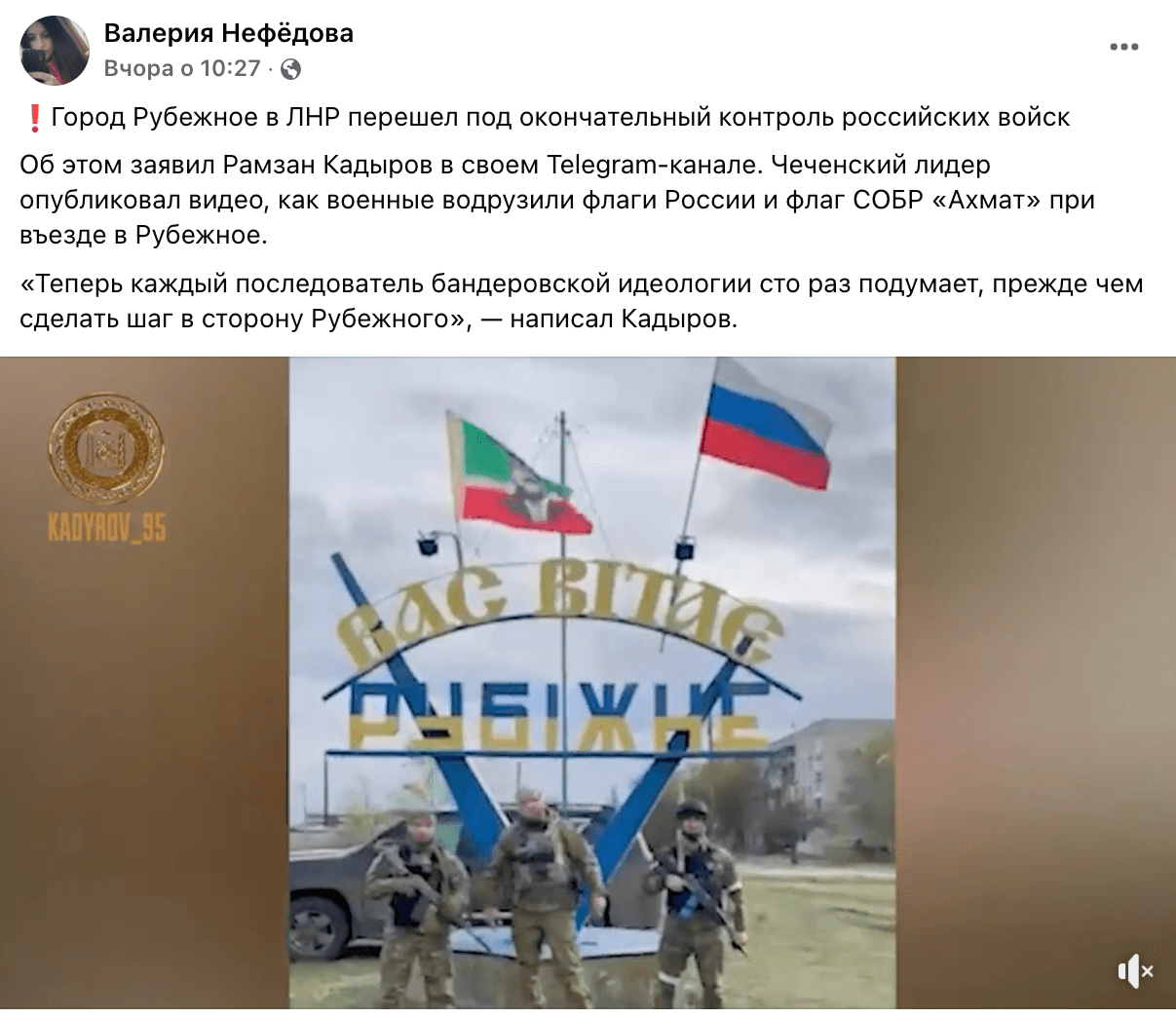 Freeze video from Facebook 
Publications about the alleged occupation of Rubizhne by the occupiers began to appear on the evening of April 20. As of 6 pm on April 20, the General Staff of the Armed Forces of Ukraine reported that russian troops had failed to gain a foothold in the city: "The enemies were trying to gain a foothold in the western and northwestern parts of Rubizhne. They failed. "
This was confirmed by the head of the Luhansk Regional Military Administration Serhiy Haidai. He also added that this is not the first fake message about the capture of Rubizhne by the russians.
"This is the third such "liberation" by the occupiers of Rubizhne, based on Russia's false reports. For the first time, this settlement "came under the control" of the invaders on March 1. Then, on March 18, russian propaganda again reported on the "liberation" of Rubizhne and even his "cleansing" of the Armed Forces. However, on March 20, we denied this information. Yesterday, foreign journalists visited the Southern district of Rubizhne and also found out about russia's lies," Haidai wrote on Facebook.
On April 22, Sergei Haidai reported  againon the repulse of the Russian offensive in Rubizhne.
The city of Rubizhne is only partially under the control of russian militants. As early as April 6, the Military Administration of Luhansk region reported that 60% of Rubizhne was controlled by russians. The former mayor helped the russian military capture the city, provided all the information. The Russians could not break into the city: daily attacks were unsuccessful, the occupiers suffered numerous losses .
Therefore, the fact that the chechen military was able to hang flags at the entrance to the city does not prove that Rubizhne has completely come under their control.
Attention
The authors do not work for, consult to, own shares in or receive funding from any company or organization that would benefit from this article, and have no relevant affiliations