Verification within Meta's Third-Party Fact-Checking Program
Social media spread information that the russian armed forces captured U.S. Army Lieutenant General Roger Cloutier. It is argued that he became the Commander of NATO Allied Land Command in 2020 (responsible for land warfare) and is headquartered in Izmir, Turkey.
Roger L. Cloutier Jr. is a United States Army lieutenant general who became the commander of the Allied Land Command on August 4, 2020. There is information that russia's armed forces have captured lieutenant general Roger L. Cloutier in Mariupol, who became the commander of the Allied Land Command (responsible for land warfare), headquartered in Izmir, Turkey.
The general will not be shown immediately: it is a serious argument for pressure: if the combination is played out correctly, the U.S. and NATO might make concessions. If they don't, the general will speak out publicly, and reputational losses will be much higher.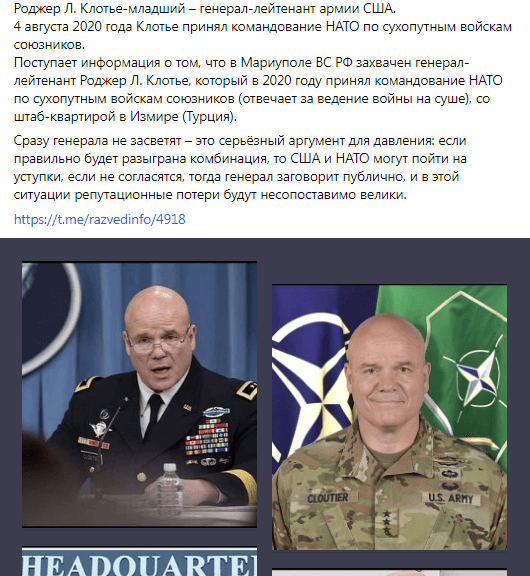 However, a spokesman for the Allied Land Command denies reports of the lieutenant general captured. Independent fact-checkers from USA TODAY and PolitiFact refuted this fake news story earlier.
Information about the alleged capture of U.S. Lieutenant General Roger Cloutier Jr. was denied by Brian Andries, deputy public affairs officer at NATO Allied Land Command. In an email to PolitiFact, he said that Roger Cloutier is currently commanding NATO Allied Land Command in Izmir, Turkey, and has not been to Ukraine since July of 2021.
On April 5, 2022, the Lieutenant General posted a picture of himself speaking at a Land Operations Working Group meeting in Izmir. A LinkedIn user asked Roger Cloutier whether it was true that he had been taken prisoner in Mariupol. Clothier replied that the rumors were false. You can also find photos from the NATO event showing the lieutenant general on Twitter and Facebook.
By the way, on March 16, 2022, NATO Secretary General Jens Stoltenberg stated that NATO should not deploy forces on the ground or in the airspace of Ukraine.
Attention
The authors do not work for, consult to, own shares in or receive funding from any company or organization that would benefit from this article, and have no relevant affiliations