Verification within Meta's Third-Party Fact-Checking Program
The network spreads information that the russian army allegedly does not commit crimes in the occupied settlements in Kherson and Zaporizhia (Kherson, Berdyansk, Melitopol, etc.). This information began to be spread on Facebook at least from April 6, 2022, after the facts of mass killings of civilians in the Kyiv region during the russian occupation became known. Similar reports continued to be circulated in May .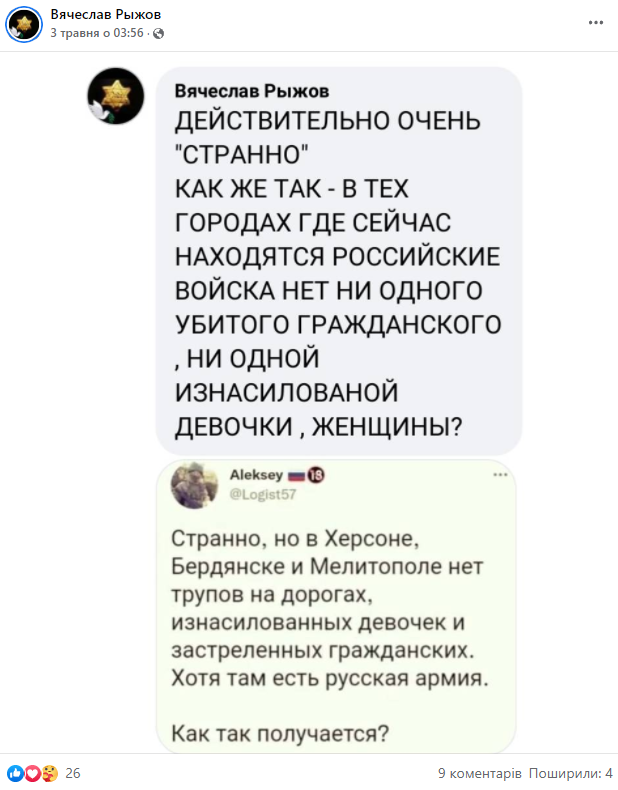 Screenshot of the post , which is shared on Facebook
However, this is a fake. In fact, it is known about numerous crimes of the russian army in the occupied territories of Kherson and Zaporizhia regions.
First, when considering the crimes of russians in the occupied territories, it should be borne in mind that neither the Ukrainian media nor Ukrainian officials have full access to information about the situation in the regions. Therefore, the full list of crimes in the occupied settlements will be known only after their deoccupation.
Secondly, even under such limited conditions, there are constant reports of mass crimes committed by the russian army: abduction, torture, rape, injury and murder. Here are just a few examples:
Attention
The authors do not work for, consult to, own shares in or receive funding from any company or organization that would benefit from this article, and have no relevant affiliations