Verification within Meta's Third-Party Fact-Checking Program
Since February 2022, social networks have spread information about the risk of death among children vaccinated against COVID-19, being 52 times higher than among unvaccinated children. It is apparently evidenced by the UK Office for National Statistics (ONS) data.
However, this is not true. No data on the ONS website would indicate that the risk of death of children after vaccination is higher.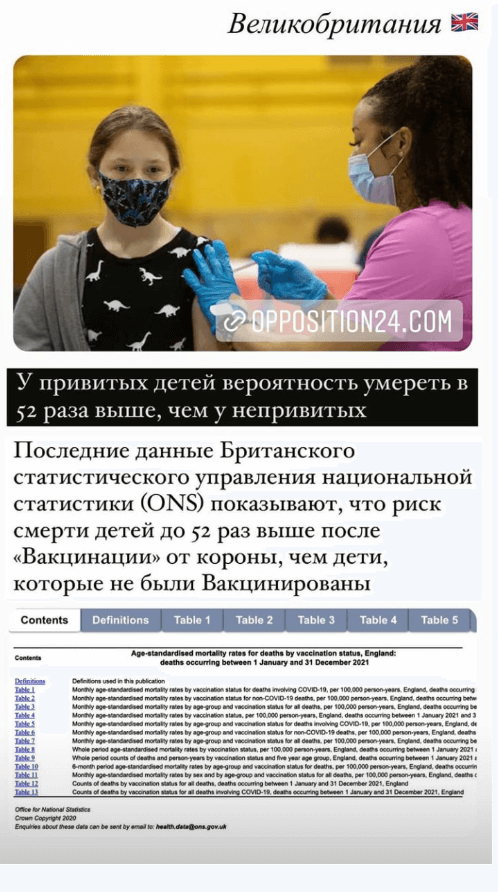 The posts' authors cite the UK Office for National Statistics, namely the 2021 report about deaths from COVID-19 and vaccination. However, there is no data in the report to indicate that the risk of death in children is 52 times higher after immunization. Also, the statistics are for England, not the whole of Great Britain, as the posts suggest.
The subsection" Six-month age-standardized mortality rates by vaccination status, deaths involving COVID-19 " shows that the death rate from COVID-19 was lower for those who received a second or third dose of the vaccine than for unvaccinated people. Such statistics apply to all age groups, including children.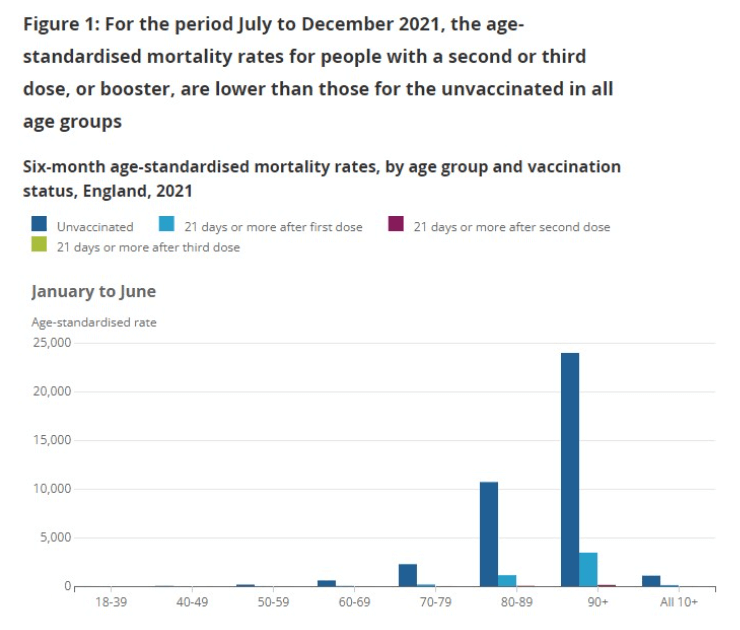 The UK Office for National Statistics website contains an answer to an inquiry about the number of deaths due to vaccination against COVID-19. As of January 2022, 15 COVID-19 vaccine-related deaths have been reported in England and Wales. All cases listed are deaths since the start of vaccination in December 2020, with no people under the age of 35 among them. So, no child in England has died from a COVID-19 vaccine since the rollout of mass vaccination.
The UK National Health Service (NHS) recommends vaccination against the coronavirus for children aged 5 to 15, saying the vaccines approved for use in the UK (for children, Pfizer/BioNTech are used) meet strict standards of safety, quality, and effectiveness.
We have previously debunked information that the death rate among 15-19-year-olds in Great Britain increased by 53% due to vaccination against COVID-19. The posts' authors make a false conclusion about the connection between vaccination and death, but there is no evidence that vaccinations are to blame for increasing mortality rates.
Attention
The authors do not work for, consult to, own shares in or receive funding from any company or organization that would benefit from this article, and have no relevant affiliations