Verification within Meta`s Third-Party Fact-Checking Program
The information that waters of the Black and Azov Seas were mined by Ukraine, not russia  has been spread on the internet as it is about anchor mines of outdated design 730.00.000, which are allegedly only in the service of Ukraine. Some of the mines were detected by Romania and Odesa seashores. There are two photos of naval mines spreading by social media users as evidence of Ukraine`s responsibility for mining.
The truth is that russia mined Black and Above Seas.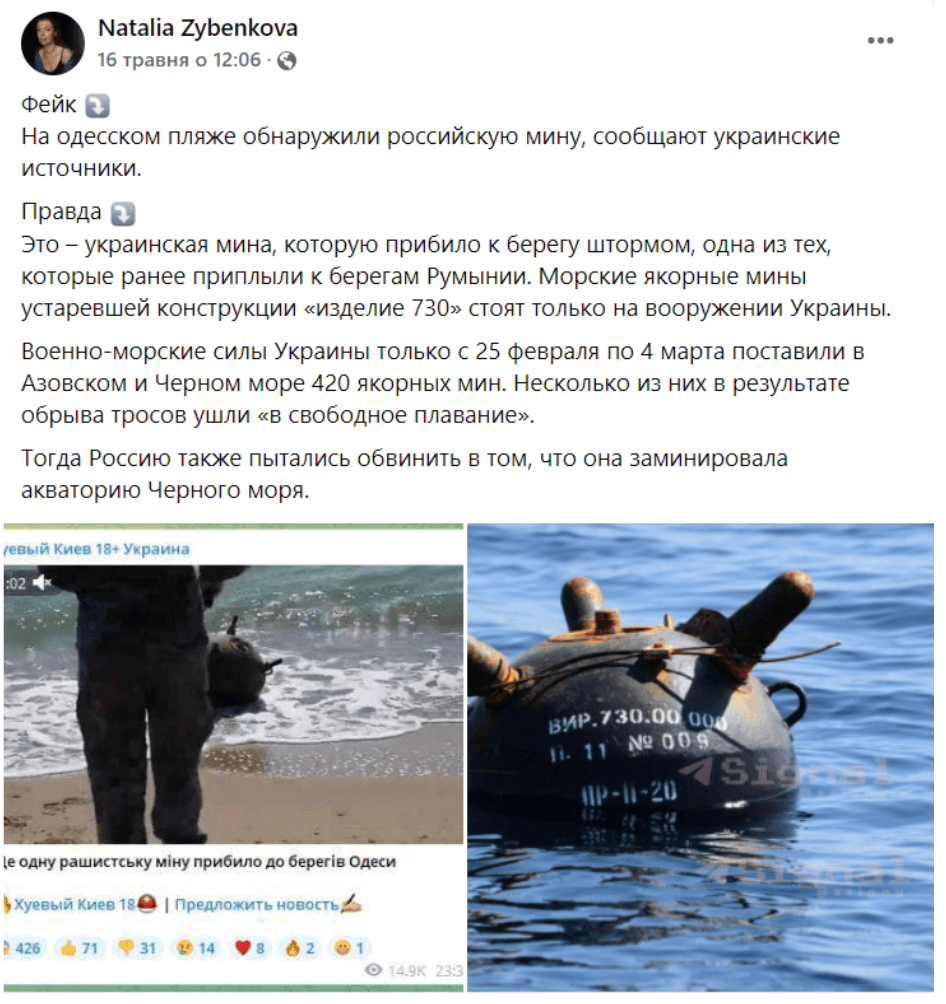 The first photo from the post — is the screenshot of the video of mine disposing process in Odessa. This photo was published by the General Staff of the Armed Forces of Ukraine on May 16th, 2022. According to Maksym Marchenko, Head of Odesa Regional Military Administration, an enemy naval mine hit the coast of Odesa as a result of a storm on May 14.
Reverse image search in Google shows, that the second photo (drifting in the sea mine with the inscription «вир. 730.00.000 П.11 №009 ПР-11-20») was shared at the end of March along with the news about the mines detection in the Black sea by the seashores of Turkey, Romania and Bulgaria. Mine on photo was found in the territorial waters of Romania and later it was disposed by Romanian Navy. 
On March 29th, the Ministry of Foregin Affairs of Ukraine announced that these drift mines were seized by the russian armed forces in 2014 during the military invasion and occupation of the Sevastopol city. As of the beginning of 2022, such mines were not registered with the Naval Forces of the Armed Forces of Ukraine.
Ukraine's accusation of mining the Black Sea is a typical russian information attack aimed at undermining the Black Sea region's confidence in Ukraine. These information attacks started at least in March 2022. For example, on March 18, the captain of the Sochi seaport warned shipowners and captains of the region that anchor mines allegedly planted by Ukrainian navies on approaches to Ukrainian ports had come off and drifted in the southwestern and northwestern parts of the Black Sea. It was mentioned in the letter of russian captain there were 420 detected mines. However, it is impossible to count drifting mines during the storm. The exact amount of drifting mines can only be known by person set them.
Andrii Klymenko, Head of the Project «The Black Sea Institute of Strategic Studies» and Editor-in-Chief of BlackSeaNews, called these actions a cover for russia's own crimes. He  mentioned that in this way russia had mined commercial routes from the Bosphorus to Odesa.
Attention
The authors do not work for, consult to, own shares in or receive funding from any company or organization that would benefit from this article, and have no relevant affiliations