Fact checking in partnership with Facebook
There were multiple reports on the Internet about the alleged trespassing of Russian border by Ukrainian commando group in Rostov region. They state that 2 Ukrainian APS's which trespassed the border to help commandos have been destroyed. Russian propaganda media («Russia Today», «Газета.ру», «Лента.ру») were publishing news about destroying of Ukrainian APS's. They published photos of supposedly Ukrainian military equipment burning after being destroyed.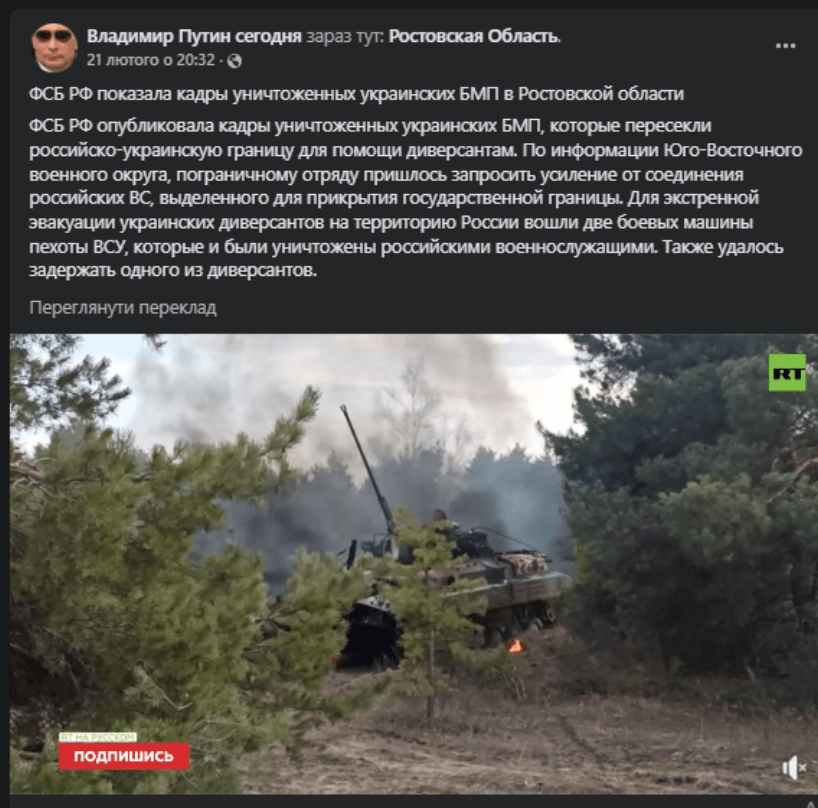 Screenshot of Facebook post, supposedly Ukrainian military equipment is burning on the picture
But this is fake.
The statement has zero proof. Besides, Russia didn't clarify the location of possible incident, only that it supposedly took place in the Rostov region.
Earlier Russia stated that Ukrainian commando groups supposedly trespassed the border near Mityakinska locality in Rostov region. The State Border Guard Service of Ukraine explained that these news are fake.
The State Border Guard Service states that there were no Russian border trespassing in the direction of Mityakinska in Rostov region from territory controlled by the Ukrainian authorities. In addition, Ukraine's border guards did not receive any statements from the russian side about any sort of non-standard situation on the border, in particular with the use of weapons.
The SBGS has also stated that there were no claims of border trespasses from Ukraine's side made by russia. The so-called «trespass» of the russian border was also denied by Foreign Minister Dmytro Kuleba.
The JFO headquarters have also pointed out on Feb 21 that the Armed Forces of Ukraine did not send any diversants or APC's through the border, did not attack Donetsk or Luhansk and did not fire weapons at Russian territory. The JFO did not have plans for not did they engage in offensive actions.
Attention
The authors do not work for, consult to, own shares in or receive funding from any company or organization that would benefit from this article, and have no relevant affiliations