Fact-checking stories in partnership with Facebook
Social networks spread information that Ukraine sends children aged 12-17 to the front lines in Mariupol and Chernihiv. It is argued that the children are given man-portable anti-tank rocket systems and grenade launchers. As proof, a picture of a man with a weapon in his hands is provided. 
Amur.info: That's it. Here we go, Kyiv. There's their own Zelensky-Jugend in Mariupol and Chernihiv now. The russian military says the nationalists use children aged 12-17. The children are handed man-portable anti-tank rockets and grenade launchers and sent to the front lines. The military doubts that they explain the danger of it to the children.
There's a direct analogy: Short of breath because of Soviet Army strikes and having lost vast numbers of the adult male population, Nazi Germany resorted to…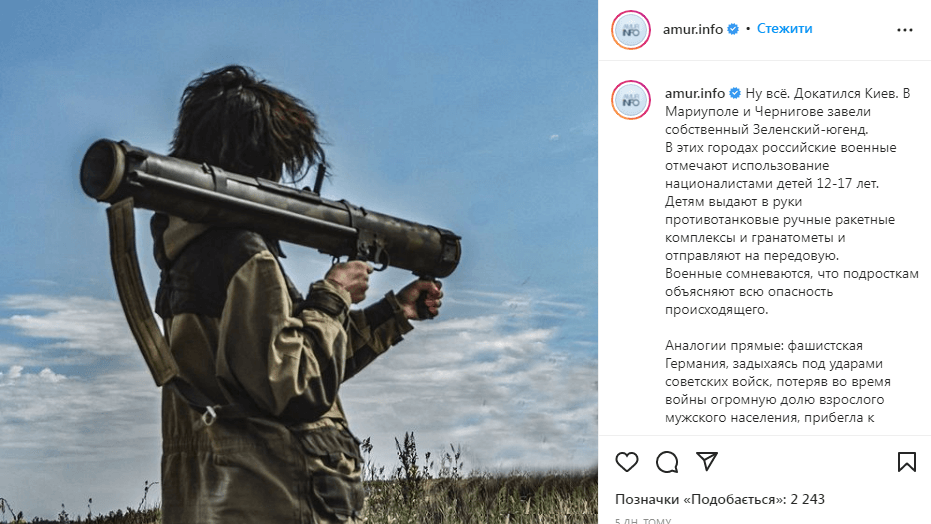 However, persons between 18 and 60 are subject to mobilization in Ukraine. The photo in question was first published in 2018. Independent fact-checkers from FactCheck Georgia and Lead Stories had written about it earlier.
First, according to the Presidential Decree "On General Mobilization," mobilization is carried out within 90 days from the date of the decree's entry into force across Ukraine and the city of Kyiv. Men between 18 and 60 years old and fit for service are subject to mobilization. Under some military specialties, women listed on the military register may also be called up for military service. Therefore, children aged 12-17 could not be called up.
Second, according to Google Images reverse lookup results, the photo in the post shows a woman. It has circulated since at least July 2018. You can see a series of similar images here. Their author, nicknamed "P-KDmitry," is a photographer from russia.
You can find reliable information about the course of the war at:
Attention
The authors do not work for, consult to, own shares in or receive funding from any company or organization that would benefit from this article, and have no relevant affiliations