Verification within Meta's Third-Party Fact-Checking Program
Photo of the helicopter of the Russian occupiers which was shot down is allegedly being spread on the Internet.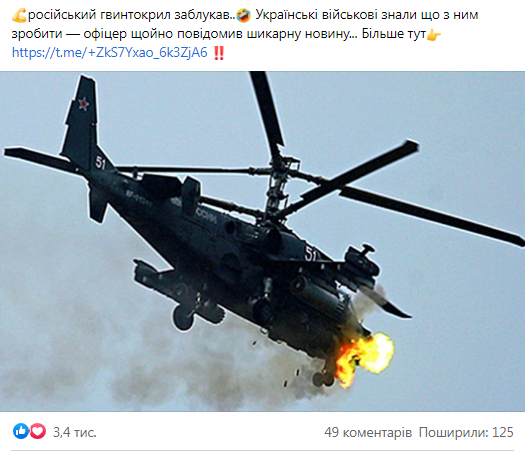 However, in the photo – a Ka-52 "Alligator" helicopter during the All-Russian competition of pilots "Aviadarts" on June 4, 2016.
The posts provide a link to the telegram channel, which allegedly published more information. However, the link does not lead to a specific post, but to a closed telegram channel. You must wait for confirmation from the administrator to access the channel. Such news with impressive photos or headlines is spread to increase the number of subscribers in a deceptive way.
The author published the article on April 17, 2022. By reversing images in Google Images, we found posts with this photo. The Alamy photo caption states that the photo shows a Ka-52 Alligator helicopter during the all-Russian Aviadarts pilot competition on June 4, 2016. This stage of the competition took place in the temporarily occupied territory of the Autonomous Republic of Crimea. The photo was taken by the Russian state news agency TASS.
According to the Air Force Command, on April 17, 2022, three helicopters were shot down by the Armed Forces of Ukraine: two Mi-24s and one Ka-52.
Attention
The authors do not work for, consult to, own shares in or receive funding from any company or organization that would benefit from this article, and have no relevant affiliations