Verification within Meta's Third-Party Fact-Checking Program
There is a photo spread on the network on which explosions in Mykolaiv as a result of the blow by the Russian occupiers are allegedly visible.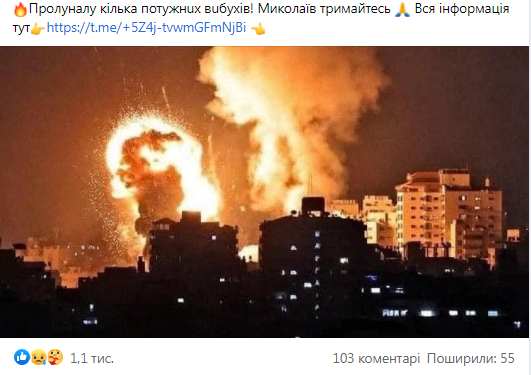 However, the photo shows explosions in the Gaza Strip as a result of an Israeli air strike attack. 
Pay attention! The news is written in a combination of Cyrillic and Latin (compare: instead of Cyrillic "i" in the text the Latin "u" is used in the words "potuznyh" and "vybuhiv"). The text is emotional. Such signs indicate that you are facing either a fake or a clickbait.
The posts provide a link to the telegram channel, which allegedly published more information. However, the link does not lead to a specific post, but to a closed telegram channel. You must wait for confirmation from the administrator to gain access. Such news with impressive photos or headlines is spread in a deceptive way to increase the number of subscribers.
The author published the post on April 19, 2022. By reversing the image in TinEye, we found posts with this photo . The signatures say it depicts the Israeli airstrikes in the Gaza Strip dated May 10, 2021.
The Gaza Ministry of Health said that Israeli airstrikes killed 20 people that day and injured 65. Before the Israeli air strikes, Hamas (the organization that controls Gaza) fired missiles at Jerusalem. According to the Israeli military, a total of 50 missiles were fired.
Israeli Prime Minister Benjamin Netanyahu later accused Hamas of crossing the "red line" with a missile attack on Jerusalem, and promised a tough response.
On the night of April 19, 2022, Mykolaiv was indeed shelled by the Russian occupiers. An electrical resistance plant and injured two people.
Attention
The authors do not work for, consult to, own shares in or receive funding from any company or organization that would benefit from this article, and have no relevant affiliations