Verification within Meta's Third-Party Fact-Checking Program
The information, that the Polish authorities are developing a plan to establish control over Ukraine, is being spread in network: 
This statement was made by Serhiy Naryshkin, the head of the Russian Foreign Intelligence Service. He noted that there was information that Washington and Warsaw were working on plans to establish close military and political control of Poland over "its historical possessions" in Ukraine.
RIA Novosti reported that Poland was planning to send troops to the western regions of Ukraine on the basis of protection from Russian aggression.
Poland intends to act without a NATO mandate, but with the involvement of "willing states".
"Polish intelligence services allegedly began looking for "negotiable" representatives of the Ukrainian elite to form a "democratic" counterweight to the Warsaw-oriented nationalists".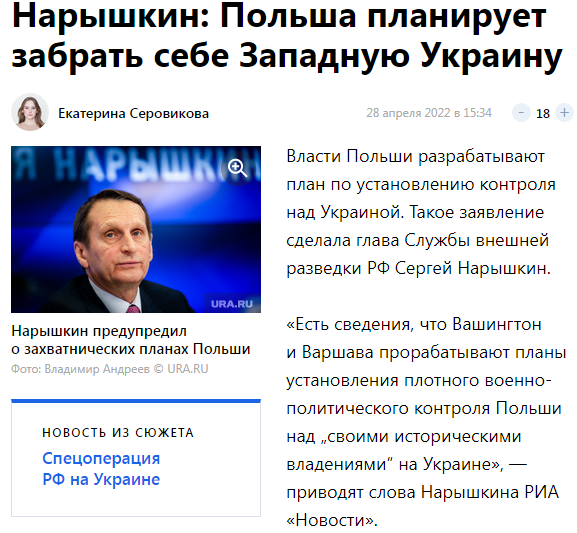 However, Poland has no plans to seize Ukraine.
The Center for Strategic Communications and Information Security informed that according to Stanislaw Zharin, the press secretary of the Minister-Coordinator of Polish intelligence services, Poland has no plans to seize the territory of Ukraine. 
Stanislav Zharin stated that Serhiy Naryshkin, the head of the Russian Foreign Intelligence Service, was spreading false information in order to undermine relations between Poland and Ukraine and expose the first one as the instigator of the war. Zharin added that a similar lie about Poland's plans to attack Western Ukraine has been repeated for several years.  
Serhiy Naryshkin's thesis about Poland's alleged plan to seize Ukrainian territories also contradicts several facts. Poland is helping us to restore our territorial integrity by providing defense assistance. For example, as of April 29, Warsaw has already handed over to Ukraine military technic and equipment worth a total of 7 billion zlote (1.5 billion euros) in aid against the Russian occupiers. 
Poland's entry into the war is also potentially impossible because it is a member of NATO. Jens Stoltenberg, Secretary General of NATO, has stated that NATO will not deploy its military units in Ukraine. In addition, Ryszard Terletsky, Vise Marshal of the Sejm of the Republic of Poland stressed that Poland supports the sovereignty and territorial integrity of Ukraine and assured of the continuity of such support in the future.
Attention
The authors do not work for, consult to, own shares in or receive funding from any company or organization that would benefit from this article, and have no relevant affiliations