Verification within Meta`s Third-Party Fact-Checking Program
The network is spreading a statement made by Andriy Kartapolov, chairman of the Russian State Duma's defense committee, that the Russian military has ceased to suffer losses in the war with Ukraine due to a change in tactics. According to him, this may explain the fact that the last time the Russian Defense Ministry reported its military losses was in late March 2022.
However, it is not true. Russian army continues to suffer significant losses during hostilities.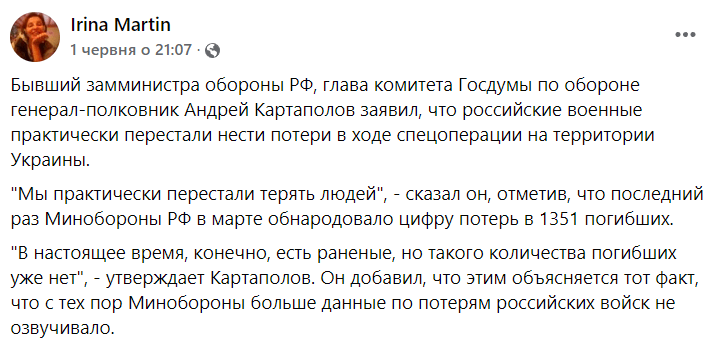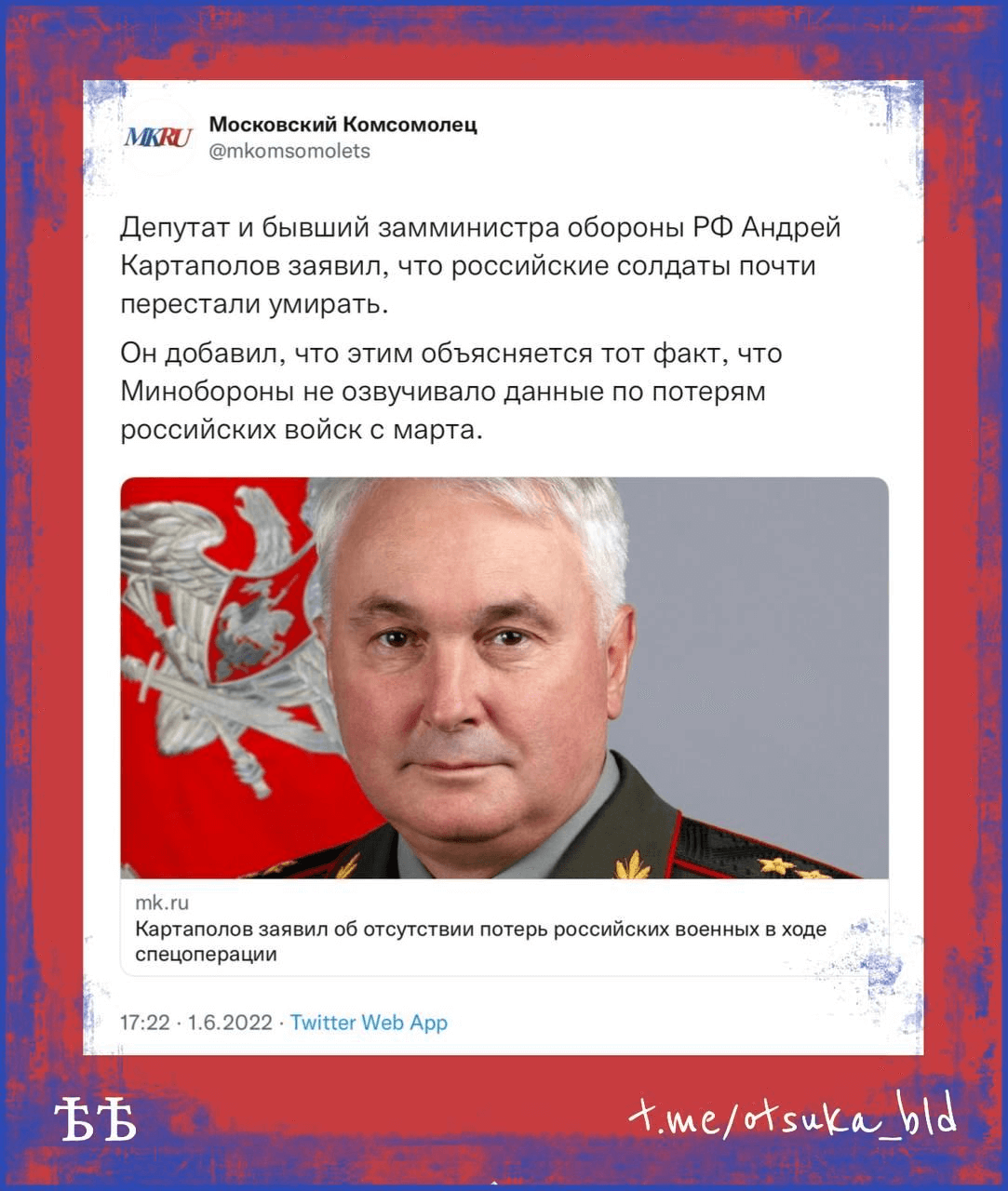 Andriy Kartapolov made that statement on June 1, 2022. The last time when russian defense ministry reported about losses was on 25 of March when they claimed 1,351 persons dead among the military.
Statistics of Russian losses are conducted on the basis of both open and closed sources. An example of closed sources is the daily summary of the General Staff of the Armed Forces. According to it, as of March 25, russia lost 16,100 troops, and as of June 1 – 30,700 troops.
BBC Russian Service and the "Mediazone" edition collect data on losses on the basis of open sources (reports of relatives of the dead, news of regional russian media, statements of local authorities). On March 25, they managed to confirm 1,387 dead, and on June 1 – 3,211. At the same time, russian journalists note that these data do not reflect the real level of losses.
The Dutch resource Oryx counts the loss of russian equipment, not personnel. However, the loss of equipment also partially reflects the losses among the military: it is likely that personnel will also suffer losses when equipment is destroyed or damaged. On March 25, the authors of the website had photo confirmation of 1387 units of lost russian equipment (destroyed, damaged or seized by Ukrainian forces), on June 1, this figure has already reached 4,203 units.
After the failure of the first stage of a full-scale invasion in March, russia has really changed its tactics of combat: it concentrated its efforts only in the east and south of Ukraine, began to use infantry more carefully and to cover the movement of troops from the air. However, according to the US Department of Defense, the russian military continues to repeat its own mistakes and suffer significant losses. Ruslan Leviev, an analyst in the Conflict Intelligence Team, also confirms that, despite a change in tactics, the russian military has failed to reduce casualties.
Attention
The authors do not work for, consult to, own shares in or receive funding from any company or organization that would benefit from this article, and have no relevant affiliations