Verification within Meta's Third-Party Fact-Checking Program
Russian Telegram channels are spreading a screenshot of a Cabinet of Ministers of Ukraine (CMU) resolution, allegedly stating that conscripts are no longer allowed to engage in security activities. Only individuals who are in the military reserve, have deferment from mobilization, or are not subject to conscription can now be involved in security activities. This is said to lead to security guards "buying" certificates from conscription officials, while pensioners will be left without work.
However, this is false. The CMU resolution adds an additional document that needs to be submitted for carrying out security activities. There are no restrictions for conscripts or pensioners.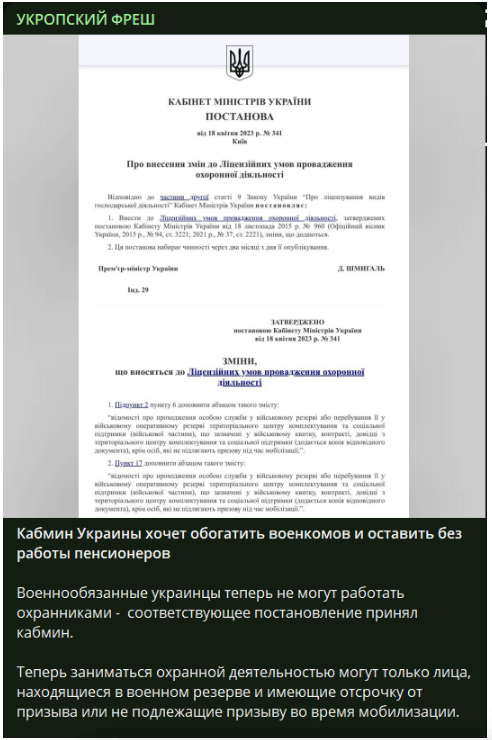 The Cabinet of Ministers of Ukraine adopted Resolution No. 341 "On Amendments to the Licensing Conditions for Security Activities" on April 18, 2023. This resolution introduces changes to subparagraph 2 of paragraph 6 and paragraph 17 of the "Licensing Conditions for Security Activities." Now, when submitting a license application or hiring a person for security activities, it is required to provide information regarding the person's status in the military or operational reserve of the Territorial Center for Recruitment and Social Support, as indicated in the military ID card, contract, or certificate from the Territorial Center for Recruitment and Social Support. This requirement does not apply to individuals who are not subject to conscription during mobilization. It is an additional document needed for obtaining a license for security activities or when hiring personnel for security, provided that they have a military obligation.
According to Article 26 of the Law "On Compulsory State Pension Insurance," individuals have the right to receive an old-age pension after reaching the ages of 60, 63, or 65, depending on the length of their insurance period, which should be at least 15 years. According to Article 23 of the Law "On Military Duty and Military Service," the maximum age for military service, and thus the status of conscription, is 60 years for ordinary, sergeant, and senior staff, as well as junior and senior officer ranks, and 65 years for the higher officer ranks. Therefore, obtaining the status of a pensioner removes the status of a conscript. Thus, pensioners are not restricted from engaging in security activities as they are not subject to mobilization.
Propagandists claim that conscripts cannot work in the security sector, but reservists can. However, they contradict themselves because reservists are among the conscripts. In the CMU Resolution No. 607 "On Approval of the Structure of Military Reserve of Human Resources" dated November 12, 2014, the structure of the military reserve of human resources was defined. It consists of reservists who voluntarily signed a contract for service in the military reserve or were compulsorily assigned to the operational reserve during a special period, as well as conscripts and citizens who voluntarily participate in ensuring national security and defense.
Attention
The authors do not work for, consult to, own shares in or receive funding from any company or organization that would benefit from this article, and have no relevant affiliations