Verification within Meta's Third-Party Fact-Checking Program
Since May 27, 2022, a new video of Serhii Hula has been circulating online, in which he claims that:
COVID-19 is a fictional disease;

the official statistics of the COVID-19

 

incidence in Ukraine is zero;

Hula explains extending the quarantine in Ukraine due to the spread of COVID-19 until August 31, 2022, as a need to force the population to vaccinate with a vaccine whose validity is expiring.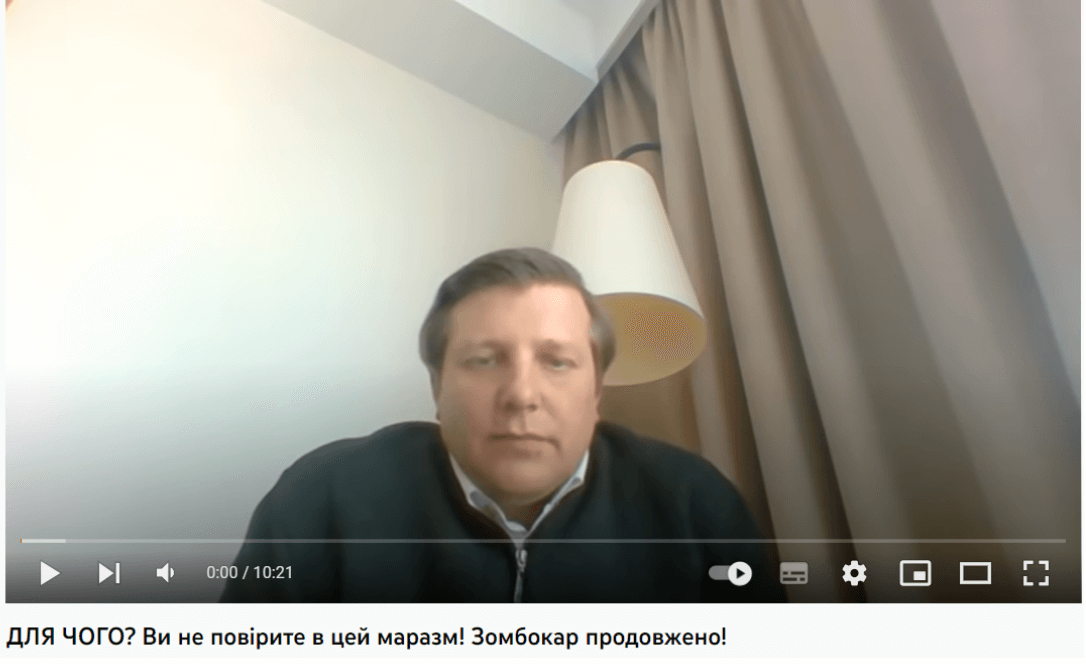 However, this is not true. The COVID-19 incidence rate in Ukraine has not become zero, but the disease has morphed into a seasonal infection. Overall, about 4,000 COVID-19 cases are registered per week.
We have repeatedly debunked Serhii Hula's allegations. We mentioned him and other covid-dissidents in our article dedicated to the first anniversary of the infodemic.
Number of COVID-19 patients as of late May 2022
On June 14, 2022, the head of the National Technical Group of Experts on Immune Prophylaxis, Fedir Lapii, explained that COVID-19 has not disappeared but has morphed into a seasonal infection. He also noted that as a result of people being mostly in open spaces, the COVID-19 incidence rate is falling, although the disease is not going away.
Currently, data on the incidence of COVID-19 is updated once a week. The exact number of new confirmed cases in Ukraine as of May 23, 2022, is known (the publication date of Serhiy Hula's video is May 27, 2022): 2,132 cases were recorded in a week. The number of new cases per week as of June 6, 2022, is also known: 1,600 people.
According to chief state sanitary doctor Ihor Kuzin, molecular epidemiological surveillance continues in Ukraine: samples from those having COVID-19 are taken in each territory and region, and the genome is deciphered. In this way, they see which strains are circulating in Ukraine. Currently, the Omicron variant continues to spread in the country.
Extending quarantine in Ukraine due to the spread of COVID-19
On May 27, 2022, the Cabinet of Ministers extended quarantine and state of emergency to prevent the spread of COVID-19 until August 31, 2022. During martial law, the government abolished different levels of epidemic danger in Ukraine. During martial law, unvaccinated employees in professions for which vaccination against COVID-19 is mandatory are not suspended from work.
Serhii Hula connects extending the quarantine to forcing people to get vaccinated with vaccines whose validity period is expiring. Hula claims that one of the executives of a company producing vaccines against COVID-19 said he "needs to throw away 30 million doses of vaccines against COVID-19."
Hula probably means the statement by Moderna CEO Stephane Bancel. At the World Economic Forum in Davos, Bancel said: "It's sad to say I'm in the process of throwing 30 million doses in the garbage because nobody wants them. We have a big demand problem." The company planned to destroy these doses, not sell them.
In addition, vaccination against COVID-19 is not compulsory in Ukraine. Currently, in Ukraine, it is possible to be vaccinated with vaccines from Pfizer-BioNTech, AstraZeneca, Sinovac Biotech, and Moderna. From the beginning of the pandemic to May 27, 2022, about 5 million COVID-19 cases were confirmed in Ukraine.
We have repeatedly debunked theories that the COVID-19 pandemic does not exist because the new coronavirus pandemic is real. As of June 19, 2022, over 535.8 million COVID-19 cases have been confirmed globally, with over 6.3 million fatal cases. 
Attention
The authors do not work for, consult to, own shares in or receive funding from any company or organization that would benefit from this article, and have no relevant affiliations