Verification within Meta's Third-Party Fact-Checking Program
On June 7, russian media outlets wrote that the Armed Forces burned more than 50,000 tons in a grain warehouse at the seaport of Mariupol, as reported by mikhail mizintsev, head of russia's national defense management center. "Mizintsev emphasized that this action of Ukraine's Armed Forces shows the whole world the 'true face' of the Kyiv regime," which actually uses methods of food terrorism against its own people," russian media reported.
That is not true: the russian occupiers have been deliberately shelling food infrastructure in Ukraine. As a result of shelling by russian troops, a fire broke out at a granary in Mariupol, destroying 50,000 tons of grain.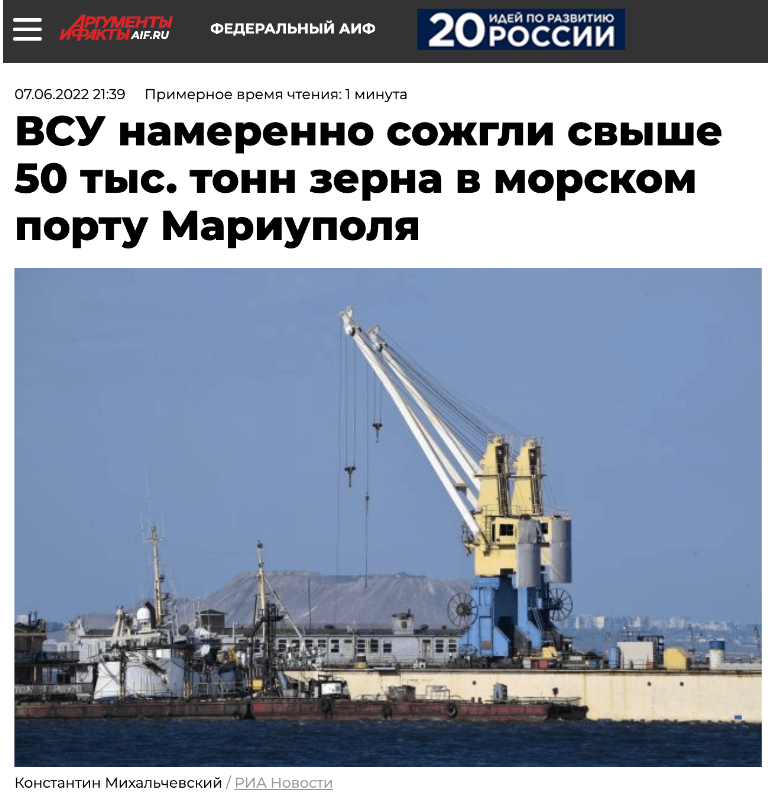 Petro Andriushchenko, an adviser to the mayor of Mariupol, wrote on February 26 that it became more challenging to deliver bread to Mariupol because of the russian military massively shelling infrastructure, including grocery stores. Therefore, the Mariupol City Council launched the production of social bread. Grain for producing flour and bread was obtained precisely in the area of grain terminals, as agreed with the grain's owner. On March 1-3, russian troops fired on the mill, bakery, and granaries, resulting in a fire destroying 50,000 tons of grain.
Even earlier, the EU Council of Foreign Ministers said russia's aggression against Ukraine was causing a global food crisis, creating danger for millions of people in the world. Because of the war, 20% to 30% of the winter grain, corn, and sunflower acreage would either remain unharvested or not be sown in the spring in Ukraine. "The Russian troops are bombing Ukrainian fields, not allowing the sowing of crops, looting food stocks, blocking Ukrainian ports, and so increasing prices for food and fertilizer, that have skyrocketed in many parts of the world," said Josep Borrell, High Representative of the European Union for Foreign Affairs and Security Policy.
russian troops are constantly shelling fields or deliberately setting fire to dry stubble or ripe wheat to cause field fires. On July 6, 2022, a hectare of a wheat field in the Kharkiv region was on fire. On July 7, strikes by russian troops in the Zaporizhzhia region led to fires on local fields and those in the neighboring Dnipropetrovsk region. As a result, about 20 hectares of wheat were destroyed. According to Forbes, about 350,000 hectares of fields have already burned in the war zone.
Attention
The authors do not work for, consult to, own shares in or receive funding from any company or organization that would benefit from this article, and have no relevant affiliations